Acadia National Park and Baxter State Park give reason for RVers to explore Maine while making Bangor a home base.
By Rhonda Ostertag
June 2014
I grew up in Montana, so literature and film formed my dramatic impressions of Maine: loose jigsaw puzzle pieces of gray seas, fishing boats, jagged shores, lobster pots, charming villages, deep woods, moose ponds, rising mist, canoes, sorrowful loons; and the isolation, independence, and self-sufficiency of the people who live among it all. After I visited Maine's two premier parks, Acadia National Park and Baxter State Park, the pieces came together in one unforgettable memory that did not disappoint.
The romance was intact.
Acadia National Park
This preserve on the outer edge of Mount Desert Island is so popular that the local population figure (10,000) temporarily swells each season as 2.5 million people visit the park. It is worth joining the throng to see. Through the ages its remote beauty of rocks, sea, forests, and ponds has drawn outdoor purists, city-fleeing elite, and the Hudson River School painters.
The park harbors quiet, unassuming spots as well as those that utterly amaze. Its wide, open spaces welcome sight-seeing along a 27-mile loop road, as well as hiking, cycling, swimming, fishing, boating, birding, and leaf peeping. Museums and nature centers tell the island's story.
You'll find bygone elegance with 45 miles of gently winding carriage trails designed by John D. Rockefeller Jr. at the turn of the 20th century. They represent some of the finest broken-stone pathways in the nation and are graced by attractive stone bridges, each one-of-a-kind in design and complementary to its site's land feature, be it a stream or a cliff. The old paths are perfect for strolling and bicycling, and they also are used by horse-drawn carriages, the latter a popular attraction in summer.
From early October through early March, Acadia's Cadillac Mountain, the highest point on the nation's North Atlantic seaboard at 1,530 feet, is kissed by the sun before any other place in the United States, so sunrise and sunset watching are popular. We joined the twice-daily caravans of photographers and poets staking out a post. A mass exodus followed the appearance of the sun, leaving us alone on the mountain, save for a three-man film crew. Sometimes staying put holds the greatest reward.
Two campgrounds (35-foot maximum length, no hookups) sit within Acadia. One takes reservations and the other does not. Commercial RV parks in neighboring small towns and villages, with Bar Harbor being the best-known town, expand the camping options.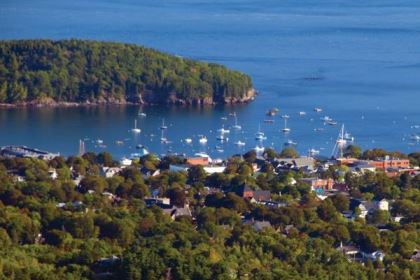 From summer's official start through Columbus Day in October, the free Island Explorer shuttle bus gives motorhome travelers convenient park access, with eight routes linking campers to Acadia attractions, trailheads, carriageways, and beaches, as well as to village offerings. Routes and time schedules are posted online.
If you do choose to drive your motorhome within the park, be aware of the historic stone bridges on the loop road, and be sure to take the bypasses. Detailed maps are available upon entering the park; study them carefully. You'll be liable for any damage to historic structures. Parking is along the right side of the loop road. Because finding spaces at popular stops is difficult, the shuttle bus is an ideal solution. You'll be going green while gaining greater access to attractions.
Acadia's weathered granite shores and summit rounds are worth the visit, but when paired with the views of forest, pond, island, and sea, they are surefire winners. Lichens, creases, and low-growing vegetation enhance the fascinating forms. Tectonic and volcanic forces and sculpting glaciers fashioned the park's U-shaped valleys and 17 mountains that guided early mariners.
The loop road welcomes repeat travel. Opportunities abound for viewing headland, bay, and inlet, and the clash of land and sea — places rugged, moody, and charismatic. Ocean Drive between Sand Beach and Otter Cove is the most popular. Plants represent arctic, Canadian, and southern coastal plain zones.
We parked to walk the Ocean Path, which parallels the drive and shore. From it, we could admire tree silhouettes, cliffs and seaward fingers of rock, splashing surf, offshore boats, and Monument Cove. By scrambling over the rocks, we changed our perspective.
A kayaker paddled the shore's edge. Canoes, kayaks, sailboats, and motorboats can be rented in surrounding communities. Privately operated cruises introduce the natural and cultural history of Acadia National Park and the islands off the coast of Mount Desert Island.
Gulls and cormorants dot the tattered shoreline while rafts of eiders (large sea ducks) bob in the inlet waters. In the clear water, we could track the eider movements underwater and their sudden pop-ups. Northern shorebirds and harlequin ducks are winter visitors. Peregrine falcons and bald eagles draw eyes skyward.
Cairns and blue-painted blazes guide hikers over trails bearing historical names. Destinations include peaks, plus 26 ponds and lakes. Because some are public water sources, not all are open to swimming. The park's deepest lake, Jordan Pond, welcomes a shoreline stroll. The aptly named South Bubble Mountain & Jordan Pond Loop is popular, which can make finding nearby parking difficult. We made the short, steep assault on South Bubble for its rewarding views.
Baxter State Park
Maine's premier forest park remains rustic by intent, and rules are in place to keep it that way. No pets are permitted in the park, and vehicle size restrictions are 22 feet in length, 7 feet in width, and 9 feet in height. Roads are unpaved (gravel). The nearest commercial RV park is Wilderness Edge Campground, located between Baxter and Millinocket (207-447-8485; www.wildernessedgecampground.com).
This state park bears the name of Governor Percival P. Baxter, whose passion for the outdoors led him to set aside a portion of Maine that would remain forever wild. In 1930 he purchased 6,000 acres, including Mount Katahdin, the state's highest peak and now the northern terminus of the celebrated Appalachian National Scenic Trail. Baxter then donated the purchase to the state and, over time, added to his initial gift. The park has grown into an impressive 210,000-acre playground for wild things and the people who love them.
As summer wears on, you might meet through-hikers on the 2,179-mile Appalachian Trail. For most of them, the granite peaks of Mount Katahdin signal the finish line. If you wish, you can claim you made it to the summit in a demanding day trek via the Hunt Trail, which is 5.5 miles to the top (11 miles round trip). Be sure to be prepared for a variety of surfaces and different weather at the summit. The trail is classed each day by the park ranger according to its suitability for climbing (from 1 as best to 4 as closed). Be sure to check this status before you leave. Or, perhaps, like us, when you visit Mount Katahdin, it will be wearing a dusting of snow or frost. Trailhead parking lots for Katahdin often fill before 6:30 a.m., so plan accordingly.
In addition to the Appalachian Trail, the park has its own network of interlocking trails; ponds for fishing, paddling and splashing; and untouched environments for bird-watching, wildlife watching, and nature study. Trail maps are available online to help you plan your routes. At Baxter, you may spy a lumbering moose or hear the haunting call of a loon. Native brook trout thread the streams. What most mesmerized us were the strange, thick, hummocky mosses thatching the forest floor.
According to park rangers, Sandy Stream and Stump Ponds are two convenient areas for photographers to train lenses on wildlife. As in most places, early-morning and late-day visits improve chances for wildlife sightings as the animals move to and from places of rest.
At park ponds, canoes and small kayaks are available for rent. For a modest price you can obtain your vessel, paddles, and life preservers and see the park from a new vantage. We paddled around Daicey and Kidney ponds. Area outfitters offer canoeing, rafting, moosing, fishing, and other adventures in and near the park. In the North Woods, bring insect repellent.
Bangor
Located along Interstate 95, Bangor makes a potential home base for exploring Acadia and Baxter, with Bar Harbor and Acadia National Park 50 miles to the east and Baxter State Park 70 miles to the north. The town's colorful, fun skyscraper is a statue of Paul Bunyan.
To Bangor's north are two signature attractions, both with adequate parking. The first is another Maine classic — a peat bog. Located next to Bangor City Forest, the Orono Bog Boardwalk offers an interpretive stroll amid the ferns, maples, tamaracks, mosses, and carnivorous plants. We spent much of our morning on hands and knees bent over the bog to study the radial blooms of the sundew and nodding accoutrements of the pitcher plants. In some places, the elevated walk extends bog overlooks.
The second attraction is the Maine Forest and Logging Museum at Leonard's Mills Historic Settlement (a living-history site), which is located off Route 178 in Bradley.
Museums, shops, memorials, art walks, and farmers markets are other Bangor diversions.
Check with the Bangor Chamber of Commerce listing below for details about campgrounds and other area sites.
Further Info
Acadia National Park
(207) 288-3338
www.nps.gov/acad
Park campground reservations: (877) 444-6777
www.recreation.gov
Acadia Welcome Center/Visitor Services
(800) 345-4617
www.acadiainfo.com
Baxter State Park
(207) 723-5140
www.baxterstateparkauthority.com
Greater Bangor CVB
(207) 947-5205
(800) 916-6673
www.visitbangormaine.com
Maine Tourism
(888) 624-6345
www.visitmaine.com