An FMCA member enjoys belonging to the New Zealand Motor Caravan Association.
By Michael Canode, F13059S
September 2016
So you've been to all of FMCA's area rallies and attended a convention or three. Seen every state, every Canadian province, and a few territories for good measure. But wait! How about attending a major motorhome rally away from your "comfort zone" — or better still, away from your continent?
In March of 2016, along with some 1,200 avid "movanners" (motorhomers) and another 200 area visitors, I attended the 60th anniversary Easter rally of the New Zealand Motor Caravan Association (NZMCA). Held in the town of Levin, in the Horowhenua district of North Island, New Zealand, the event, just like FMCA rallies, had vendors, seminars, evening entertainment, and plenty of fellowship.
For a country approximately the size of Colorado, and with a population of some 4.5 million, New Zealand is home to a huge and vibrant RV-owning community. Current active membership in the NZMCA stands at just over 61,000. Proportionally, this would be like having around 4.3 million active FMCA members in the United States alone.
With RV travel being so popular, campgrounds ("holiday parks" to a New Zealander) are plentiful, prices are competitive, and you're likely to meet people wherever you might be staying. In addition, the NZMCA itself owns or leases (and operates) a network of 33 parks exclusively for member use. Plus, hundreds of sites called "Park Over Properties" (similar to our FMCA "Stoppin' Spots") are available for overnight camping. These sites are located at a fellow NZMCA member's home or property.
The NZMCA is divided into geographical areas and accepts members with motorhomes, caravans (trailers), and fifth-wheels. Special-interest groups, similar to FMCA chapters, include one dedicated to solo travelers, called "Freewheelers"; a faith-based group called the "Good News Vanners"; a cadre of fifth-wheel owners; and people with imported vehicles, called "American RV Group." Members outside of New Zealand (mostly Australia) make up the international group called "Area 99." Since I had traveled the farthest to attend the rally (14,280.5 kilometers/8,873.5 miles), I marched in a procession of area banners at the end of the rally, representing the international members.
I've been a member of NZMCA for 13 years now. The fee is $125 (in U.S. dollars) per year, and it includes dues and a publication called The Motor Caravanner, a large, full-color magazine published six times a year. In New Zealand currency, the initial joining fee plus a magazine subscription fee total $210.
The 60th NZMCA National Easter Rally was something to behold. Of course, when RVers gather anywhere in the world, they have some common interests: food, technical information, music, food, supply and equipment vendors, new coaches on display, food, meeting new friends, reconnecting with friends far away, and food. You know how it goes.
Having previously visited New Zealand in 1990, 1999, and 2004, each time with a small Type B or Type C motorhome, I was familiar with most of the ins and outs of RV travel in the country. When I got to the rally in March, the only uncertainty was how the RV community would respond to me as the "alien." I remembered an unfortunate attitude at a brand-specific club's anniversary rally I attended about a decade ago (it was not an FMCA event).When people found out I came in a Type B motorhome (as opposed to another type of RV from that manufacturer), I received more than a dozen impolite comments regarding how I did not belong there.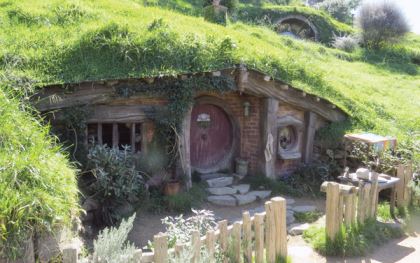 I am pleased to say that such derision has never been hurled at me at any FMCA event. And, to my delight, everyone in attendance at the NZMCA rally welcomed me with open arms, and hearts, and food — from the food court vendor who served me beef nachos to the president of the NZMCA. Even my somewhat distinct interpretation of dressing like a Kiwi (the nickname for New Zealanders) garnered not one bit of laughter or mockery.
After the rally, the remaining seven days I spent exploring were just as enjoyable. Those plentiful "holiday parks" meant that I never spent more than $20 (U.S.) for a fully equipped campsite. In addition, "RV food" prices during my four New Zealand trips have averaged around one half that of prices at home. Restaurant prices vary more widely and can be as much as double the cost of a typical North American dinner. Diesel fuel averaged $2.30 (U.S.) per gallon. It mattered little, however, as my rental unit, a Fiat-chassis Type C, yielded about 20.6 miles per gallon, even with New Zealand's hilly terrain and curvy roads.
New Zealand consists of two islands, North Island and South Island. Driving distances are not very long, as no spot in New Zealand is more than 150 miles from a coastline. Slow down and enjoy the scenery. Stick with 90-95 kilometers per hour (50-55 mph), and watch for traffic buildups behind you, just as you would in hilly terrain here at home.
Suffice it to say that I have decided New Zealand is the most RV-friendly country in the solar system. My $125 per year membership dues have remained a worthwhile value. I enjoy my "dual citizenship"!
Next year's NZMCA national rally is set for late February, in the Nelson Tasman region of the South Island. My work schedule means I won't be there, so perhaps you can take my campsite!
Further Info
New Zealand Motor Caravan Association
www.nzmca.org.nz
New Zealand Tourism
www.newzealand.com
Kiwi Terms To Know
If you read the website of the NZMCA or talk to New Zealanders, you'll notice that we North Americans use certain words differently. Here are the definitions of some words and phrases that will help you understand and communicate.
West Island: New Zealanders are not Australians. They call that other country the West Island (it's to the west of theirs). Be careful to distinguish this.
Aotearoa: The native Maori name for New Zealand. It means "land of the long white cloud."
Holiday park: Campground
Kia Ora: Hello, in the native Maori (speak the syllables close together)
Maca's: McDonald's
Mainland: South Island
Mobile: Cell phone
Movan: Motor caravan, motorhome. The word "motorhome" is catching on, but many New Zealanders do not associate "RV" with a motor coach.
Petrol: Fuel
Pokies: Slot machines
Ring someone: Call them
Scheme: Program
Station: A large ranch or farm
Tramping: Hiking
Kiwi Pronunciation
New Zealanders often pronounce words that have a single letter "e" with a long e. For example, you may hear "deebit card." The letter "a" often sounds like "e," as in "May I hev your ettention?" And, sometimes "i" sounds like a short "u," as in "fush and chups."
About the author. Michael Canode is a longtime FMCA member and member of the Ohio Nomads chapter, for which he is the webmaster, and an occasional seminar presenter at FMCA international conventions and area rallies.