Ronnie Graves lost a leg; now he and his wife, Linda, help hobbled animals regain mobility.
By John Johnston, Associate Editor
November 2016
On the day his life changed forever — May 15, 1975 — Ronnie Graves, F249255, was working at a fertilizer plant in Council Bluffs, Iowa. To prevent a foreman from being struck, Ronnie stepped between two railroad cars to set a brake. One of the cars knocked Ronnie down, and a wheel ran over his lower left leg. As he lay straddling the track, knowing he could be cut in half if the brake was not set, "I literally had to pull my own left leg off with my right hand," he said.
Seventeen days later, he walked out of a hospital using a cane. His leg had been amputated eight inches below the knee, replaced by a plaster cast with a pipe on one end and an artificial foot attached to the pipe. He was 20 years old.
After the accident, he briefly sold vacuum cleaners door-to-door, and then he teamed up with his father to drive tractor trailers across the country. But at age 24, Ronnie went broke during a truck strike and lost his home. About that time, in need of a new artificial leg, he applied to have the state of Florida pay for the prosthesis through a vocational rehabilitation program. That's when a counselor discovered through testing that Ronnie — a 10th-grade dropout with a GED — had mechanical aptitude that was off the charts.
The counselor helped Ronnie land an entry-level job in the prosthetics industry. It paid $3.35 an hour.
***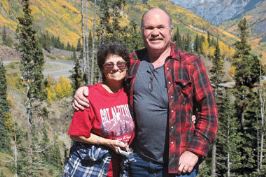 Seven years after the accident, Ronnie met Linda on the dance floor of an Orlando nightclub. They married within six months. She worked two jobs and he worked three so they could buy their first home. In December they will celebrate their 34th wedding anniversary.
He took her tent camping. Once. "I thought, this isn't going to go over well at all," Linda recalled. "I need a bathroom, inside. I'm not going out with flashlights anymore."
So they began RVing. At first in a truck camper, and then a small fifth-wheel, and eventually a motorhome. "I like it because I can take my (three) dogs with me," said Linda, who shares with Ronnie a great love for animals.
***
Ronnie learned to make artificial limbs and braces. He became a registered prosthetic technician and worked for several companies. During his off hours, he experimented with techniques to make prosthetic legs look as lifelike as possible, which led him to develop a cosmetic skin coating called E-Z Skin. In 1989, he and Linda founded Prosthetics Research Specialists Inc., and three years later it became their full-time endeavor.
Another of Ronnie's inventions was the One Step Ahead Skin Sleeve, a vinyl sleeve that an amputee can put on and pull off like a sock. It was so successful, he and Linda built a manufacturing plant to produce it. As word of Ronnie's expertise spread, he became a sought-after speaker at orthotics and prosthetics conferences nationwide.
For 17 years, he focused only on making artificial limbs and braces for people. Then about 20 years ago, a woman in Bushnell, Florida, where Ronnie and Linda have a home, approached him with the sad story of her horse, Scarlett, who had stepped in a hole and blown out her left front knee.
Scarlett's owner couldn't bear the thought of euthanizing her. She pleaded with Ronnie to make a knee brace for the horse. He explained that he had never done one before and had not heard of any previous successes. But he was willing to try.
Ronnie consulted a veterinarian, and then immersed himself in a study of horse anatomy and biomechanics. He made a brace for Scarlett that mimicked the motion of a horse's knee.
"Had I not been successful with her," Ronnie said, "I probably never would have gained an interest in helping other horses." Or other animals.
As word spread about Ronnie's success with Scarlett, people began asking him to make artificial legs and braces for other animals. A cow. A pig. A sheep. An elephant. And dogs as small as a 1-pound, 5-ounce Chihuahua. He made a wheelchair for a duck named Waddles that had just one, badly deformed, leg. He fashioned a flexible bucket so a one-legged goose named Hoppy can push herself around.
Now 61, Ronnie has created devices for hundreds of animals through his business, Veterinary Inclusive Prosthetics and Orthotics. None has received more media attention than Dudley, a Hereford steer with a severed foot who was rescued from a Tennessee farm by The Gentle Barn. The nonprofit organization provides a sanctuary for abused and neglected animals; the animals, in turn, help heal people who have experienced abuse and neglect. To see a video of Dudley's story, visit www.gentlebarn.org/the-dudley-story.
Linda, whose office is next to Ronnie's, handles billing, taxes, and the like for their businesses. "We've always worked as a team," Ronnie said. As for Linda, she's thankful that Ronnie's career took the turn it did. "If something happened to my (dogs), I'd do everything I can to get them well again, or to give them a good quality of life," she said.
Depending on an animal's size, the cost of a prosthesis or orthotic ranges from about $1,500 to $3,500, which typically is just enough to cover expenses, Ronnie said. He can keep prices relatively low thanks to the income he and Linda receive from their other ventures, which include selling his invented products and raw materials to the prosthetic and orthotic industry.
***
Ronnie's work sometimes takes him far from the sticks-and-bricks homes that he and Linda own in North Carolina and Florida. His preferred mode of transportation is his 2014 Haulmark, a 45-foot motorhome equipped with a 13-speed transmission, four slideouts, two satellite dishes, and four televisions. If someone, for example, calls about an injured horse in Los Angeles, Ronnie can be there in four days.
Linda, on the other hand, prefers a more leisurely pace, and a smaller vehicle. "I'm not driving that big one," she said. "I wanted (a motorhome) in case my sister and I or my nephew and I want to go somewhere and Ronnie's busy." And so she has a 26-foot Thor Motor Coach Chateau.
With two homes and two motorhomes, Ronnie said he and Linda are "really spoiled." Maybe. Or you could say they've been rewarded for working hard, overcoming obstacles, and performing pioneering work that has helped many people and animals.
"For a country boy with a GED," Ronnie said, "I've done very well."