Thanks to a modified motorhome, Annie Streit has more freedom to travel.
By John Johnston, Associate Editor
December 2016
Adversity isn't an obstacle that we need to get around in order to resume living our life. It's part of our life.
— Aimee Mullins, Paralympic athlete, fashion model, and actress.
Chris and Sandy Streit, F423011, know better than anyone the challenges faced by their 34-year-old daughter, Annie. They are proud of how she has handled them.
"She's pretty much game for anything," Chris said.
"We always say Annie's in the fast lane," Sandy added. "You can't keep her down."
In May 2005, just hours after receiving an interior design degree from Ball State University, Annie dived into a swimming pool at her graduation party. She hit the water in such a way that her neck snapped, fracturing the C5 vertebra.
She can speak, move her head, and raise her arms, but her hands and legs are paralyzed. She relies on a power wheelchair to get around.
"The hardest was maybe the first year after the injury, and just learning to adapt," Annie said from the Noblesville, Indiana, home she shares with her parents. "It was hard coming home, because I came home to a lot of what was the old me, before the accident."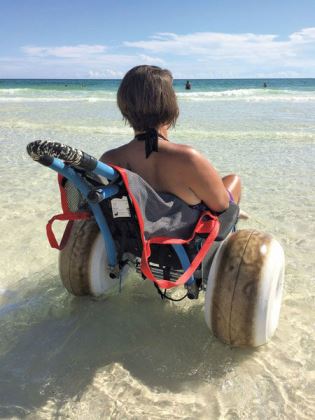 Before, she was an athletic woman who, like most people, took her mobility for granted. The injury forced her to confront many stark new realities. For one, taking trips became much more complicated.
Although all hotels must be accessible for people with disabilities, some are more accessible than others, Chris said. The Streits typically would call ahead and ask specific questions, but glitches still arose. A hotel bed frame might not accommodate the device that lifts Annie into bed, for example, or the shower layout might not meet her needs.
The family eventually concluded that for travel to be feasible, they always would have to bring everything Annie needed. That led Chris to raise the possibility of buying a motorhome. His parents had owned one in the early 1970s.
Sandy recalled being "a little nervous about it." As for Annie, well, the accident broke her body, but not her spirit. "I'm usually up for trying anything," she said.
First, the Streits found a company that could modify the interior of a used motorhome to meet Annie's needs. And then, with input from the conversion experts, the Streits bought a 40-foot motorhome, a 1999 Holiday Rambler.
Unfortunately, the conversion work did not go smoothly. It dragged on. And on. After three and a half years, the Streits still were without a motorhome, until another company was brought in. After that, the job was finished within a few months.
Chris didn't want to talk much about that frustrating situation. "It's behind us," he said.
"Our family really goes with the flow."
That's certainly true of Annie. "Now I'm not limited to handicapped-accessible condos or hotels," she said. "Everything we need is rolling right there with us."
The modified Holiday Rambler has a wheelchair lift (which can be stored in a basement compartment) and ambulance doors for an extra-wide entrance. During travel, Annie's wheelchair can be securely locked in place behind the passenger seat. In addition, she can slip into a body sling that is attached to a ceiling track, which allows her to move almost the entire length of the motorhome. The track system also makes it possible to move Annie from her bed to the rebuilt bathroom, where she can be lowered into a shower chair.
In June 2016, the Streits finally embarked on their first motorhome trip. "We didn't do any short little excursion weekend to try things out," Chris said. "We just jumped in and went to New York state. We figured if we bought it to travel, that's what we're gonna do!"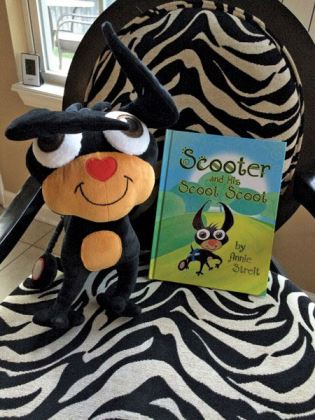 Said Annie: "Despite a few bumps in the road, we had a great time, learned some do's and don'ts, and made it back home in one piece and with most of our sanity."
They drove first to the Buffalo area, where they picked up Annie's 91-year-old maternal grandfather. It was Annie's first trip to Buffalo since her accident. From there, they continued east to Canastota, New York, to visit relatives they hadn't seen in years.
And then last September, the Streits headed south to the Florida panhandle. They spent two weeks at Camp Gulf, an FMCA commercial-member campground adjacent to a white sand beach near Destin.
"I love the beach," Annie said. "We have a special wheelchair that gets me in the sand. I was able to be right in the tide. And I love going out to different restaurants and different piers." The Streits enjoyed themselves so much, they plan to return to Camp Gulf next year.
Travel, though, is just a small part of Annie's life. "I keep busy," she said. "I can do everything everybody else does; usually, I just have to go a roundabout way to do it."
She drives a specially equipped minivan. And she writes using her pinkie knuckle to type on an iPad. This year she became a published author with the release of her children's book, Scooter and His Scoot Scoot ($22; Dorrance Publishing). It tells of a dog that was born with a disability but is not slowed by it. Just like Annie.
She has completed a second book and is working to get it published. She plans to write more. She enjoys doing readings and book signings, visiting classrooms, and "talking to students not just about the book, but about my experiences of being in a wheelchair."
Certainly the future will include more trips in the motorhome. Sandy said the family has discussed possible visits to Yellowstone National Park, Mount Rushmore National Memorial, New York's Adirondacks, and New Mexico. Annie, of course, is game for anything, but she does have her preference: "I will always try to convince them to go to a beach."