Prepare for border crossings: an overview of customs requirements for U.S. residents RVing to and from Canada. 
By Phyllis Hinz and Lamont MacKay, F175089
January 2017
A few years ago we lost a travel companion when we crossed the border from Canada into the United States. Her name was Colleen. She had journeyed with us in the motorhome for 50,000 miles, including many trips back and forth across the U.S.-Canada border.
Colleen was a voluptuous shamrock plant that survived our yard sales and our neglect to water her. Each summer her delicate white flowers turned toward the sun outside the motorhome as though wondering where we would take her next. Together we crisscrossed the states and provinces of North America. Life was good for Colleen until one fateful day when a U.S. Customs and Border Patrol (CBP) officer came on board. He was a man of few words.
"Eggplant," he said as he opened the refrigerator to check its contents. He reached beyond the eggplant to confiscate a lemon. On his way out of the motorhome, he spotted Colleen.
"That plant's not allowed across the border," he said.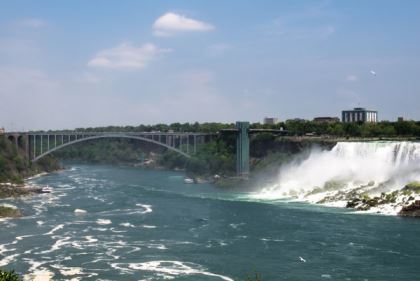 It didn't matter that we had bought Colleen in the United States and were just taking her on yet another visit to her homeland. What mattered was that she was alive and rooted in a pot of soil. We watched in shock as he dumped Colleen into the official United States garbage bin conveniently located beside his booth. He handed us back an empty flowerpot.
Once, when crossing into Canada, we exceeded by one bottle the allowed amount of duty-free wine. We asked what the duty would be. It was too much, so we surrendered the bottle. Another time, when crossing into the United States, a CBP officer confiscated our garlic, because the skin had not been removed. If we had peeled the garlic, we could have kept it. Lesson learned.
 We have become accustomed to inspectors coming on board to check what we have in our refrigerator. They are just doing their jobs. And after learning from our mistakes, we are confident that there will be no more surprises, because now we research ahead of time what we can and cannot take across the border.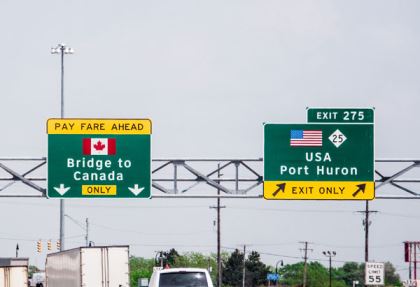 The Canada-United States border is the longest international border in the world. Eight Canadian provinces and 13 U.S. states are neighbors along the 5,525 miles of border that run from the Pacific to the Atlantic oceans. Of the 119 border crossings, the Ambassador Bridge, between Detroit, Michigan, and Windsor, Ontario, handles around 8,000 trucks and 68,000 travelers daily, making it one of the busiest land border crossings in North America. In quiet contrast, the Hyder-Stewart border crossing, which connects the communities of Hyder, Alaska, and Stewart, British Columbia, has no U.S. customs station. The rough-and-tumble road is used predominantly as access to up-close bear watching in Hyder.
Other than the plant and garlic confiscations, all of our 100-plus border crossings between the United States and Canada have been easy and uneventful, and the border officers of both countries have been courteous and fair. We have never been inspected to the extent that we have had to leave the motorhome while customs officers pulled the RV apart. However, that did happen to friends of ours.
As U.S. citizens traveling into Canada, our friends were held at the border for several hours while every compartment of their motorhome, as well as their towed car, was searched. Afterward, they stopped at the first available rest area and spent two hours putting things back together. Their advice to anyone crossing the border is to be prepared for a thorough search, because there is no way of knowing whether you will be selected.
Sometimes the border officers ask only a few typical questions, but other times they ask many questions or even reword a question and ask it again to see whether you give the same answer. It is important to always answer questions honestly, politely, and succinctly and to keep your dialogue with customs officers as simple as possible. Only answer what they ask. And never argue or attempt to be funny. Customs officials have all the power.
What You Might Be Asked When Entering Canada
1. Where were you born?
2. What is the purpose of your trip?
3. Where are you going? What is the address of the place where you will be staying?
4. How long are you staying in Canada?
5. Do you have any alcohol or tobacco? If so, how much?
6. Do you have firearms, pepper spray, mace, or drugs?
7. Do you have gifts or goods that you will be leaving in Canada? What is their value?
8. Do you have any fruit, vegetables, or meat?
9. Do you have large sums of money with you? More than $10,000?
Documentation Needed At The Border
We recommend that you travel with a passport, because you must present proof of citizenship. Other documents such as a birth certificate, a certificate of citizenship or naturalization, a U.S. permanent resident card (Green Card), or a Secure Certificate of Indian Status (SCIS), along with photo identification, are acceptable as well. RVers, being land travelers, can, in the case of U.S. citizens, use NEXUS and FAST membership cards as proof of identification and citizenship. But in the case of U.S. permanent residents, these Trusted Traveler Program cards must be accompanied by a passport and proof of permanent residence. Have your vehicle registration available, because customs officials are always on the lookout for stolen vehicles.
If children or grandchildren travel with you, they need proper identification. A notarized affidavit is required if you travel with minors and the adult does not have full legal custody.
Length Of Stay For U.S. Citizens In Canada
U.S. citizens entering Canada as tourists can stay in the country for 180 days without a visa. If you have a criminal record, DUI offense, or any misdemeanor, information on the Canada Border Services Agency website will help you to determine whether you will be allowed into the country. Visit
www.cbsa.gc.ca
.
Emergency Travel Medical Insurance
Traveler's medical insurance is highly recommended for U.S. citizens traveling to Canada, even for brief visits. No Canadian health-care provider accepts U.S. domestic health insurance, and Medicare coverage does not extend outside the United States.
Dealing With Prescription Medications 
If you take any medications, be sure to bring a supply that is sufficient to cover your time away. Prescription medications should be in their original containers with the doctor's prescription printed on the container. If medications are not in their original containers, you must have a copy of your prescription or a letter from your doctor. If you are traveling with medical devices such as needles or oxygen tanks that could pose a security or safety concern to others, be sure to have a copy of the prescription for those items from your doctor.
Can U.S. Dollars Be Used In Canada?
Yes. Most businesses in Canada will accept U.S. dollars for payment. You will receive your change back in Canadian dollars. However, businesses are not banks, and the exchange rate will differ from business to business. For the best rate, exchange your money at a Canadian bank or currency exchange kiosk. You can also use your credit card to make purchases. Check with your bank or credit card company to verify their charges for out-of-country purchases. You can use your debit card to obtain Canadian cash at ATM machines, but fees for exchanging currency this way are high. Always call your credit card company to inform them that you will be using your card outside the United States. Otherwise, they may assume your card has been stolen.
Taking Alcohol And Tobacco Into Canada
The following can be taken into Canada free of duty and taxes:
*Up to 53 ounces (1.5 liters) of wine; or up to 40 ounces (1.14 liters) of liquor; or up to 287 ounces (8.5 liters) of beer or ale
*200 cigarettes
*50 cigars
*7 ounces (200 grams) of manufactured tobacco
*200 tobacco sticks
Taking Guns Into Canada
Firearms and weapons must be declared at the port of entry. Explosives, fireworks, and certain types of ammunition must be accompanied by written authorization and permits. We recommend that you research the Canada Border Services Agency website before crossing the border, because certain weapons are either restricted or prohibited. Visit
www.cbsa.gc.ca
.
Taking Dogs Or Cats Across The Border
Dogs and cats are allowed to accompany their owners on trips to Canada provided that the pets have up-to-date rabies certificates. Talk to your local veterinarian regarding health certificates, updated vaccinations, and disease testing for your pets.
Transporting Food Products Into Canada
All food, plants, animals, and related products must be declared. The list of prohibited food products changes from day to day. For example, potatoes might be banned at one time of crossing; beef and pears might be restricted the next time. To make our lives easier, we do not transport fruit, vegetables, or meat across either border. On arrival in Canada or the United States, we stop at a grocery store or farmers' market.
Consumer products that could pose a danger to the public are not allowed. Many of the Canadian safety requirements on items such as baby walkers, infant self-feeding devices, and jequirity beans (sometimes used in jewelry or artwork) are stricter than the requirements of other countries.
For updated information, visit the Canada Border Services Agency website,
www.cbsa.gc.ca
.
Can Your Cell Phone And Data Service Be Used In Canada?
Yes, but talk to your service provider regarding roaming and data charges. It is a good idea to temporarily change your phone plan to cover travel to Canada. We recommend turning data off on your phone and using Wi-Fi hot spots to avoid costly data charges.
Wait Times At Border Crossings
This depends on the point of entry and the time of the year. Weekends and holidays all year round always tend to be busy. For advisories and wait times, go to
www.cbp.gov/travel/advisories-wait-times
.
The Cost To Cross The Border
It depends on where you cross. Some crossings are free of charge and some have a toll. Many of the 21 bridges or tunnels between the United States and Canada charge a toll that can be paid in either U.S. or Canadian dollars. The amount differs and usually is based on the number of axles on your vehicle. For toll rates, visit
www.ezbordercrossing.com
and click on the "tolls for all bridges crossing the border" link. Pick your crossing to find out whether there is a toll and, if so, how much it will cost.
Understanding Canada's Metric System
Highway distances and speeds are posted in kilometers per hour; gasoline is sold in liters; and temperature is measured in Celsius. The easiest way to convert mileage to the U.S. system is to multiply the number of kilometers by 6 and move the decimal point one number to the left. And so, if the posted speed limit is 100 kilometers per hour, it converts to 60 mph. Because fuel is sold in liters, don't be fooled by what appear to be bargain prices at the fuel pumps. There are 3.785 liters to the U.S. gallon. So, if gasoline costs $1 per liter, the price is $3.785 per gallon. As for temperature, 30 degrees Celsius is hot; the Fahrenheit equivalent is 86 degrees.
Driving In Canada
Rules for driving in Canada are very similar to those in many parts of the United States. Road signs are international. Canadians, like Americans, drive on the right side of the road. Seat belt use is mandatory for all passengers, and child car seats must be used by children under 40 pounds. U.S. driver's licenses are valid for visitors in Canada. Proof of auto insurance is required. U.S. auto insurance is accepted as long as you are a tourist. Your U.S. insurance company can issue a Canadian insurance card.
Some Canadian provinces require drivers to keep their vehicle headlights on during the day, and many have banned driving while using a handheld cell phone. You can be sure you are obeying the law if you follow both of these rules no matter where in Canada you are driving. You'll also be driving safer. Radar detectors are legal for passenger vehicles in British Columbia, Alberta, and Saskatchewan but are illegal elsewhere in the country, regardless of whether they are used.
Is It Necessary To Speak French In Canada?
No. Canada is a bilingual country with two official languages, English and French. French is the predominant language in the province of Quebec, but even there, English is spoken in the larger cities. It is fun to stand in line at a bank and have the teller change from English to French depending on the language of the next customer. Road signs in Quebec are recognizably international with wording in French. You can familiarize yourself with them by going online at
www.goo.gl/kK1MxB
.
What Can Be Brought Into The U.S. Upon Your Return?
When returning home, it's best to make a list of exactly what purchases you have made. It is important to maintain receipts for your purchases as well as proof of the date you crossed the border out of the United States. Declare everything you bought in Canada, even items acquired at a duty-free shop.
After 48 hours in Canada, your $800 duty-free personal exemption allows you to return to the U.S. with one liter (33.8 ounces) of alcoholic beverage and not more than 200 cigarettes and 100 cigars. For more information, go to
www.goo.gl/nxENJl
.
What You Might Be Asked When Returning To The U.S.
1. Where have you been and for how long?
2. Do you have any fresh produce, fruit, plants, meat?
3. What is the total value (in U.S. funds) of any goods that you purchased?
4. Do you have any alcohol or tobacco?
5. Do you have any firearms or drugs?
Before returning to the United States, we recommend you check for updates on the U.S. Department of Homeland Security's Customs and Border Protection website,
www.cbp.gov
. All fruit and vegetables, plants and cut flowers, meat and animal products, and live animals must be declared, because foreign insects, plant and animal diseases, and invasive plants can be harmful to United States agriculture. Failing to declare those vegetables in your RV refrigerator can lead to penalties of up to $1,000 for a first-time offense.
Fruits and vegetables grown in Canada are generally allowed into the United States if they have labels identifying them as products of Canada. Citrus or tropical fruits such as mangoes, which can be purchased but not grown in Canada, are prohibited. The regulations on importing meat and meat products change frequently. As a general rule, condiments, vinegars, oils, packaged spices, honey, maple syrup, coffee, fish, tea, and baby formula are admissible.
Though Canada and the United States share a North American lifestyle, subtle differences between the two countries have led to rules and regulations pertaining to those differences. By doing a little research ahead of time, you can get behind the wheel of your motorhome, turn the key, and enjoy a Canadian adventure.
Tips For Crossing The Border
*Tell the truth.
*Be courteous.
*Always remove sunglasses.
*Only answer questions you are asked.
*Avoid trying to be witty.
*Turn off all cell phones and radios.
*Have your seat belts buckled.
*Don't be under the influence of alcohol or drugs.
*Do not enter using a NEXUS, FAST, or Ready Lane express card unless all passengers in your vehicle are traveling with the same type of card.
*Passengers should hand their passports and other ID to the driver before reaching the border.
*Know where you are going and how long you will be in the country.
*Know what you can and cannot bring across the border.
*If you are traveling with gifts, do not wrap them before crossing the border.
*If you are traveling with a child that is not your own, you must have proper documentation — i.e., a notarized letter from the legal guardian(s)/parent(s) granting permission.
*RVs can use car or RV-designated lanes but should not use truck lanes.
*RVers should be prepared for an officer to come aboard and look around.
*If you are a full-time RVer, don't share that fact unless officers ask. If you are asked, be prepared to prove your ties to the United States. Telling a customs officer you have no fixed address could delay your journey.
*Officers at ports of entry always have the final say as to whether someone should be allowed into the country.
*When returning to the United States, make a list of what you are bringing, what you have purchased, and the value of your goods. Keep receipts for your purchases.
Websites
List of Canada-United States Border Crossings
Wait times at border crossings
www.cbp.gov/travel/advisories-wait-times
Road signs in Quebec
www.goo.gl/kK1MxB
U.S. Customs and Border Protection 
Canadian Border Services Agency
www.cbsa.gc.ca
1. Choose between English or French as your language
2. Click on the Travellers tab
3. Click on Information for non-Canadians
Or call within Canada, (800) 461-9999; outside Canada, (204) 983-3500
Compliments, complaints, or comments about a border crossing experience
Canada: www.cbsa.gc.ca/contact/com-eng.html