Fun and fascinating discoveries can be made in small towns along the Delaware, Maryland, and Virginia coasts.
By Gene Bjerke, F418821
March 2017
The Eastern Shore
Not far east of the madness of America's Northeast Corridor is a quiet, peaceful strip of land steeped in history and rural charm. It's a roughly triangular-shaped region between the Chesapeake Bay and the Atlantic Ocean, and it encompasses all or part of three states: Delaware, Maryland, and Virginia. It's known as the Delmarva Peninsula, but in Maryland and Virginia, it's simply called the "Eastern Shore."
We spent a couple of weeks exploring the area in our motorhome. We didn't see all that is available (so we'll be coming back), but what follows are about a dozen places we found interesting. They are arranged as though someone were to arrive from the Annapolis, Maryland, area via U.S. 50 on the Chesapeake Bay Bridge. We will travel south along the bay side of the peninsula, and then north along the ocean side.
Wye Mills, Maryland
Our first stop is Wye Mills, Maryland, where the Wye Grist Mill and Wye Oak State Park captured our interest. Wye Grist Mill claims to be the oldest continuously operated water-powered grist mill in the United States. It has been on the job since 1682. In 1790, a local man invented a system to get more power out of the low (8-foot) drop of water available. It has U.S. patent number 3, which was signed by U.S. Secretary of State Thomas Jefferson and President George Washington.
It still grinds flour, and you can buy some right there. The mill had power takeoffs that allowed it to run a saw mill and the bellows for a blacksmith shop. Thus, the owner was supplying the community with three necessary services and, consequently, became quite rich.
Just south of the mill, on State Route 662, is Wye Oak State Park. We were attracted to this small, 29-acre place that is, in fact, a one-tree state forest. It was created to protect one of the largest and oldest white oaks in the country, the Wye Oak. We had seen it many years ago and were much impressed. Unfortunately, the tree, believed to be more than 460 years old, blew down in a storm in June 2002. You can see where it stood by a circle of bits left in the ground. In the middle is a sapling that is a clone of the original tree. The young one seems to be doing well.
St. Michaels, Maryland
Following Route 662 south, you can get back on U.S. 50 toward Easton. At Easton, go west on State Route 33 to the town of St. Michaels, Maryland. Founded in the 17th century, it became famous in the War of 1812 as "the town that fooled the British." According to local lore, residents received intelligence that the British were planning to bombard the town from barges in the river, so they doused their home lights and set lanterns up in the trees; this caused the British to aim their guns too high, so they overshot the town, and it was spared.
One of the main attractions in town is the Chesapeake Bay Maritime Museum, which features an 18-acre waterfront campus and is said to include the United States' most complete collection of Chesapeake Bay boats, artifacts, and more. Besides displays of old boats, it includes the Hooper Strait Lighthouse, which was brought ashore and set up on museum grounds. It is an example of a screw-pile lighthouse. These structures were installed in the 19th century in the shoal waters of Chesapeake Bay and southern Florida. They consisted of a round platform resting on steel pilings literally screwed into the muddy bottom. On this platform was built a hexagonal house for the keeper, with the lantern mounted on the roof. Museum visitors can tour the house to see how keepers lived, and can climb to the lantern on top.
Princess Anne, Maryland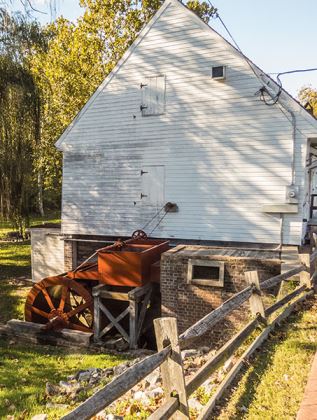 Settlement on the Eastern Shore goes back to Colonial times, so for people interested in old towns and buildings, this is a good area. One such town is tiny Princess Anne, Maryland. It is located about 75 miles southeast of St. Michaels on U.S. 13. Its collection of historic houses dates back as far as 1744. Even the police station is in an old, stone building.
The term "watermen" is an old word from England that describes the commercial fishermen of the Chesapeake Bay area. The harvesting of seafood, especially the Chesapeake blue crab, is an important part of the economy of the bay side of the Eastern Shore. Deal Island, Maryland, is one of three islands at the center of this industry, and the only one that is accessible by road. From Princess Anne, drive west on State Route 363, which leads all the way to Wenona at the very end of the island. This puts you deep in the heart of watermen country. For a well-written look into crabbing and the people of this land, I recommend a book titled Beautiful Swimmers: Watermen, Crabs, and the Chesapeake Bay by William W. Warner.
A number of small towns along this route are focused on the bay. Here you will see skipjacks, the traditional boat used for oyster dredging, along with more modern workboats specific to Chesapeake Bay.
Skipjacks are the last working sail craft in the country. They survive because, for conservation reasons, Maryland has a law that oysters can be dredged only under sail. The fleet is small and the vessels are old. What you will see more of is a classic Chesapeake Bay craft called a "deadrise." These motorized vessels are used for all other fishing: crabs, clams, and finfish.
Crisfield, Maryland
Return to Princess Anne and turn south on U.S. 13; continue south to State Route 413, and drive all the way to the end. You will be in the town of Crisfield, Maryland. This sleepy fishing village saw a great boom when a rail line was extended into the town in 1866. It soon became "the seafood capital of the world." Residents often claim that the downtown area is built on land formed from a huge quantity of discarded oyster shells.
The output of seafood from the Chesapeake has declined since the 1990s, and Crisfield is no longer as busy as it once was. But the town is one of the main ports serving the other two watermen's islands, Smith Island and Tangier Island. A passenger ferry on the town pier will take you out to the islands for the day. There you will find fishing villages that haven't changed in decades. You also may hear people speaking with an accent said to be similar to that used in Elizabethan times.
Parksley, Virginia
Going back north to U.S. Route 13 and then taking that south, you cross into Virginia. We took an interesting side trip to Parksley. This town, off of U.S. 13 on State Route 316, was recommended to us for its railroad museum and Victorian houses. The Eastern Shore Railway Museum chronicles Delmarva Peninsula railroad history and includes several unusual railcars set in a small park. The museum was closed the day we were there, but you could look into some of the railcars. Across the railroad track stood a number of large Victorian homes. Parksley is a planned town, built when the railroad came to the area. At one time this quiet community must have been quite prosperous.
Along the street facing the park, we found a Caribbean store with exotic foods and interesting aromas. Farther down was a genuine, old-fashioned, five-and-dime store. You never can tell what you will find in these out-of-the-way places.
Onancock, Virginia
South of Parksley is Onancock, Virginia, from which you can ride to Tangier Island on a 36-foot traditional bay boat. A walk around downtown reveals several restaurants and galleries. Near the entrance to town is a museum housed in a restored 1799 mansion called Ker Place, which is home to the Eastern Shore of Virginia Historical Society.
Lovers of art and wildlife can drive a few miles south on U.S. 13 to Turner Sculpture, just south of Onancock. The Turners, father and son, create beautiful wildlife sculptures in cast bronze. Their store also includes paintings by other artists. RV parking is limited.
There are two very different places to visit once you head back north on U.S. 13. Just before the Maryland state line, turn east on Chincoteague Road, State Route 175. This leads to the NASA Wallops Flight Facility Visitor Center. Wallops Island is a major launch site for NASA flights and commercial space ventures. An excellent museum at the visitor center provides the details. Outside, a couple of rockets are displayed on the grounds.
Chincoteague, Virginia
Continuing east on Route 175, you arrive at Chincoteague, Virginia. This has been a vacation destination for many years, but it received its greatest fame with the publication of the children's novel Misty of Chincoteague in 1947. A number of festivals are held here throughout the year, but the best known is the "Pony Penning" in July. At low tide, horseback-riding "saltwater cowboys" from the fire department herd wild ponies from Assateague Island across to Chincoteague Island. Some of the foals are auctioned off to provide funds for the fire department, and the adults are herded back to Assateague for another year.
Assateague Island is a narrow, 37-mile-long barrier island that stretches north to Ocean City, Maryland. The Virginia part of the island contains Chincoteague National Wildlife Refuge, while the Maryland portion has Assateague Island National Seashore. You can drive out onto the southern end of the island, where there is a lighthouse and miles and miles of beach.
Ocean City, Maryland
Back on U.S. 13 heading north, the next beach town is Ocean City, Maryland. To get there, take U.S. 113 east at Pocomoke City, and then U.S. 50. Ocean City is a popular beach town with a boardwalk, arcades, and an amusement park — all the classic stuff. From May 1 to October 31, RVs cannot be parked on the street. Parking is available at the 100th Street lot for a fee (cash only).
Rehoboth Beach, Delaware
Lastly, if you want a little less intense beach town experience, you might want to drive up State Route 1 to Rehoboth Beach, Delaware. This town is smaller and a bit more laid back. It has a boardwalk (not as long) and many of the same kind of attractions, as well as a big beach. We have read complaints about the parking, but we had no trouble in our Type B motorhome; however, it was October. If you have a big rig, visiting any beach town in season is usually best done in a towed car instead.
The barrier islands that run from New York down the East Coast protect the mainland from the ocean, but they can be treacherous to ships. In the 19th century, the government established a chain of life-saving stations every few miles down the coast. They were staffed with crews who launched boats through heavy surf to aid stranded vessels. It was a lonely and difficult service, but they saved countless lives. On U.S. 1 a few miles south of Rehoboth Beach is Indian River Life-Saving Station. A museum at this restored station provides glimpses of what life was like on this barren coast. It is part of Delaware Seashore State Park.
From historic villages to the space age, from Atlantic beaches to fishing ports on Chesapeake Bay, the Eastern Shore provides something for every interest. We've only touched on some of what's available. We know we'll be going back again.
Further Info
This area has six state parks, two national parks, and dozens of commercial campgrounds. Check your campground directory for details, or visit FMCA's RV Marketplace, found online at FMCA.com and in the January issue of FMCA.
Once you have decided how you'll access the area, check the appropriate website:
Chesapeake Bay Bridge: www.baybridge.maryland.gov
Cape May-Lewes Ferry: www.cmlf.com
Chesapeake Bay Bridge Tunnel: www.cbbt.com
State tourism offices:
Delaware
www.visitdelaware.com
(866) 284-7483
Maryland
www.visitmaryland.org
(866) 639-3526
Virginia
www.virginia.org
(800) 847-4882
More helpful websites:

www.easternshoremagazine.com
http://destinationdelmarva.blogspot.com
www.easternshorevisitor.com