By Peggy Jordan, Associate Editor
June 2017
Right after you've driven through much of Indiana, and you're sure nothing resembling a fancy resort can appear, it does. A wide, tall, golden-brick building comes into view. It is an amazement.
The massive edifice is the French Lick Springs Hotel. This business, and its sibling up the road, the West Baden Springs Hotel, have given the town of French Lick its economic life, off and on, since around 1900. And they've done it without the benefit of a nearby interstate feeding them a constant stream of road-weary customers.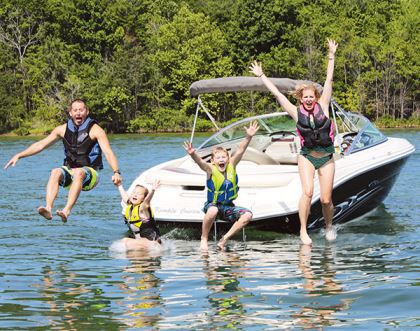 The full story of the rise, fall, and rise again of these historic hotels is one for another time. But suffice it to say that they are looking fabulous again. If not for them, there would be no reason for this town's golf courses, free trolley, excursion train, casino, and various related businesses.
Be advised if you're planning to visit before or after FMCA's 96th International Convention in Indianapolis: French Lick is a 2 1/2-hour, 101-mile drive south. It's not a big candidate for a day trip. But once you learn about the sights and history of this out-of-the-way stop, you may agree it's worth the drive. And a stay.
The first order of business if you drive an RV here is to head for the free casino parking lot at the French Lick Springs Hotel. RVers are welcome to stay as long as they wish without any hookups. The casino also recently added six full-hookup sites for $60 per night. The fee includes the use of the French Lick Resort pool and fitness center, and access to the resort's golf course, plus tennis courts and indoor sports activities.
Plenty of RV sites also can be found within a few miles, if you wish to take a towed vehicle into town (see the list below). Whichever you choose, French Lick has too much to see for a one-day stop, so you'll want to plan ahead.
History With A View
In the late 18th century, explorer George Rogers Clark noted this area's salt licks, which attracted plenty of deer and bison. Later, a French outpost was located here, and so the name French Lick was coined.
The general area is called Springs Valley, which makes sense. Mineral water springs flow through here. They smell of sulphur, and in years past, the water was said to be healthful. So began this area's popularity among vacationers seeking to "take the waters," or just take a break from cities. The first hotel opened here in 1845. The French Lick Springs Hotel seen today dates from 1901 and has been expanded a few times since.
In the early years, area hotels owed much of their income to passengers arriving via the Monon Route, a rail line that connected Chicago, Indianapolis, and Louisville. A small leftover from that rail serves as part of the trolley track that now runs one mile, between the West Baden Springs Hotel and its former rival, French Lick Springs. Today both resort hotels are owned by the Cook Group — the company that restored them to glory.
An earlier version of the West Baden hotel was destroyed in a 1901 fire, but it was rebuilt quickly. In 1902 it re-emerged with a stunning 200-foot-wide atrium topped by a dome so large that it ranked as the biggest in the world until the Houston Astrodome was built in the mid-1960s.
Visitors both famous and political filled the old French Lick hotel guest books for years. One longtime hotel owner was the former mayor of Indianapolis and a force in the Democratic Party. That did not stop other politicians from both parties from visiting over the years: Ronald and Nancy Reagan, Harry Truman, Richard Nixon, Franklin D. Roosevelt, and more. The list of movie stars and entertainers who were seen in the lobby included Bing Crosby, Duke Ellington, Bob Hope, Lana Turner, and on and on.
Like French Lick, West Baden (pronounced "Bayden" by locals) welcomed a fair number of customers who were there to see and be seen. Then again, some did not wish to be seen at all! Illegal casinos could be found rather easily throughout the little town, especially in the 1920s and '30s.
One story about the West Baden Springs Hotel involves the Chicago Cubs, which held spring training there in 1907 and 1908. They came partly because their manager believed in the healing power of the local spring water. Plus, if the weather was bad, the team could always toss baseballs inside the hotel's atrium. The Cubs won the World Series both years.
Locally sourced mineral water was served at both hotels. It was also turned into an enterprise and bottled as Pluto Water, hailed for its natural laxative properties. "When nature won't, Pluto will" was the slogan. The water is no longer sold, although the old spring gazebo still stands. The water was banned for drinking in the early 1970s because its lithium content made it a controlled substance.
You can walk around and admire the opulent interiors of both restored hotels (and their grounds) by yourself. Even rest awhile on the wide, welcoming porch of the French Lick Hotel. Or, enjoy the popular guided tours of each hotel, which offer many great stories of the area's famous visitors and historical restoration — tales that you won't hear anywhere else. A combination tour ticket for both hotels is $21 per person and $8 per child ages 6 to 15; free for kids 5 and under. Tour tickets are sold at Landmarks Emporium shops and at either hotel; tours of only one hotel ($12) also are available. For details, call (866) 571-8687 or email [email protected].
Many years of effort went into getting the state to approve a casino in French Lick. When it finally opened in 2006, townsfolk admitted it was a bit unusual. The building was shaped like a boat and appeared to be floating on a pond in front of the French Lick Resort. (Locals jokingly called it "the boat in the moat"!) This was because state laws required Indiana casinos to be movable, and on water.
After a couple of years of such pretense, the pond was filled in. People  accepted the casino for what it was. And the town once notorious for many illegal gambling spots became the first in the state to have a legal casino on land.
Get Outdoors, On Land And Water
Three beautiful golf courses are on the French Lick Resort property. The Valley Links Course has been open since 1907, and the Hill Course, completed in 1920, was designed by the renowned Donald Ross. The Pete Dye Course, which opened in 2009, fits right in with their beauty. For details and tee times, contact the French Lick Resort as listed at the end of this article.
Going on a round trip is the point of the local excursion train, the French Lick Scenic Railway. The train depot and gift shop are open two hours prior to the train's departure on scheduled operating days. In summer, the $20 trip, which lasts 1¾ hours, covers 18 miles. You will pass through parts of the Hoosier National Forest and an old tunnel. Visit www.frenchlickscenicrailway.org for schedule information, or call (800) 748-7246.
The train excursions are run by the Indiana Railway Museum, which has more than 65 pieces of rolling stock and locomotives; ridership in 2016 was more than 82,000 passengers.
You and your kids or grandkids may also like the water attractions at Big Splash Adventure, an indoor water park and hotel. It's a 40,000-square-foot playground with a retractable roof that's opened in summer. You don't have to stay at the hotel to play there; just buy a day pass. For more info, visit www.bigsplashadventure.com, or call (877) 936-3866.
Water surely will catch your attention if you arrive in French Lick from the south. You can't miss Patoka Lake; the road goes right over it! On top of that, Patoka Lake State Park boasts 26,000 acres of land and water. The lake itself is 8,800 acres. The park also features a nature center where you can see raptors, a reconstructed log cabin, plus a number of programs.
Anglers, boaters, and nature appreciators will find an excuse to visit. If you don't have your own boat, that is no problem. Rentals are available at Patoka Lake Marina, as are excursions aboard the Patoka Voyager. Special sunset and wine cruises are offered throughout the summer (812-685-2203; www.patokalakemarina.com).
The lake is about 20 minutes south of French Lick, which is not a town you can zip to straight from the interstate. But that's a part of its charm.
Further Info
French Lick Resort
8670 W. State Road 56
French Lick, IN 47432
(888) 936-9360
(812) 936-9300
www.frenchlick.com
For info about overnighting for free at the casino lot, contact the French Lick Resort.
Area Camping
The following may not be a complete list, so please check your campground directory or the RV Marketplace, found online at FMCA.com and in the January issue of FMC magazine.
Crazy Horse Ranch & Lodge
6000 W. County Road 250 N.
West Baden, IN 47469
(812) 936-9199
www.crazyhorser.com/camping.htm
Painter Creek RV Park
7380 W. County Road 700 S.
French Lick, IN 47432
(812) 936-7545
www.paintercreekrvpark.com
Patoka Lake State Park
3084 N. Dillard Road
Birdseye, IN 47513
(812) 685-2464
www.in.gov/dnr/parklake/2953.htm
Sleeping Bear Retreat
2773 S. County Road 1000 W.
French Lick, IN 47432
(812) 936-2354
www.sleepingbearretreat.com
Woodland Hills Campground
8128 W. County Road 750 S.
French Lick, IN 47432
(812) 797-4290
www.patokalakecamping.com