By Sally B. Weigand
September 2017
Delaware Water Gap National Recreation Area has been attracting people with its beauty for many years. In 2015 — the recreation area's 50th anniversary year — an estimated 3.7 million people visited. The popular getaway spot was formed by the Delaware River cutting through a ridge of the Appalachian Mountains on the border of New Jersey and Pennsylvania. Travelers along Interstate 84 to the north and Interstate 80 to the south have easy access to the site.
Visitors camp, hike, fish; enjoy the sound and sight of tumbling waterfalls; spot wildlife; play on the Delaware River; drive scenic roadways; and immerse themselves in the past at historical villages.
Let's begin on the New Jersey side of the river, which includes 28 miles of the Appalachian National Scenic Trail.
Old Mine Road
A mid-1700s connection between Philadelphia, the Hudson Valley, and Pahaquarry Mines, it still serves as the Water Gap's main passageway, one that lures bicyclists and motorists to experience its historical past. Following are sites it leads to when traveling south to north.
But first, keep in mind the road is narrow, can be very steep, and some portions are dirt. Potholes and ruts can make it difficult as well. Park officials do not recommend driving it in a large RV. To check current road conditions, contact one of the park visitors centers listed at the end of this article.
Millbrook Village
Life in rural America revolved around small settlements where people established farms, businesses, churches, and schools. Millbrook Village is a reconstruction of a 19th-century village, though it does not replicate the Millbrook of yesteryear. A mill was first built there sometime between 1732 and 1750; in 1832, a new gristmill was built, and around it the village of Millbrook began to grow. Farmers gathered at the mill while their grains were ground, giving local merchants an opportunity to sell services and wares. At its peak in 1875, Millbrook was home to about 75 residents and had 19 major buildings.
Today the village still has some of its original buildings, plus others moved there from the area.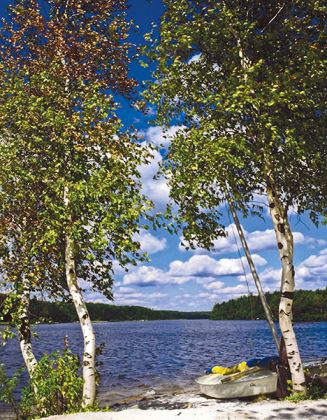 Special events in Millbrook make the past come alive. Millbrook Days, a folk-life festival, will be held September 16 and 17 in 2017; Octivities, a Halloween-type event, October 21. A Victorian Christmas will be celebrated December 2, and a hymn service on December 3.
Walpack Center
Continuing north up the Old Mine Road leads to this village from the mid-1800s. The Rosenkrans House and Museum is open on Sundays in summer. Note the house's "eyebrow" windows — small openings on the half story above larger windows on the first floor. Nearby, the highest waterfall in the state, Buttermilk Falls, tumbles down a rocky hillside.
On a warm summer day, the Delaware River's cooling waters refresh you. Swim from Turtle Beach, the only one on the New Jersey side of the river.
During the French and Indian War, a Colonial home came to be known as the Van Campen Inn. It was not built to be a spot for travelers, but Colonial law required homes in very rural areas to provide food and shelter to wayfarers. The original house was believed to date from 1750 or so. The restored building will be at the center of Van Campen Day, October 15, 2017, an event that includes Rosenkrans Museum and Walpack Church. The day will have re-enactors, tours of the inn, and hikes to other historic sites in the area.
Peters Valley School of Craft 
Peters Valley School of Craft emerged from the farm village of Bevans. Today artists and craftspeople expand their talents as they learn and live in the historic structures. Workshops are offered in photography, glass, ceramics, blacksmithing, fiber arts, woodworking, and fine metals and jewelry. Visitors will want to check the craft store and gallery located 4 miles north of the Walpack Inn on the New Jersey side of the Dingmans Ferry Bridge, in Layton.
Farther north, you'll pass other historic buildings along Old Mine Road, including the site of Fort Namanock, used during the French and Indian War, and another dwelling from the early 1700s, the Westbrook-Bell House.
Explore the old tombstones at the Minisink Reformed Church, which date from 1805. Some lean precariously; inscriptions are worn down on many.
Delaware River travelers stayed at the 1790 Foster-Armstrong House in the northern end of the park. Foster and Armstrong ran a ferry across the river, and the home was a tavern and inn. Today the house and furnishings depict area life from the 1700s to the early 20th century; it is open to the public on Sunday afternoons in summer, and other times by appointment.
On And Around The River
How peaceful it is to paddle the Middle Delaware National Scenic and Recreational River. If you've never tried canoeing or kayaking, this is a perfect spot. Bring your own or rent them locally; you also can rent rafts and tubes. Liveries are based within the park and at the northern and southern ends of the parkland. Is there a better way to spend part of a summer day than relaxing in a large tube and allowing the current to carry you downstream?
If you bring your own mode of water transport, you'll appreciate the free River Runner shuttle that runs along the Pennsylvania side on Saturdays, Sundays, and holidays in summer. It hauls kayaks, canoes, and even bicycles, making multiple stops at Delaware River access points. A schedule and maps are available at www.gomcta.com/trip.php; call (570) 243-3400 for more info.
Motorboats are allowed in the river. The speed limit is 10 mph April through September and 35 mph October through March. Five boat launch sites provide access from all sections of the river. Boats must have a valid state registration.
Cool off, rest, and picnic at three lifeguard-protected grassy beaches on the river. A usage fee is charged at the beaches. Because of currents, do not attempt to swim across the river.
Fishing
Fishing licenses from either New Jersey or Pennsylvania may be used by anglers on the shores of the Delaware River. But when it comes to the many lakes and several streams throughout this natural area, your license must reflect the state you're in.
Hunting
Hunting in season also requires a license. For more information about fishing rules and how to obtain a fishing and/or hunting license, check the Delaware Water Gap website — www.nps.gov/dewa.
Hiking
Each season presents its own picture, and each is good for hiking. The recreation area is divided into upper, middle, and lower sections; this helps visitors to find hiking trails on the map. Some trails take hikers to waterfalls; in fact, eight waterfalls are located in the northern and middle sections of the park. Many trails are wheelchair accessible. A hiking map provides the length, difficulty rating, and highlights of the 100-plus trails; some include portions of the Appalachian National Scenic Trail.
A couple of trails accommodate horse owners: the Conashaugh View Trail in New Jersey is 8.7 miles one way (moderate to difficult); the Upper Ridge Road Trail in Pennsylvania is 2.5 miles one way (easy to moderate).
When winter adds a white, snowy blanket to the ground, cross-country skiers and snowshoers head for the quiet trails for a peaceful few hours of exercise in nature's solitude.
Bicycling
The 32-mile McDade Recreational Trail is a packed gravel route that parallels the river on the Pennsylvania side. It has varied terrain, so riders can choose the type that's right for them, from easy to strenuous. As noted, cyclists can go as far as they'd like and then let the weekend shuttle bring them back.
Bird-Watching
The river provides food for several pairs of bald eagles that nest in the area year-round. Spring and fall migrations bring in even more opportunities to check one's birding life list. Although deciduous forest is perhaps the largest type of landscape, the area has so many different kinds of habitat that it makes birding more fun. The New Jersey Audubon group's website claims the Delaware Water Gap and valley is home to 225 different species. Bring the binoculars!
More To See
Within an hour or so of Delaware Water Gap lie some of New Jersey's and Pennsylvania's most intriguing sites.
New Jersey
In Ogdensburg, the Sterling Hill Mining Museum is on the National Register of Historic Places. Numerous passageways lead from the 20-foot-wide entrance tunnel, which is now supported by steel beams. A display of fluorescent minerals glow in a rainbow of colors. This was once a zinc mine. Above ground at the site's Thomas S. Warren Museum of Fluorescence, rocks from around the globe glitter brightly. More than 340 mineral species are on display, 70 of which fluoresce.
In Stanhope, you can explore the restored 19th-century canal town of Waterloo Village. A canal boat offers rides the second and fourth Saturdays from July through October. You also can watch craftspeople re-enact bygone times; visit a water-powered gristmill plus other historic buildings; and tour the canal museum.
Don't miss Washington Headquarters Museum in Morristown, part of Morristown National Historical Park. George Washington and his wife, Martha, lived at the Ford Mansion during his army's 1779-80 winter encampment. The museum features an enormous collection of original weapons, china, maps, textiles, paintings, and more.
Pennsylvania
The playground of the Pocono Mountains awaits. Do you revel in watching race cars, leisurely browsing for antiques, being entertained by shows and music, testing your luck at gambling, treating your palate at a microbrewery or winery, enjoying water recreation in numerous forms, and visiting museums? That's a long list, but it's all there, just a bit north of the Delaware Water Gap.
Within an hour or so of the Delaware Water Gap in White Mills is the Dorflinger-Suydam Wildlife Sanctuary and Glass Museum. It combines 600 acres of natural beauty (celebrated with a music festival each summer) with a museum that houses hundreds of pieces of supremely cut crystal made in the area.
Cowboy novels (and the movies made from them) helped to make Zane Grey famous, but he was a character himself long before then. The Zane Grey Museum in Lackawaxen reveals much about this fascinating outdoorsman, writer, and adventurer.
Also on the Pennsylvania side is the scenic railway through Lehigh Gorge State Park; a beautiful small town called Jim Thorpe; fascinating Boulder Field, located in Hickory Run State Park . . . these and more beckon visitors.
Further Info
Pennsylvania Tourism Office
(800) 847-4872
www.visitpa.com
New Jersey Travel
(800) 847-4865
www.visitnj.org
Delaware Water Gap National Recreation Area
(Mailing address)
1978 River Road
Bushkill, PA 18324
(570) 426-2452
www.nps.gov/dewa
Fees
There is no entry fee to Delaware Water Gap Recreation Area. However, from April through October, amenity fees are charged at Milford Beach, Dingmans Access, Bushkill Access, and Smithfield Beach in Pennsylvania, and at Watergate Recreation Site and Turtle Beach in New Jersey. A 50 percent discount on these amenity fees is given to holders of certain national park passes; ask at entry.
Visitors Centers
The recreation area has two major visitors centers that have information, bookstores, trail access, canoe launches, exhibits, and ranger-led programs. RV parking is very limited. In fact, as of press time in mid-July, Dingmans Falls Visitor Center was closed to RVs on weekends and holidays.
Kittatinny Point Visitor Center (New Jersey)
(908) 496-4458
Dingmans Falls Visitor Center (Pennsylvania)
(570) 828-6125
Campgrounds
Two campgrounds are located within the recreation area:
Dingmans Campground
(877) 828-1551, (570) 828-1551
www.dingmanscampground.com.
Open from April to October, the campground offers RV sites with hookups. It also rents canoes for an excursion to Milford Beach and back.
Worthington State Forest Campground
(908) 841-9575
www.state.nj.us/dep/parksandforests/parks/worthington.html
Open from April to December, campsites are suitable for small RVs only and offer no hookups. Modern rest rooms and showers are available. Call Reserve America for details to be sure your unit can be accommodated: (855) 607-3075.
Local And Homemade
Here's an insider tip: Thirty kinds of homemade pie are served at the Village Farmer and Bakery in the borough of Delaware Water Gap, located just outside the parkland. Family owned and run for more than 30 years, the bakery also serves breakfast and lunch meals that include pot pies, sandwiches, salads, and more. Village Farmer and Bakery, 13 Broad St., Delaware Water Gap, PA 18327; (570) 476-9440; www.villagefarmerbakery.com.