Get your RV gear, tour homes on wheels, and learn about traveler-friendly services and facilities from exhibitors at FMCA's 97th International Convention & RV Expo.
In mid-March, FMCA returns to a convention venue highly regarded by previous attendees: the Georgia National Fairgrounds and Agricenter. Located in Perry, just off Interstate 75 in the heart of the Peach State, it's a convenient destination for snowbirds and other travelers. Add a dose of Southern hospitality, a facility nicely attuned to RV events, and a slew of planned activities — including touring RV exhibits — and you'll want to put March 15 through 18 on your calendar.
At press time, the following companies were registered to exhibit at FMCA's "Southern Charm" convention. Please check FMCA.com for subsequent additions to the list.

Exhibit Hours
All Exhibitors
(RV Displays, Booth/Supplier And Outdoor Demonstration Area Displays)
Thursday, March 15
1:00 p.m. to 5:00 p.m.
Friday, Saturday, & Sunday, March 16, 17, & 18
9:00 a.m. to 5:00 p.m.
Adventure Caravans — Guided RV tours and rallies.
All Seasons Marketing — HepvO self-sealing waste valve; prevents escape of foul sewer odors from waste discharge systems.
Alliance Coach Inc. — Thor motorhomes.
Almost Heaven Micro Fiber — Microfiber RV mops, bath sheets, wash cloths, drying towels, and kitchen towels; American-made extension poles, squeegees, wax, etc.
Amazon Fulfillment — CamperForce program recruitment.
Americas Mailbox Inc. — Mail forwarding, home base, and vehicle registration.
Apalachee RV Center Inc. — Repair and service center with full-service paint and body shop; specializes in diagnosing and repairing motorhomes.
Beauty Inspired Concepts — Luxurious wash-and-wear wigs and accessories.
Bentsen Palm/Rhodes Enterprises — Premium RV properties and homes in Retama Village, Mission, Texas.
Bilstein-Shock Absorbers — Mono-tube gas-pressure shock absorbers with the patented Comfitrac piston to optimize suspension performance, reduce ride harshness, and eliminate excessive sway and bouncing.
Blue Ox — Blue Ox tow bars, baseplates, braking systems, and accessories.
Blue Ridge Electric Bikes — Pedego electric bike.
BnD Flagpole Sales — Telescoping commercial flagpoles; U.S., military, and state flags; flagpole lighting; accessories.
Bobee Tech Corporation — Car cameras, wireless rearview camera, RV security cameras.
Boeshield T9/PMS Products Inc. — Boeshield T9 rust protection and waterproof lubrication to protect steps, jack stands, slideouts, tow bars, awning hardware, locks, hinges, etc.
Boogey Lights — High-intensity RV awning and Underglow LED lighting for motorsports applications.
Bradd & Hall — RV seating products from Flexsteel, Lambright, Villa, and Fjords; AutoMotionShade RV roller shades; tables, dinettes, desks, and more by RVHardwood.com.
Brickyard Plantation Golf Club — Year-round campground; seasonal and daily sites; golf; big-rig friendly.
C&C Marketing — RV extended warranties, roadside assistance, RV tires.
Cabin Bright — 12-volt LED lighting and fluorescent tube replacements.
Cal-Am Properties Inc. — Information on Cal-Am Resorts in Arizona and Palm Springs, California.
Camco Manufacturing Inc. — Gen-turi exhaust system; Power Grip electrical cords; sanitation, leveling, towing, awning, camping and outdoor, fresh-water, and cleaning products; grills; hardware; housewares, etc.
Campers Inn Of Macon-Byron Inc. — Tiffin motorhomes.
Camping World – Woodstock — Windsport, Hurricane, Ace, Vegas, Gemini, Freedom Elite, and Chateau by Thor Motor Coach; Sunstar, Travato, ERA, and Navion by Winnebago Industries; Seneca, Precept, Melbourne, Greyhawk, and Redhawk by Jayco; Discovery, Pace Arrow, and Bounder by REV Group.
CAM-PLEX Multi-Event Facilities — Multi-event facility; Wyoming state travel information.
Carefree Of Colorado — Carefree of Colorado RV awnings and accessories custom made to fit patio awning rooms and toy-hauler rooms; window awnings; remote-control Bluetooth systems.
Carol's Creations — Big Skinny wallets with RFID protection.
Cat Cosmetics — Cat Cosmetics.
Chandler Specialities — Tank Tech RX black and gray tank treatment solution; jewelry; crocheted items.
Classic Coach Works — RV renovation and service.
Classic Scent/Classic Design — Designer ladies' tops; backpacks, Classy Comfort seat belt adjusters; RV accessories.
Coachcraft By MacDonald — Full RV service and renovation.
Coastal Georgia RV Resort — Resort information.
Coastal Reflections — Fashion jewelry, watches, charms, nickel-free hoops, necklace sets.
Crossing Creeks RV Resort — RV resort and cabin information.
Cummins Onan — RV generators that feature gasoline, propane, and diesel options; quiet operation, compact configuration, and easy servicing; motorized and towable RV applications.
Custom Glass Solutions By Guardian — FMCA member benefit; windshield replacement services; original-equipment, U.S.-manufactured RV windshields; free year of FMCA membership with windshield replacement.
Cutco Cutlery — Cutco Cutlery with forever guarantee.
Diamond Shield — RV paint protection film; nationwide mobile service, removal and replacement, precut vehicle kits, bulk film distribution.
Diane's Crystal Creations — Handcrafted crystal jewelry for all occasions; includes necklaces, bracelets, and earrings.
Dotty's Design — Beaded necklace sets, bracelets, earrings, lanyards, etc.
DuraFlap Mud Flaps — DuraFlap RV mud flaps for the rear of the vehicle and the fender wells; no-drill-installation mud flaps for pickups, SUVs, and vans.
Easy Living Products — Power Steam Pro travel garment steamer; Go! Stocky! all-green cleaning system for pet hair, dirt, and debris.
Elite Resorts Of America — RV lot sales.
Elizabeth Truck Center — Northeast Area's largest collision center.
Entegra Coach — Entegra motorhomes.
Euroshine USA Inc. — ADA-compliant Euroscooters adult scooters.
EZ-UP Lights LLC — Outdoor camping lights controlled via remote; swivel and pivot for desired amount of lighting.
Fantasy RV Tours — FMCA club-discounted and member-only tour information.
Flitz International Ltd. — Flitz premium polishes, waxes, sealant, cleaners, Buff Balls, protectants, and microfiber cloths available in kits, buckets, or individually.
FMCA — Membership and member benefits, dues renewals, FMCA merchandise, FMCA road atlas, area rally information.
FMCA RV Insurance — FMCA club-discounted insurance with multiple carriers.
Foot Pharmacy Direct — Custom orthotics.
Forest River Inc. — Forest River motorhomes.
Frans Enterprise — Gripstic sliding bag sealers for pantry, fridge, and freezer.
Freightliner Custom Chassis Corporation — Freightliner Custom Chassis.
Gadget & Game Depot — As Seen On TV items, board games, dice games, card games, Jumbo Sequence, and dominoes.
Garnet Technologies — Garnet SeeLevel tank monitoring systems.
Girard Systems — Awnings, shade products, tankless water heater.
Gold Heat — Gold Heat and Black Gold electric radiant floor heat solutions.
Hale Northeastern — Convention decorating services.
Henderson's Line-Up, Brake & RV — SuperSteer bell cranks, Trac Bars, motion control units, sway bars, Koni shocks, Sumo Springs, Safe-T-Plus steering stabilizers, and exclusive use of the Road Performance Assessment.
HomeCraft Gutter Protection — 316 surgical-grade stainless-steel, micro-mesh, anodized-aluminum gutters; Gutter Protection and Eco Rain Harvesting System with a transferable 40-year warranty.
Howes Lubricator — Diesel fuel additives, multipurpose lubricator and penetrating oil, oil and fuel enhancers.
HWH Corporation — HWH hydraulic leveling systems, HWH slideout systems, HWH Active Air suspension system, HWH specialty oil, HWH hydraulic entry steps.
Hymer Roadtrek RV — Roadtrek motorhomes.
InnoTechRV — Tire pressure monitors, backup cameras, LED awning lights, Hughes Autoformers.
International Thermal Research — Oasis CH50, Oasis NE-S, Oasis NE, Oasis Combi, and Oasis Zephyr.
Jessa-Loop Designs — Handcrafted painted and carved signs; personalized camping signs, bottle openers, and clocks.
Jirah Company — Premium LED upgrades and wireless LED towed-vehicle lighting systems.
Jupiter-Palm Beach Motorcoach Resort — Type A motor coach resort in Palm Beach County, Jupiter, Florida; 100 sites for sale and/or rent.
Ken Murphy Associates Inc. — TireMinder tire-pressure monitoring system.
Kiley Mold Company — FMCA membership products, plates, and accessories.
KING — Manufacturer of satellite and over-the-air HDTV antennas, including KING Tailgater and KING Jack antennas; complete line of accessories.
Lakewood Camping Resort — Resort information.
Lazydays — New Entegra and Tiffin motorhomes; preowned motorhomes.
Liberty Coach Inc. — Emerald and Liberty motorhomes.
Liquid Spring LLC — Liquid Spring suspension for RVs; compressible liquid adaptive suspension system for Ford, Ram, GM, International, and Freightliner Custom Chassis.
Lloyd DeGerald Services – Aqua Hot Services — Aqua-Hot service, repairs, parts, replacements, and education.
L'Paige Cosmetics — L'Paige Lipstick, Worley's Wonder jewelry cleaner.
M&E Sales — VBX wellness vibration exercise machines.
M&G Car Braking Systems — Braking system for towed vehicles.
Magne Shade By Hunckler Fabrication — Magne Shade magnetic exterior shades, EZ fold tire shades, Nana shade.
Microwave Connection — Recipes, cookware, and information for microwave-convection ovens.
Mito Corporation — WiFi Ranger: allows RVers to have a connected coach, boosts weak Wi-Fi, and secures public networks.
Mobility Scooters Of South Florida Inc. — Scooters for sale and rent.
MyPillow Inc. — Bed pillows, utility pillows, pillowcases, mattress toppers, pet beds, Giza 88 sheets.
National Indoor RV Centers — Entegra, Newmar, Hymer/Roadtrek, and Thor diesel and gas product lines.
Parallax Power Supply — Parallax RV deck-mount converters, distribution panels, power centers with U.S. stamped-steel enclosures, and automatic transfer switches.
Passport America — 50 percent discount camping card and international camping directory.
Paul Evert's RV Country — Large selection of preowned diesel coaches.
Pet Creations Corporation — Pet harnesses, collars, dresses, and accessories.
Phoenix USA Inc. — Factory-direct manufacturer of luxury Type B-plus motorhomes.
Pilot Flying J — RV Plus charge card.
Precise Satellite/RV Electronics — Service, sales, and installation of RF Mogul and Winegard RV satellite TV systems, and SMI tow brakes.
Professional R.V. Vendors — RV accessories.
Queen Of Pain Relief — All-natural pain relief products.
RCIXL — Recreational, commercial, and industrial paint and body, state-of-the-art collision center and RV service center.
Recreational Specialties/New Debut — Interior restoration; specializing in flooring, custom cabinetry, reskins, and X-bracing.
REV Recreation Group — Type A, B, and C motorhomes, including Fleetwood, Holiday Rambler, Renegade RV, American Coach, Midwest Automotive Designs, Monaco; REV Group merchandise.
Reyco Granning — Reyco Granning suspensions.
RF Mogul — RV satellite manufacturer.
Rick's Specialty Vehicles — Cricket electric sport vehicles.
Roadmaster Inc. — Tow bars, brakes, wiring, and suspension products.
Rodie Enterprises — Patent-pending device to contain goods and appliances on tables and countertops while on the road.
RV Armor Inc. — RV Armor seamless, maintenance-free roofing system.
RV by LIFE Division Of Life Industries Corporation — Manufacturer of cleaners, waxes, epoxies, and sealants; new-release adhesive and sealant remover.
RV Cable Grip/J Wright Concepts — RV Cable Grip and Hose Grip products with ergonomic design for easy attachment and removal.
RV Fog Dr. — Custom painting and RV window repair and replacement.
RV Glass Solutions — On-site RV windshield repair and replacement with nationwide warranty.
RV Innovations — RVI 3 auxiliary braking system for towed vehicles; accessories.
RV LED Lites — Motion-Guard and Starlights motion lighting; Bug-Guard porch lighting, Glow-Tubes fluorescent tube replacements; LED replacement bulbs.
RV One Superstores Inc. — Entegra motorhomes.
RV Safety & Education Foundation — RV weighing by wheel position; safety education materials.
RV Safety Accessories Inc. — TireTraker tire-pressure monitoring systems with lifetime warranty; Progressive Industries surge and voltage protection systems.
RV Satellite & Entertainment Solutions — Winegard high-definition satellites for DirecTV and Dish Networks, DirecTV receivers, over-the-air antennas, Sensar Pro signal boosters, LED replacement bulbs, LED light strips.
RV Space Savers — Space-saving kitchen and RV products; accessories; jewelry; hats; clothes; scarves; books; bags.
RV Whisper — RV monitor for temperature, humidity, and battery voltage; signals an alert when temperature is too high or voltage is too low.
RVRoof.com — No-leak, lifetime-guaranteed sprayed RV roof.
Sam Little Sales — Cricket 24-volt and 36-volt mobility carts.
Satellite Electronics/RV Connections — DirecTV and Dish independent dealer; installation of new TV systems and custom sound systems; Winegard satellite and TV connections and accessories; KVH, MotoSat, KING Dome, and TracVision; servicing off-air antenna, audio-video systems; Store Safe RV Protector; Nebo lights; Lazy Cloud portable seating.
Shade Man LLC — Manual and motorized roller shades.
ShadePro Inc. — Carefree awnings; Demco towing products; Winegard; Vista Shade; dash covers.
SilverLeaf Electronics — SilverLeaf diesel engine and RV house systems instrumentation.
Slidemaster/Innovative Industries — Specialized custom-built aluminum or steel cargo-handling slides and trays for RVs, pickup trucks, SUVs, etc.; various extensions and weight capacities; electrically powered slides.
Smoky Mountain Coach Works — RV renovation including MCD shades, Lambright furniture, custom cabinets, flooring, and all types of interior restoration products.
Softcell Recreational Water System — SoftCell portable water/filtration softener for RV, marine, and other applications; reduces spotting and staining, decreases scaling and buildup from hard water.
Southern Destinations — Free brochures and information on Southeast destinations; drawing for a Jekyll Island, Georgia, vacation and other prizes.
Spartan Motors USA Inc. — Spartan Type A motorhome chassis; motorhome maintenance parts including air, oil, fuel, and hydraulic filters; hydraulic coolants and oil fluids, etc.
Steer Safe Inc. — Steer Safe steering stabilizer.
Stone Vos LLC — Carefree and Thetford dealer; fabric replacements for awnings; 303 products.
Streak Free — Streak Free cleaning cloths.
Summit Products — RV stainless accessories, chrome latches, jack pads.
Sunrise Bedding — Thermoshield pillowtop mattress pad.
Superior Driveline — Superior Driveline (formerly a Remco product) driveshaft disconnects allow for towing rear-wheel-drive and four-wheel drive vehicles behind a motorhome on all four wheels.
Superior Sleep Experience — Gel-top RV beds.
The Gardens RV Village — Eastern Tennessee RV community featuring luxury homes with attached, enclosed RV garages.
Thetford & Norcold Corporation — RV toilets, refrigerators, chemical and care products, and evacuation products.
Thor Motor Coach — Aria, Palazzo, Tuscany, and Venetian motorhomes.
Tiffin Motorhomes Inc. — Full line of Tiffin motorhomes.
Tireminder The Minder Research — TireMinder tire-pressure monitoring system; TempMinder wireless temperature monitor; NightMinder night lights, tea lights, motion and safety lights.
Travel Resorts Of America — Free camping promotion.
True Frequency Products — Tungsten, titanium, sterling silver, stainless-steel, and leather jewelry.
Uncommon USA Inc. — The original telescoping flagpole, flags, RV stands, light kits, etc.
United Safety Apparatus Inc. — Safe-T-Plus steering control.
Valley River RV Resort — Luxury resort in Murphy, North Carolina.
Vehicle Administrative Services — FMCA Roadside Rescue roadside assistance program.
Verizon Wireless — Verizon Wireless phones, tablets, jetpacks, and accessories.
Voyager RV Credit — RV financing, Montana LLCs, extended warranties, dealer financing programs.
Wash Wax All — Waterless wash-wax protection.
Webster Enterprises — Smart Living frying pans, IQ Sweeper, Perfect wine opener, Briza air cooler, Triad Aer air purifier, TV streaming box, Aqua-blade window cleaner.
Yoders Store — Herbal products, muscle rubs, herbal extracts, THC-free cannabis herbal products.
Your Best Address — FMCA mail forwarding, mail and vehicle registration services provider.

Summit Products Shine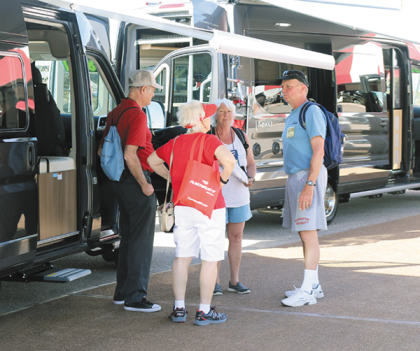 Summit Products, a manufacturer of stainless-steel coverings and accents for motorhomes, will welcome attendees to its display in Perry. The company first exhibited at an FMCA convention in Ogden, Utah, in 1998, and now regularly attends, along with FMCA area rallies when possible.
Summit Products fabricates a variety of stainless-steel accessories designed to enhance the appearance of a motorhome while adding practical features. The company specializes in stainless-steel upgrades such as custom-fitted "armor" that wraps around the lower area of exterior compartment doors. Other products include stainless-steel exterior step covers, interior step risers, stainless fuel door accents, hose keepers (to organize electrical cords and hoses), jack pads in different sizes, chrome door latches, and more.
Summit Products was established in 1998 in Clive, Iowa, and first operated in a garage. Next came a 6,500-square-foot shop with office space. Today, Summit Products has a 70,000-square-foot manufacturing facility in Altoona, Iowa. Virtually every motorized RV original-equipment manufacturer buys from the company.
Company representatives attribute this to great customer service; 20 years of experience; and beautiful, long-lasting products. They also note that they can help coach owners turn problems into positive memories. For example, damaged baggage doors can be hard to replace. The solution: Overlay the damaged doors with Summit Products' stainless Premier Armor or Executive Armor kit. The resulting coach enhancement often costs less than replacing or repainting damaged doors, and usually is quicker, too.
From the beginning, customer input has been key. In fact, the idea for Summit's stainless-steel upgrades for motorhomes came from a discussion with a motorhome owner. In addition to serving the OEM market, Summit maintains a sizable aftermarket business for individual RV customers.
"Many coach owners like the look of stainless on the new coaches. They are eager to inquire about how they can have the same look on their coach," customer service manager Kelly Johnson said. "We have an extensive database of experience with different years, makes, and models of many coaches." RVers can visit the company website and input their motorhome make, model, and year to see what's available for their unit. The Summit Products staff works with individual customers on selection, installation, and more.
Company officials pride themselves on precise manufacturing methods, high-quality materials, and attention to detail in craftsmanship. "Whatever product you purchase, it will fit and feel as if it was tailor-made for your coach . . . because it is," Mr. Johnson said.
Summit's stainless-steel armor designs and other stainless accent designs are crafted mostly for high-end motorhomes. The company has not ventured into the towable market to date, but Mr. Johnson noted, "We are always willing and ready for discussing with (towable manufacturers) what Summit can bring to their part of the RV industry."
Summit Products also provides powder coating, metal, wood, and plastic fabrication products to other industries, including the agricultural, construction, and marine markets. These include Fortune 500 companies looking for specific product applications and prototypes.
But back to Perry. What can convention-goers expect to see? Summit Products will display various accessory items owners can pick up for their RVs. Factory representatives also will answer questions about the company's custom stainless-steel armor, step covers, and other products. And attendees will be able to learn firsthand from Summit customers.
"Many attendees simply come by the booth to say hello and offer testimony to other customers who are thinking about our products," Mr. Johnson added.
Summit Products, www.rvstainless.com, (800) 329-2958
New Convention App
The Perry convention is going mobile with a special event app! The FMCA Events team has worked with CrowdCompass to build an app for both Apple and Android devices that will make the Perry convention experience much easier for attendees, exhibitors, and speakers.
The app will include maps of the Georgia National Fairgrounds and Agricenter, seminar schedules, exhibitor locations, and information about entertainment and activities – all in the palm of your hand.
The app is scheduled to be launched in early February. When it is ready, FMCA will email registered convention attendees instructions on how to download it from the App Store or Google Play.
If you're registered for FMCA's "Southern Charm" convention, make sure to watch your email inbox and follow us on Facebook (www.facebook.com/fmcafans). More info is on the way!
— FMCA Events