Amateur astronomers John and Brenda Nejedlo travel in search of dark skies and bright stars.
By John Johnston, Associate Editor
March 2018
On a clear night in Wisconsin about 20 years ago, John and Brenda Nejedlo took turns peering through the eyepiece of their first telescope. Among the celestial objects they observed was Saturn, the ringed planet. "I just stood there and cried," Brenda said. "That was it. I was hooked."
Such awe-inspiring sights are scattered across the heavens, and the Nejedlos, F468011, plan to help as many people as possible to see them. In fact, that has become the mission of the novice full-time RVers. "We sort of feel like evangelists of the night sky," John said.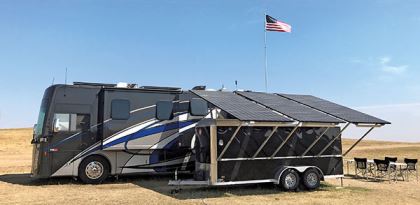 They hope to connect with people at dark-sky sites — places far removed from urban light pollution, which drastically reduces the visibility of stars. They also will make themselves available for astronomy presentations at schools, parks, and RV campgrounds.
Such a lifestyle would have seemed highly improbable just a year and a half ago. The couple, married since 1994, were living in a sticks-and-bricks home in Wisconsin. John, 47, a former police officer, was teaching high school science. Brenda, 52, a longtime private voice and piano teacher, was working for an internet-based scrapbooking company.
During Thanksgiving weekend in 2016, they watched a video series on the geology of the U.S. national parks. "All of these beautiful places we wanted to go," John said. "I looked at her and said, 'I want to go see this. Should we do this?'" They discussed buying an RV and becoming full-timers. "She looked at me and said, 'Yeah, let's do this.'"
"Not that we didn't have a couple of drinks while we were watching the videos," Brenda said. "Just sayin'."
The next morning, worried that Brenda would have second thoughts, John asked, "What do you think about what we talked about last night?" Brenda's reply: "Let's do it."
A day later, Brenda was grocery shopping when John called. After spending all night researching RVs, he had placed a small down payment on a 2017 Thor Aria 3401, a 35-foot Type A motorhome.
Certain events made the timing right for a significant life change. After the death of Brenda's parents — her father in 2011 and her mother in 2016 — she received an inheritance that not only made early retirement possible for the childless couple but also made a motorhome purchase financially feasible. And although John enjoyed teaching, the recent death of a younger friend brought home the realization that life is short, and dreams should not be delayed.
Neither John nor Brenda had RVing experience. But through her job, Brenda knew a couple who bought a fifth-wheel and became full-timers. After paying them a visit, "I knew (full-timing) was something we could do."
So, the Nejedlos sold their home and almost all of their belongings. But John could not bear to part with their astronomy equipment. He had just purchased an $8,000 20-inch reflector telescope, an Obsession f/5 Classic. It's big; when the telescope is positioned vertically, the eyepiece is eight feet above the ground. Such sensitive equipment requires an air-conditioned environment when being transported for extended periods on the road. That led to the purchase of an MS-325 Mobile Solar Trailer, which they tow behind a Ford F-250 pickup. (Yes, John and Brenda drive separately.) The trailer is outfitted with 12 solar panels and 3,000 pounds of batteries.
Then last summer and early fall, they spent several months in Wyoming while Eddie Glonek of Mobile Homestead Solar Services installed 12 solar panels on the Aria and performed other work so that the Nejedlos can go extended periods without hookups. Eddie and his family also taught them much about boondocking.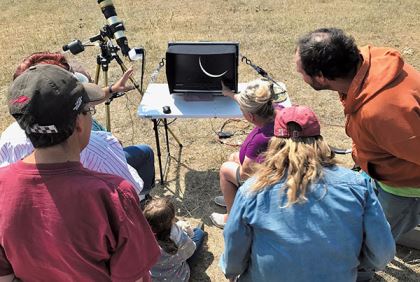 Now, with their solar power capability, "We are able to be completely off-grid," Brenda said. "We've put in two composting toilets — one in our rig and one in our trailer. And we have a (65-gallon) water bladder, so we can get water wherever we are."
To learn as much as possible about his motorhome, John this winter enrolled in a 10-week RV technician training course offered by the Recreational Vehicle Service Academy (RVSA) in Palmetto, Florida. He and Brenda also spent that time learning to use their new astronomy gear, which includes a Celestron 11-inch Schmidt-Cassegrain telescope with a HyperStar lens and an astrophotography camera. The camera attaches to a computer and a public monitor, which allows anyone — including those who have difficulty looking through an eyepiece — to view celestial objects.
Once John's RVSA coursework ends in March, he and Brenda will hit the road. What lies ahead "is truly like a blank slate, which is exciting," Brenda said. They envision stopping in the middle of nowhere to enjoy truly dark skies, and presenting programs at RV campgrounds, parks, and schools. In the daytime, they can offer people a look at sunspots and solar flares. At night, they can focus their telescopes on the moon, planets, and various deep-sky objects, such as galaxies, nebulas, and star clusters.
You can follow their adventures and contact them through their website, www.geoastrorv.com. (The "geo" portion of the name is a nod toward geology, another of the couple's passions.)
Their inspiration is John Dobson, known as the father of sidewalk astronomy. For decades until his death in 2014, he brought his homemade telescopes to street corners, parks, or wherever crowds might gather so that passersby could view the heavens. He founded the Sidewalk Astronomers stargazing club, which has members around the world, and he designed a telescope with a portable mount that came to be known as a Dobsonian.
The Nejedlos' first telescope, the one they pointed at Saturn years ago, was a Dobsonian.
Dobson never sought a patent on his telescope design and earned no royalties for it. Likewise, the Nejedlos said the purpose of their new venture is not to make money. It won't be a business.
"We are retired," John said. "I feel a strong calling — we do — that this is our gig in retirement. I want to share with people.
"John Dobson said the worst thing you can do to a telescope is not share it with people. A lot of our decisions have been made based on how do we best share this with people.
"I think all of us have this need to connect, at some deep level, to the universe," John added."
And experience more awe in our lives.