Or, how not to RV.
By Kerensa Durr, F437547
March 2018
We've all made them: those silly mistakes that cause RVing mishaps or, preferably, just a little embarrassment. It doesn't seem to matter how long we've been RVing, either. At some point, we all slip up or forget one little thing. As a newbie, you're at a disadvantage, because you just don't know as much about RVing in general or your RV in particular. I know we've made our share of missteps in our RV, both as new RVers and as seasoned travelers.
There are many things of which you're unaware if you've never had an RV before. I'm sure a lot of you have day and night shades in your RV like we do. The day shades look similar to the ones on the front windows of the house where I grew up. They would let light in but not let anyone see inside, no matter the time of day. After all, Brandon and I couldn't see outside through the RV shades at night, so they must be the same. We only used the night shades to block out the sun, as in make it dark like night. Sounds logical, right?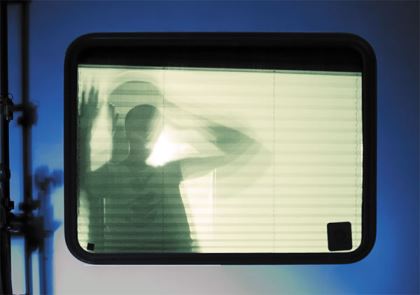 For the most part, we lived our normal life inside, worked at our desks, made dinner, and put on pajamas to go to sleep. We were usually together, either inside the RV or outside around a fire or exploring our new location. It was a whole six months before Brandon stepped outside while I was inside with the lights on. It took him less than a minute to rush back inside and declare that you could see very clearly inside the RV through our day shades! I was mortified, trying to think back over the past few months and where we'd been parked and what we might have done. Did we have any impromptu dance parties? Thank goodness the spot we were in was facing the woods, or we might have had to leave the campground! Now we laugh, but it was a bit humbling at the time.
Other times even when you're new, you should know better, but you still learn the hard way. I think most RVers have some kind of dump story; this was our first and not even the worst. Brandon was dumping our tanks and using the backfill to give the black-water tank a good rinsing. He'd read that you could get it cleaner by filling the black-water tank with fresh water and then dumping it, so he thought he'd give it a try. He got tired of standing behind the RV waiting for the black tank to fill and walked around front to sit on the picnic table. While waiting, he became engrossed in playing a game on his phone and lost track of time.
This was a big mistake. When you overfill your fresh-water tank, you'll see water start to hit the ground underneath your RV. That is not how your black-water tank works. Once the tank is full, that water travels up the pipes it can access — the first being your toilet, and you better hope your seal holds. Thankfully, ours did. The other is the vent pipe.
Brandon heard rain and looked up to see no clouds, but water was coming out of our vent pipe and pouring down the sides of the RV. He immediately realized his mistake and sprang into action, opening the black-water tank and turning off the water. He disconnected the water hose from the RV and used it to rinse off the now dirty beast while he looked around for witnesses. Luckily for me, I was at a friend's house while this happened, so I just received a call letting me know why there may be bits of toilet paper stuck to the sides of the RV when I came home.
That was all Brandon, of course, but sometimes things are out of your hands. As we made our way to Vermont our first year, we were driving up the curvy roads when I thought I heard something. I'd look back in the RV to see nothing amiss. But as we headed north, I would hear it again. I sat with my head turned to face the interior of our RV, determined to catch the culprit of this sound. What I saw caught me completely off guard. As we veered left, the fridge tilted forward out of its cupboard! It looked like it would fall over at any large turn. We were on the interstate at this point and had to wait for a travel plaza to make a stop.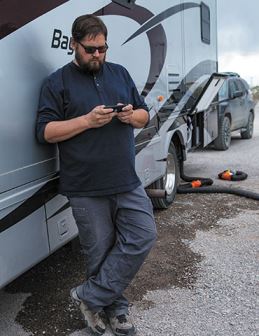 The fridge in this motorhome, our first, was a residential-style unit that had been retrofitted by the previous owner. It fit perfectly in the space left by the old propane/electric model, but evidently not well enough. When we stopped, we pulled off the old vent covers and tried to secure the fridge to the RV wall with ratchet straps. When that didn't work, we knew we'd have to take it easy all the way to the campground.
Once in the campground, it became a bigger job, as we had to move the refrigerator to pull out the false floor under the fridge and install a stronger floor with more supports. We also added stronger straps across the front of the fridge that were secured to each side of the original frame. There was no way we wanted a repeat of that day on the road or, even worse, to have the fridge actually fall over when driving. Can you imagine the mess?
The fridge falling wasn't the only thing we've seen happening behind us. During our first trip to the Florida Keys, we were towing our little Mini Cooper behind our motorhome. We had stopped for lunch and were headed back out on the road. We turned out of the parking lot and started to feel the RV shaking. As we glanced around, Brandon's eyes fell on the screen for the rearview camera, and I saw them widen. I looked at the screen and saw the Mini bouncing from the tires on the passenger side to the tires on the driver side. It was going back and forth, bouncing one way and then the other. We already were driving slowly, but we slowed almost to a dead stop to let the car regain its footing before we continued to where we could pull off and check it for damage. Evidently, the tires caught the edge of the asphalt as we turned out, and it sent the car into a side-to-side bounce. A Mini may be small, but it was still shocking/amazing/crazy to see it bounce like that.
Everything I've described happened in our first year as full-timers, but that doesn't mean the mishaps stopped after that. Maybe we're not averaging so many a year anymore, but we still have goofs. Sometimes they're out of our hands, and sometimes they are the result of our complacency, such as not checking the weather. Every misfortune becomes a story to share and retell around a campfire. Every misstep gives us a lesson to learn. We have never viewed any incident as a major disaster, but maybe a minor headache that we can laugh about later. After all, we need something to write about.
Visit Kerensa Durr & Brandon Hatcher in their Facebook group RV To Freedom. You can learn more about full-time RVing at RVtoFreedom.com and read more of their personal adventures at DriveDiveDevour.com.