Storage Solution
Maybe you haven't run out of storage space in your RV after all. BrackeTainers, from GetStorganized, mount on most vertical and horizontal surfaces — including under shelves and tables and on doors, walls, and overhead surfaces — using 3M VHB (very high bond) tape or flathead screws. BrackeTainers come in nine lengths and are designed to firmly hold multiple sizes of Komax Biokips, which are airtight and liquid-tight storage containers made of BPA-free polypropylene plastic.
Each container has four hinged tabs and a removable silicone seal. The containers can be purchased separately or in combination with BrackeTainers. The retail prices of BrackeTainers with Komax Biokips range from $11.98 to $29.95. To see the products in person, visit the GetStorganized booth at FMCA's July convention in Gillette, Wyoming.
GetStorganized
(509) 306-9583 or (509) 306-0279
www.getstorganized.com
---
Interior Light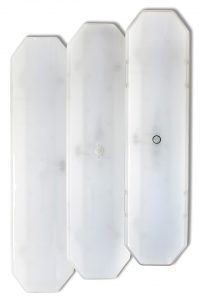 The long life, energy efficiency, and small size of LEDs make them the preferred lighting choice of many RVers. TecNiq's E32 Surface-Mounted Interior Light runs on 12-volt-DC power and its 42 LEDs deliver 2,200 lumens.
Only one hole must be cut for the light — a 1/4-inch opening for the wire feed. The light mounts with four screws that are hidden when the cover snaps on. Three E32 models are available. The standard model is wired to a switch that is mounted elsewhere, such as on the dash or in a storage compartment; suggested retail price is $120.89. The model with a built-in manual on/off switch has a suggested price of $134.89; the cost of the model with a motion detector is $177.89. Each is 14 inches long, 3.5 inches wide, and projects no more than 3/4-inch from the mounting surface.
TecNiq
(269) 629-4440
www.tecniqinc.com
---
Beach Towel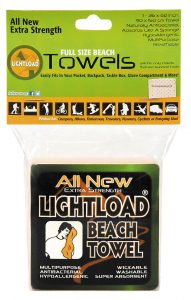 When you can't justify taking up valuable RV space with big, fluffy cotton towels, an alternative may be Lightload Beach Towels. They're made of lyocell, a form of rayon. In its waterproof package, each compressed towel is small enough to fit in your pocket and weighs about 5 ounces. Dip it in a little water, unpeel it, and according to Lightload, the towel expands to 36 inches by 60 inches. Other possible uses: an emergency diaper; a tablecloth; or a fire starter.
The cost of one Lightload Beach Towel is $15; the price of a box of 12 is $89.99. Other towel sizes are available.
Lightload Towels
(954) 999-9290
www.liload.com
---
Dual-Purpose Bottle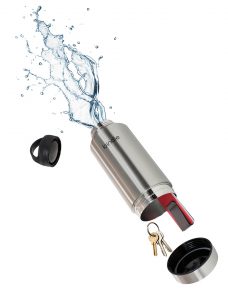 Bindle Bottle is bifunctional. The stainless-steel bottle holds up to 24 ounces of liquid and features a dual-walled, vacuum-insulated design that keeps drinks cold or hot. On the bottle's bottom is a waterproof compartment that can hold keys, credit cards, a money clip, and the like.
The bottle is 10.6 inches tall and 3.7 inches wide; the dry-storage compartment is about 3.2 inches by 3.3 inches. Bindle Bottle comes in five colors. The retail price is $39. A loop lid is standard, but the bottle also is available with a straw lid (add $7) or a coffee lid (add $5).
Bindle Bottle
https://bindlebottle.com
---
Tire Carrier

You can't predict when you'll get a flat tire, but you can be ready for it. Retract-A-Spare, from BAL RV Products, is a spare tire carrier that mounts under the frame of many RVs. It features a cable-driven, telescopic design and operates via a 3/4-inch threaded rod that extends and retracts the spare tire to and from its storage position.
Retract-A-Spare can be mounted to the frame rails of travel trailers, fifth-wheels, and Type C motorhomes with frame widths that range from 52 inches to 72 inches. Installation requires drilling through the frame rail and carrier channel. The carrier is suitable for wheels and tires up to 16.5 inches. The suggested retail price is $119.99.
BAL RV Products
(574) 262-3400
www.norcoind.com/bal
---
RV Hanger

When you're camping, it's nice to have a convenient place to hang wet swimsuits and towels, or maybe a birdfeeder, campsite flag, wind chimes, backpacks, and more. LadderGadget can be installed on an RV ladder in minutes.
Available in black or silver, LadderGadget is made of anodized marine-grade aluminum and comes with stainless-steel hardware. It remains in a locked, folded-down position until it's needed; then, you lift its 35-inch arm to a horizontal position. The arm is said to hold up to 20 pounds. The price is $99, with free shipping in the continental U.S.
Laddergadget.com LLC
www.laddergadget.com
---
Illuminated Handle

When it's time to come to grips with a new RV entry handle, you might consider the Brite Bar, from Fleming Sales. The illuminated handle is made of clear acrylic plastic and is available in three designs: straight, curved, and spiral.
Each Brite Bar contains three LEDs. White LEDs are standard, but colors are possible for an additional charge, as is custom engraving. The Brite Bar comes with a 12-volt wiring pigtail connection and chrome-plated top and bottom mounting brackets and screws. A straight Brite Bar is $39.95; curved and spiral models are $49.95.
Fleming Sales
(574) 295-0234
www.flemingsalesoem.com
---
Bunk Ladder

Evidence exists that humans have used ladders for at least 10,000 years. Maybe to reach the top bunks in caves? Thankfully, this ancient tool still works incredibly well, so maybe it's time you get one to make it easier to reach the top bunk of your RV. The RV Bunk Ladder, from Surco Products, fits the bill.
The ladder is manufactured from heavy-gauge 1-inch aluminum that has been treated to produce a bright finish. It features padded feet to grip and protect the floor, as well as nylon-wrapped step pads. The ladder is available in lengths of 60 inches and 66 inches, and a choice of three styles of hooks: a 1-inch hook; a 1.5-inch hook; and a hook retainer. The price ranges from $67 to $75 depending on the model.
Surco Products Inc.
(310) 323-2520
www.surcoinc.com
---
Windshield Cover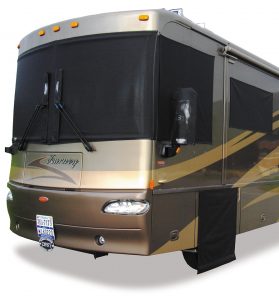 The sun can cause damage and raise temps in RVs. One solution: Sunguard exterior windshield covers, from the RV Toy Store.
One popular windshield cover features high-density sunscreen fabric made of 100 percent vinyl-coated polyester designed to block up to 94 percent of the sun's heat, light, and damaging ultraviolet rays. In the daytime, you can see out, but neighbors can't see in. Sunguard covers come in white, tan, gray, brown, or black. A three-piece high-density windshield cover is $369.95, which includes matching Sunguard wiper savers and a storage bag. Side-window covers, tire-saver covers, and two-piece mirror sets also are available.
RV Toy Store
(800) 334-5533
www.rvtoystore.com