This nicely equipped fifth-wheel incorporates many luxury features, but without the corresponding price tag.
By Mark Quasius, F333630
July 2018
Vanleigh RV may be one of the newer RV manufacturers, but it comes with more than 40 years of experience. The company, established in 2015, is a joint venture by Bob Tiffin, founder of Tiffin Motorhomes; Bob's son Van; and Van's son Leigh.
Vanleigh fifth-wheel travel trailers are manufactured in Burnsville, Mississippi, in a dedicated state-of-the-art facility. The company's luxury fifth-wheels are designed for full-time living and include many features not present on other brands.
I recently tested the Vilano 320GK, a 35-foot fifth-wheel equipped with three slideouts and a number of outstanding features, such as a gourmet kitchen and theater seating. Kings Campers in Wausau, Wisconsin, provided this RV for our review.
Construction
Vanleigh fifth-wheels are built using tubular aluminum framing. The roof and floor joists are spaced on 16-inch centers and stuffed with fiberglass batt insulation, rather than foam board; this yields an impressive R-45 insulation value, which is at the top of the industry. The pinch-roll-laminated sidewalls are rated at R-11. The sidewalls are finished with Noble T60 high-gloss fiberglass, which is said to be four times thicker than most fiberglass panels and provides an attractive surface. A BASF painted fiberglass cap adorns the front of the RV. Thermoplastic olefin (TPO) covers the roof.
The living and kitchen areas offer plenty of headroom, even in the 8-foot-tall slideouts. Each slideout box is laminated and framed in aluminum. Fiberglass batt insulation also is used in the slideout floors and ceiling. The slideouts are laminated just like the sidewalls. They are framed on five sides — including laminated floors — and also insulated with block foam.
The underbelly is fully enclosed and heated to allow usage of this RV in even the coldest temperatures without freeze damage concerns. All electrical wiring is placed in looms, and each conductor is labeled.
Chassis
The Vilano has a 16,000-pound gross vehicle weight rating (GVWR). Generic spec sheets list its dry weight as 12,400 pounds, while this particular unit was 12,420 pounds when weighed at the factory. The hitch pin weight is 2,600 pounds. A six-point hydraulic power leveling system facilitates setup work, and a Rota-Flex hitch coupler with a pivoting head provides a comfortable tow. The Equa-Flex suspension with Correct Line tracking soaks up any bumps in the road when the RV is under way and
offers straight-line tracking. The Vilano runs atop LT235/85R16 G series 14-ply tires.
Exterior
Similar to most fifth-wheels, the Vilano is tall, with an exterior height of 12 feet 11 inches. However, Vanleigh borrows from the Tiffin Motorhomes line by featuring a continuous motorhome-style roof, rather than a stepped version. Frameless flush windows are mounted in the high-gloss fiberglass sidewalls. A power patio awning is lined with LED lighting, while a rear ladder affords access to the roof if needed. StepAbove aluminum entry steps from MORryde feature adjustable legs and feel rock-solid when entering or exiting the RV. The Vilano is also prewired for a backup camera and features all-LED exterior lighting.
Interior
The review unit was finished with Amber Glaze wood stain on Alder woodwork, one of four available hardwood selections, and paired with coffee décor upholstery. The Vilano's 8-foot-7-inch interior height provides plenty of headroom and space for storage cabinets. All cabinet styles, rails, and doors are hardwood, as are the slideout fascia, valances, and other trim.
A solid sheet of wood-plank-look vinyl flooring flows through the main living area and kitchen, while a second sheet of vinyl covers the upper deck's bedroom and bath floors. A soft-touch vinyl ceiling runs throughout the RV. Instead of pleated shades, slow-rise day and night roller shades frame the windows.
A Spyder Controls multiplex wiring system allows for digital operation of all lighting, including dimming, via the display console mounted on the wall inside the RV. Recessed LED lighting is used throughout the unit to minimize current draw and heat output, and because of the bulbs' long life. The large pass-through basement area is carpeted and features motion-sensor LED lighting.
The Vilano's main living area is very inviting. An 80-inch-wide Ultraleather-covered sofa stretches across the back wall. A matching 60-inch-wide theater sofa on the curbside wall has power reclining, heated seats. A Dirt Devil central vacuum system helps keep the unit clean. A ceiling fan circulates air in the living area.
Interior Cont. (Entertainment)
The comfortable seating may put occupants to sleep while watching a favorite movie on the 50-inch LED TV, positioned on the street-side wall. The TV is built into an impressive entertainment center that contains a sound bar with surround sound, a DVD player, and connections for a satellite receiver or other A/V components or sources. Bluetooth for wireless remote control and streaming comes standard. The base of the entertainment center holds a 40-inch-wide electric fireplace that is capable of providing an additional 7,200 Btu of heat to the living area. A King Jack antenna gives access to off-air broadcast TV signals without the need to raise and lower the antenna.
Interior Cont. (Kitchen)
The Vilano's galley is the pièce de résistance. In fact, the "GK" in the 320GK floor plan name stands for "gourmet kitchen." The first thing you may notice upon entering the RV is the wood-trimmed ceiling treatment above the galley island. It contains recessed LED lighting that shines right over the large island, as well as decorative louvers. An automatic Fan-Tastic Vent fan with rain sensor is right above the cooking area.
The island contains an oversized stainless-steel sink with 70/30 basins. The residential stainless-steel faucet has a pull-out sprayer. An optional dishwasher can be installed in the island but was not present in this particular unit. The wall behind the island is fitted with storage cabinets and an overhead microwave-convection oven, as well as a work area. The work area also contains a residential Samsung Chef Collection two-burner gas cooktop and a full-size oven capable of baking that Thanksgiving bird. A tiled backsplash is behind the cooktop. Immediately adjacent is an 18-cubic-foot residential refrigerator with French doors and a pull-out freezer drawer. All appliances are stainless steel. A 1,000-watt pure sine wave inverter provides continuous power for the refrigerator when traveling.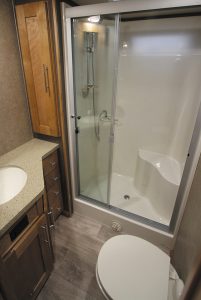 Turn right when facing the fridge, and you'll come face-to-face with a sizable pantry capable of storing enough food for a small army. Additional counter space is provided in this area.
Directly opposite the galley is a legless dinette with four upholstered chairs. All counters in the Vilano, including the dinette, feature solid-surface material.
Interior Cont. (Bed & Bath)
The bathroom holds a 41-inch-by-30-inch fiberglass shower with a glass enclosure. The vanity sink, with drawers and a cabinet, is recessed beneath the solid-surface top. Additional cabinets supply plenty of storage for bathroom necessities.
The bedroom contains a 60-inch-by-80-inch queen bed, with ample room along the sides (2019 models will incorporate a 70-inch-by 80-inch king bed). Its comfortable Cool Gel memory-foam mattress lifts up to reveal a large storage area. A highboy dresser is located across from the foot of the bed; a 32-inch LED TV hangs above it. A full-width front wardrobe with motion-sensor LED lighting provides tons of storage space for clothing. An adjacent cabinet also can be used for storage but is prepped for a washer-dryer for RVers who might like to add one later. USB ports in the nightstands help keep smartphones or other electronics charged up. A backlit handrail follows the steps up into the upper deck where the bath and bedroom are located.
Utilities
The Vilano doesn't stop short when it comes to the mechanicals, which are designed for full-time living. A 42,000-Btu propane heater provides plenty of heat, and can be augmented by the aforementioned 7,200-Btu electric fireplace. Keeping the interior cool isn't a problem, either. The two low-profile 15,000-Btu air conditioners with heat pumps are connected to a Whisper Quiet duct system; as the name suggests, its 16-inch-wide return ducts deliver plenty of air with minimal sound.
For those who enjoy camping in really warm climates, the Vilano is prewired for a third air conditioner. The thermostat is capable of three-zone operation. Solar prep comes standard, and the Vilano can be equipped with one or two dealer-installed batteries to provide plenty of power for the lighting, fans, and inverter if needed. A 50-amp power cord reel makes easy work of connecting to or disconnecting from shore power.
A 10-gallon DSI water heater can run on propane or electricity, with a Truma on-demand hot-water option. The 45-gallon black-water tank comes with a flush system, and both the black-water and the 90-gallon gray-water tank have electric-control dump valves. The tanks are enclosed in the heated basement and also are equipped with 12-volt heat pads. The wet bay is made of powder-coated aluminum instead of rotocast, providing added strength and durability. The fresh-water system runs through a pair of copper manifolds to ensure consistent water pressure throughout the vehicle. A 70-gallon fresh-water tank will be used in 2019 models.
Final Impressions
The construction practices used to produce the Vilano, as well as its high-quality features, are drawn from 40-plus years of experience at Vanleigh's parent company, Tiffin Motorhomes. Vanleigh designers do a great job of providing popular floor plans with features that are designed with the user in mind, and the 320GK is no exception.
The insulation used in the Vilano is a step above many other RVs and provides a comfortable interior climate, regardless of how hot or cold it is outside. This insulation also provides excellent sound-deadening qualities, which makes the Vilano nice and quiet on the inside. The 320GK indeed does deliver on the gourmet kitchen idea, and any chef will feel at home while preparing food.
The test unit came with the following options: two 15,000-Btu air conditioners with heat pumps; Amber Glazed cabinetry; power cord reel.
For a fifth-wheel designed for full-time living, but without a full-time price, the Vilano really does deliver.
SPECIFICATIONS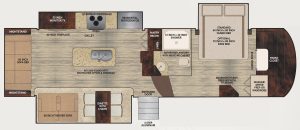 COMPANY
Vanleigh RV, 26 Industrial Drive Access Road, Burnsville, MS 38833; (662) 612-4040; www.vanleighrv.com
MODEL
2018 Vilano
FLOOR PLAN
320GK
EXTERIOR LENGTH
34 feet 11 inches
EXTERIOR WIDTH
101 inches
EXTERIOR HEIGHT
12 feet 11 inches
INTERIOR HEIGHT
8 feet 7 inches
GROSS VEHICLE WEIGHT RATING (GVWR)
16,000 pounds
UNLOADED VEHICLE WEIGHT/
DRY WEIGHT
12,400 pounds
HITCH WEIGHT
2,600 pounds
CARGO CARRYING CAPACITY
3,600 pounds
FRESH WATER TANK
54 gallons
HOLDING TANK CAPACITIES
gray water — 90 gallons;
black water — 45 gallons
PROPANE CAPACITY
60 pounds
ELECTRICAL SERVICE
50 amps
HEATING SYSTEM
42,000 Btu
AIR CONDITIONING
(2) 15,000 Btu
WARRANTY
base comprehensive warranty — 1 year/12 months;
welded frame warranty — 3 years/36 months
BASE SUGGESTED RETAIL PRICE
$85,680
PRICE AS EQUIPPED
$88,619