For decades, Type C motorhomes bearing this brand name have transported families on memorable road trips, with the model evolving over time to incorporate updated technology and appointments.
By Mark Quasius, F333630
November 2023
Coachmen's popular Leprechaun Type C motorhome has been around since 1973. But don't let the name fool you. It's built in Indiana — not Dublin, Ireland — and you can't get one in green. However, the Leprechaun is Certified Green by TRA Certification. This rating verifies the RV is built using modern "certified green" construction processes, materials, and components, resulting in less impact on the environment. Various criteria are evaluated, including resource efficiency, energy efficiency, and water efficiency during manufacturing, along with indoor air quality.
I reviewed the 2023 260DS, a 27-foot-5-inch-long floor plan with dual slideouts built on a Ford chassis. The Leprechaun is available in a variety of floor plans on both Ford and Chevrolet chassis.
CHASSIS
The Leprechaun 260DS is based on Ford's E-450 gasoline chassis. It receives power from a 7.3-liter V-8 engine that produces 350 horsepower and 468 pound-feet of torque and is paired with a TorqShift six-speed automatic transmission and a 55-gallon fuel tank. The chassis has a gross vehicle weight rating (GVWR) of 14,500 pounds and a gross combination weight rating (GCWR) of 22,000 pounds. The front and rear axles are rated at 5,000 pounds and 9,600 pounds, respectively. The motorhome's approximate unloaded vehicle weight (UVW) is 11,330 pounds, which results in a respectable net cargo carrying capacity (CCC) of around 3,170 pounds.
The coach is equipped with a Class III trailer hitch rated at 7,500 pounds. Coachmen's CRV SuperSprings Ride Package upgrades the standard Ford chassis components by adding SuperSpring rear helper springs, SumoSpring shock absorbers in the front, stability control, dynamically balanced driveshafts, and heavy-duty front and rear Ford stabilizer bars.
CONSTRUCTION
The Leprechaun's sidewalls are built with 2-inch Azdel sheets, a composite material that is vacuum laminated over aluminum structural tubing and filled with block-foam insulation. Azdel has a number of benefits over wood: It does not absorb moisture; is resistant to delamination; has two times the insulation value of wood; cannot rot; and absorbs more sound and energy, resulting in a quieter RV.
The Crossflex roof is a next-generation synthetic thermoplastic material with a reinforced polyester mesh. A rotocast storage compartment straddles the rear basement area and can be accessed from either side of the motorhome.
EXTERIOR
The gel-coated exterior skin was color infused with a light tan color; the cab of the test unit was painted to match, an available option. Both slideouts in the 260DS are on the driver's side, which makes it easy to fit the coach into narrow campsites and does not intrude into the patio area. The slideouts come with black toppers that blend with the décor. The 18-foot patio awning is power operated and includes LED lighting. The radiused slider windows incorporate tinted safety glass. A rear roof access ladder is standard. An optional outside TV can be housed in a patio-side basement compartment and mounted on a swing arm. The motorhome features LED exterior lighting and a steel bumper.
INTERIOR
This Leprechaun's interior was finished in Coachmen's Jasper décor with Seal Woodgrain woodwork. Cabinet doors and drawer faces are made from hardwood for durability. Premium vinyl flooring extends through the coach. Pleated night shades are housed in valances to ensure privacy.
The main living area features a 62-inch jackknife sofa in the front slideout. Opposite that is a 44-inch-by-76-inch J-lounge with an 18-inch pull-out extension. The lounge converts to a dining area by inserting a pedestal table into the floor-mounted socket in front of it.
At the front of the living area is an overhead bunk, which contains a 57-inch-by-95-inch sleeping area. Its center portion can be removed to allow easier access when moving between the living area and the cockpit.
Beneath the bunk area in the cockpit, the captain's chairs can swivel to face the living area for additional seating when parked. The dash is equipped with a radio that has a screen that can display the color rearview camera when driving. An LED TV is mounted in the overhead bunk area on a swing arm to allow easy viewing from the living or bunk areas.
The rear of the living area contains the galley. A premium one-piece Thermofoil countertop accommodates the round stainless-steel sink and a cutaway for the three-burner cooktop and oven. A flip-up counter extension adds workspace. The overhead cabinetry holds a microwave oven. Directly to the right, a pantry and an energy-efficient 10-cubic-foot 12-volt-DC refrigerator reside in the rear end of the slideout, beside the sofa. Another pantry is on the patio side of the coach, between the entry door and a large linen cabinet.
The rear of the motorhome contains the bedroom and bathroom. The 60-inch-by-80-inch queen bed is tucked into the rear slideout and flanked by nightstands with 120-volt-AC and USB receptacles. The bed area provides space for a CPAP machine. The bathroom wall is positioned opposite the bed and is prepped for an optional bedroom TV.
The bathroom holds a fiberglass shower with a tile-look design and sliding glass doors, a foot-pedal-flush toilet, and an overhead vent fan. A stainless-steel sink basin is set into the bathroom vanity, accompanied by a single-lever faucet, while a towel ring and a large mirror are mounted on the wall behind it.
UTILITIES
The Leprechaun's propane furnace provides heat to the interior, and a ducted 13,500-Btu air conditioner with heat pump supplies cooling. The coach is also prepped for an optional 11,000-Btu low-profile air conditioner at the rear. A six-gallon DSI water heater supplies the sinks, shower, and outside shower attachment. The 50-gallon fresh-water tank and the 31-gallon gray-water and black-water tanks are heated to prevent freezing in cold weather.
A 68-pound propane tank supplies the furnace, water heater, cooktop, and oven. Outside, a quick-disconnect coupling in the patio area stands ready to fuel a portable grill or other propane-fired camping appliance. The driver-side utility bay handles the fresh-water and waste-water controls as well as the outside shower attachment. It also includes jacks for cable TV and portable satellite dish connections.
A pair of deep-cycle batteries, which are charged via a 55-amp converter, meet the Leprechaun's 12-volt-DC electrical needs. The coach is prewired for solar via both a rooftop connection and a sidewall connection for portable solar panels. A 30-amp detachable power cord connects the Leprechaun to shore power, and a 4500 NPS generator with a remote key fob furnishes 120-volt-AC power to the coach. An automatic transfer switch provides seamless switching between the two power sources.
FINAL IMPRESSIONS
The 260DS is one of the 2023 Leprechaun floor plans offered with the optional Platinum Package, which adds interior and exterior upgrades. The ability to sleep six people is a plus in a Type C coach of this length. In addition, the floor plan can comfortably seat six once the slideouts are extended.
The Azdel wall construction helps eliminate the disadvantages that wood construction can create, while the estimated cargo capacity of 3,170 pounds should provide ample capacity to carry all your gear. And with the Leprechaun's Certified Green rating, it doesn't hurt that the coach has been deemed to be manufactured with construction methods and materials that minimize environmental impacts.
The 260DS is also available for the 2024 model year with a number of new features. Among them are a standard CarPlay dash radio, a tankless water heater, a standard 15,000-Btu air conditioner with heat pump, updated cabinetry and décor, and a "water miser" fresh-water saver for the shower. The optional Escalade Package for Ford chassis models adds a Winegard Air 360+ plus 4G/Wi-fi booster, dual coach batteries, sideview cameras, and more.
If you're looking for a Type C motorhome, the Leprechaun just might be your pot of gold.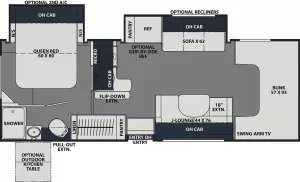 SPECIFICATIONS | LEPRECHAUN 260DS
MANUFACTURER
Coachmen RV, 423 N. Main St., Middlebury, IN 46540; www.coachmenrv.com; (574) 825-5821
MODEL
2023 Leprechaun
FLOOR PLAN
260DS
CHASSIS
Ford E-450
ENGINE
7.3-liter V-8; 350 horsepower; 468 pound-feet torque
TRANSMISSION
TorqShift six-speed automatic
TIRES
LT225/75R 16E
WHEELBASE
190 inches
BRAKES
hydraulic
BATTERIES
chassis — (1) 12-volt
house — (2) deep-cycle
ELECTRICAL SERVICE
30 amps
EXTERIOR LENGTH
27 feet 5 inches
EXTERIOR WIDTH
101 inches
EXTERIOR HEIGHT
10 feet 11 inches
INTERIOR HEIGHT
6 feet 11 inches
GROSS COMBINATION WEIGHT RATING (GCWR)
22,000 pounds
GROSS VEHICLE WEIGHT RATING (GVWR)
14,500 pounds
OCCUPANT AND CARGO CARRYING CAPACITY (OCCC)
approx. 3,170 pounds
GROSS AXLE WEIGHT RATING (GAWR)
front — 5,000 pounds;
rear — 9,600 pounds
HOLDING TANKS
fresh water — 50 gallons;
gray water — 31 gallons;
black water — 31 gallons
FUEL CAPACITY
55 gallons, gasoline
WATER HEATER
6-gallon; direct-spark ignition
HEATING SYSTEM
propane furnace; 30,000-Btu
AIR CONDITIONING
(1) 13,500-Btu, standard; (1) additional 11,000-Btu, optional
REFRIGERATOR
10-cubic-foot 12-volt; stainless steel
WARRANTY
coach — 1 year/12,000 miles limited;
chassis — 3 years/36,000 miles;
powertrain — 5 years/60,000 miles, limited
MANUFACTURER'S BASE SUGGESTED RETAIL PRICE
$130,645
MSRP AS REVIEWED
$152,736