The 27-inch-long-by-23-inch-wide cover is made of durable 100 percent polyester marine carpet and can be cleaned with a broom or rinsed off using a hose and allowed to dry. The cover does not have any rubber to trap water between the fabric and metal, which reduces the possibility of rot or rust. And since the cover wraps around the step and is held together with hook-and-loop fastening material "" no springs or hooks "" it can be rotated to allow for a new top at least three times.
The Traveler's Tread RV Step Cover is available in 10 colors "" each comes with a pair of attachable decorative stripes "" and has a manufacturer's suggested retail price of $15. Readers who order online can receive a 15 percent discount by typing "FMCA" (all uppercase) into the discount code box during checkout.
Mirific Inc.
P.O. Box 25724
Yuma, AZ 85367
(877) 255-2699
www.travelerstread.com
---
Inverter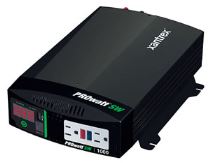 PROwatt SW series inverters from Xantrex Technology Inc. are a new line of true sine-wave inverters designed especially for the recreation vehicle, marine, and commercial vehicle markets.
The PROwatt SW series includes 600-watt, 1,000-watt, and 2,000-watt 12-volt models that can provide AC power to variable-speed hand tools, microwave ovens, and other electrical appliances. The device includes dual 120-volt-AC outlets with ground fault circuit interrupters and a USB port for convenient charging of portable electronic devices. An on-off remote panel also is available that includes a user-selectable ignition lockout feature, which prevents the vehicle's battery bank from being drained while the ignition is not engaged.
PROwatt SW series inverters have manufacturer's suggested retail prices of $200 for the 600-watt model; $350 for the 1,000-watt model; and $485 for the 2,000-watt model.
Xantrex Technology Inc.
8999 Nelson Way
Burnaby, BC
Canada V5A 4B5
(604) 422-8595
www.xantrex.com
---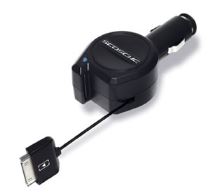 Car charger
The reCOIL from Scosche Industries is a retractable car charger for iPods and iPhones.
The device plugs into a vehicle's 12-volt accessory port, and the user pulls just enough cord from the reCOIL to connect to his or her electronic device. Once the charge is complete, the cord winds back into the unit, and the magnetic locking dock connector mounts flush.
The reCOIL has a manufacturer's suggested retail price of $29.99.
Scosche Industries
1550 Pacific Ave.
Oxnard, CA 93033
(800) 363-4490
(805) 486-4450
www.scosche.com
---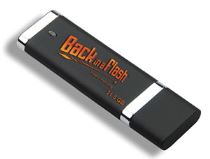 Computer backup device
According to product literature, the Back in a Flash Smart USB stick performs automatic file backups and can resuscitate a crashed computer without loss of functionality or files.
The device is compatible with Windows Vista, XP, and 2000 operating systems. It plugs into a computer's USB port, and one click of the mouse initiates the process that backs up the user's files automatically each day. And should the computer crash and its programs become inoperable, the Back in a Flash allows the user to restart the computer, open and edit documents that have been backed up to the unit, connect to the Internet, send and receive e-mail, and more.
The Back in a Flash is available in four storage sizes "" from 3.5 gigabytes to 31.5 gigabytes "" and has manufacturer's suggested retail prices starting at $79.95.
Back In A Flash LLC
6411 Castaneda
Coral Gables, FL 33146
(888) 773-5274
(786) 345-1710
www.backinaflash.com
---
Deodorizing hanger cover

According to product literature from Ideal Home Innovations LLC, the FRESHhanger fits on any standard clothes hanger and will eliminate microscopic odor-causing substances from clothing.
The cover utilizes activated carbon technology to absorb chemical odors, smoke, dampness, chlorine residue, and other odor-causing compounds in clothing, leaving the apparel refreshed and allowing the user to save money on dry cleaning and laundry. The product is said to eliminate odors by 88 percent in just four hours and is six times more effective than simply airing the clothes out.
A package of five fragrance-free FRESHhangers has a manufacturer's suggested retail price of $14.99.
Ideal Home Innovations LLC
74 Spring Road
Needham, MA 02494
(781) 898-2088
www.freshhanger.com
---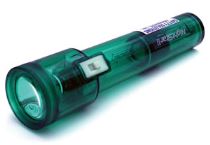 Rechargeable flashlight
The NightStar CS2 Magnetic Shake Flashlight from Applied Innovative Technologies Inc. is said to provide light anytime, anywhere, and never will require replacement bulbs or batteries.
When the flashlight is gently shaken, a high-strength magnet passes through a wire coil, efficiently generating electrical energy. The energy is stored in a heavy-duty capacitor "" which can be recharged repeatedly "" and is delivered to a super-bright LED for up to 20 minutes of light after just a 40-second shake. The flashlight reportedly can illuminate a 12-foot-diameter area at a distance of 50 feet; is corrosion-resistant; and is waterproof to a depth of 1,000 feet.
The NightStar CS2 Magnetic Shake Flashlight has a manufacturer's suggested retail price of $24.95, but is available from Safety Solutions Products (www.safetysolutionsproducts.com or 201-342-0395) for $19.77 plus shipping and handling.
Applied Innovative Technologies Inc.
P.O. Box 754
Fort Lupton, CO 80621
(888) 828-1405
(303) 857-1405
www.appliedinnotech.com
---
Tie-down straps

SmartStraps Retractable Ratchet Tie-Downs from Winston Products LLC are said to be the quickest and easiest-to-use tie-down straps available.
According to product literature, Retractable Ratchets can be installed in less than 15 seconds per tie-down and do not require the user to feed straps in, tie off ends, or remove webbing from the ratchet. The strap's built-in power spring automatically retracts the webbing, making for easy storage, and the handles are ergonomically designed for optimal performance.
A four-pack of 6-foot tie-downs (each with a 500-pound safe work load capacity) has a manufacturer's suggested retail price of $29.99, while a two-pack of 10-foot tie-downs (each with a 900-pound safe work load capacity) is priced at $26.99.
Winston Products LLC
5575 Venture Drive
Cleveland, OH 44130
(216) 618-0680
www.smartstraps.com
{loadpositionEndBlurbProducts}