Gear, Gadgets, And Gifts
Practical accessories and assorted goods designed to make life easier and more enjoyable for RVers.
By Linneah Deighton, Associate Editor
Bug Spray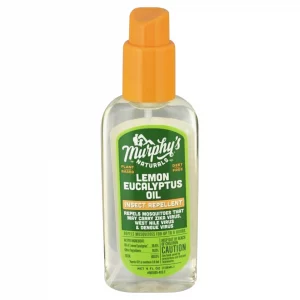 Murphy's Naturals Lemon Eucalyptus Oil Mosquito & Tick Repellent Spray utilizes oils from the eucalyptus citriodora tree, the only plant-based active ingredient recommended by the CDC as an alternative to DEET (diethyltoluamide). For up to six hours, it repels mosquitoes that could carry Zika, West Nile, Dengue, and Chikungunya viruses. It repels deer ticks for up to four hours, and it even provides protection against lone star and brown dog ticks for more than eight hours. Price is $5.99 for a two-ounce bottle and $9.99 for a four-ounce bottle.
Murphy's Naturals
www.murphysnaturals.com
(888) 314-5109
---
Keyless Door Lock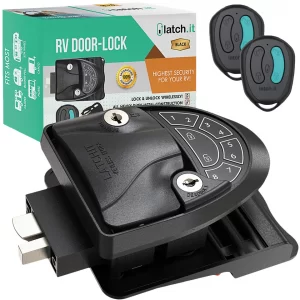 The V3.0 Keyless RV Door Lock by Latch.it is made of 100 percent metal to withstand year-long explorations. The locks are compatible with most travel trailers and fifth-wheel RVs that have a lock hole opening 3.75 inches tall by 2.75 inches wide by 1.5 inches thick. Each kit arrives ready to install and includes one RV door lock, two key fobs, four AA batteries, two mechanical keys, one protective gasket, one screwdriver, mounting hardware, and an owners manual. Price is $199.99.
Latch.it
www.latchit.org
---
Phone Cupholder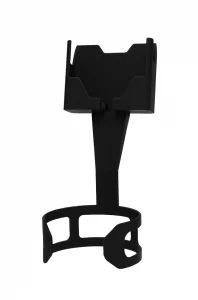 The Cell Phone Seat lets drivers (or passengers) secure their phone without attach-ing it to the vehicle dashboard or air vent; it fits neatly into a cupholder while still allowing room for a nice, cold drink. The Cell Phone Seat fits into round cup holders that are three inches or larger and permits the phone to be displayed either vertically or horizontally. Price is $34.99 for a single, $69.99 for two, or $139.95 for four.
Cell Phone Seat
www.cellphoneseat.com
(844) 449-9546
---
Hammock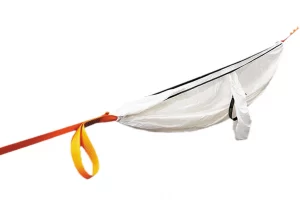 Made from the recycled plastic of approximately 31 bottles reclaimed from the ocean, Tentsile's Ocean Hammock is an environmentally friendly option for those looking to relax in good conscience. The 1.3-pound hammock is undyed, so 70 percent less water is used during production. The hammock includes a built-in storage pocket sack, as well as a pocket to store smaller items. Being lightweight and having a smaller impact on the environment than a traditional hammock, it's perfect for traveling and for those looking to lessen their carbon footprint. Price is $89.99.
Tentsile
www.tentsile.com
(844) 872-4296
---
Pen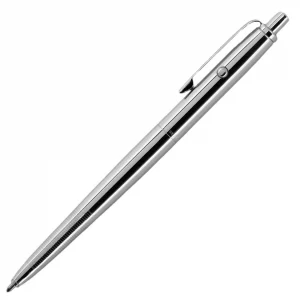 You may recognize this brand from the "Seinfeld" episode "The Pen." Fisher's AG7 Original Astronaut Space Pen was used on the Apollo 7 space mission in 1968 and has been part of space flights ever since. These pens are known for writing smoothly at any angle and in various temperatures and environments, including underwater and in zero gravity. Made from solid brass with a chrome plating, this pen's design hasn't changed in the last 50 years. There is a plunger on the top for extending the refill and a side button to retract it. Included with the purchase is a pamphlet that describes the pen's history and significance. Price is $79.
Fisher Space Pen
www.spacepen.com
(702) 293-3011
---
RV Wax And Sealant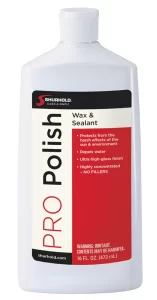 Many waxes leave a chalky residue that must be wiped off after buffing. However, Shurhold's Pro Polish Wax and Sealant saves the time and hassle. This sealant is a polymer-based formula that uses cosmetic-grade ingredients; it does not contain abrasive fillers. After you buff your RV by hand or with a machine, you are left with a durable shine that protects against UV oxidation, road salt, grime, acid rain, and bug splatters. The product can be used on fiberglass, paint, clear coat, vinyl graphics, stainless steel, and aluminum. Price is $19.98 for a 16-ounce container.
Shurhold
www.shurhold.com
(800) 962-6241
---
Suction Cup Roof Rack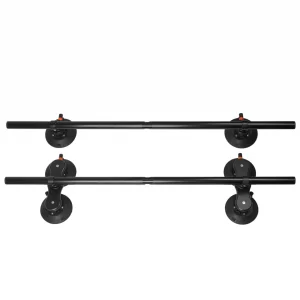 When space is hard to come by, tossing a few things onto the roof of your car or RV can seem very appealing. The SeaSucker Monkey Bars utilize vacuum mounts to adhere to vehicle roofs in order to carry large items such as kayaks, canoes, bikes, or anything up to 150 pounds. These travel-friendly bars are made of black powder-coated aluminum and unscrew in half from the center coupler for easy storage. With four vacuum mounts on the front crossbar and two on the rear, the bars offer a combined holding force of 1,260 pounds at highway speeds, but the company recommends not driving above 85 miles per hour. Price is $499 for the 48-inch set and $559 for the 60-inch set.
SeaSucker
www.seasucker.com
(941) 900-1850
---
Solar Panel Charging Kit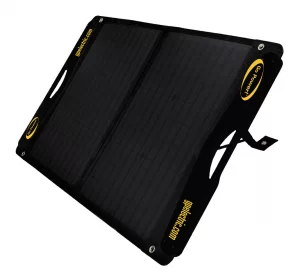 The low-profile 100-watt DuraLite solar kit is ideal for charging RV batteries while on the road. Company information notes that the kit is best paired with 200 ampere-hours of AGM battery power or 100 amp-hours of lithium-ion battery power. The panels provide over 5 amps of charging power, and the kit comes with 12 feet of cable. Also included is a 30-amp controller to prevent batteries from overcharging, an array of battery connection options, battery clamps, quick connectors, ring terminal connectors, SAE and XLR adapters, and a canvas bag to put everything in. The kit weighs 10 pounds. Price is approximately $500.
Go Power!
www.gpelectric.com
(866) 247-6527