Family & Friends
By Don Graham, F181499
September 2009
The theme for the 2009 Great Lakes Area Spring Spree, also known as the G.L.A.S.S. Rally, held May 21 through 25 at the Berrien County Youth Fairground in Berrien Springs, Michigan, was "Let's Race In Time at G.L.A.S.S. 2009." Race cars, checkered flags, NASCAR memorabilia, and racing logos set the tone for this event.
As rally-goers arrived they were greeted by the welcome team of Wanda Riemersma, Joyce Batts, and Larry and Peg Schroeder. After having their credentials checked, new arrivals were directed to the parking team, led by Leo Wathen and Alvin Scruggs, who guided each coach to a roomy, tree-shaded, grassy space complete with electricity and water. Shortly after each coach was parked, the attendees headed for the registration office, which was supervised by Gloria Sutton with Mike and Joni Baker. Here they were provided a rally program, coordinated by George Abbott; grounds directions; and a couple of rally favors.
The rally masters for this year's event were Greg and Laura Baker and James and Betty Pryor. Jim Riemersma was in charge of overall security, with Skip Horton looking after the buildings and Evert Vander Mei the grounds. The Information Center, located across from the registration building, was where Bob and Sally Sutton's crew dispensed all sorts of rally knowledge to attendees. Ken Trevena was in charge of consigning the golf carts used during the event. Chuck Borcher did a wonderful job arranging seminars about a diverse range of subjects. Mark and Kathy Monismith and Stan and Nancy Newton were responsible for the vendor displays, while Max Sutton and Bob Sutton helped line up the 41 display coaches on hand for attendees to inspect. Ron Marquardt and his golf cart filled with cold drinks were a welcome sight for volunteers working throughout the grounds.
Early every morning, members of the Great Lakes Coaches For Christ chapter invited everyone to a Bible study and inspirational meeting hosted by Jerry Wessel.
A shuttle system that utilized six-person golf carts was available to pick up and carry folks to their destination, and all the attendees had to do was signal a driver. This vital service was handled by Jan Abbot.
Dave and Penny Hough brought us a number of exceptionally talented evening entertainers, including the Mossburg Strings, The Challengers, New Odyssey, and the 33rd Street Band. The task of furnishing the huge grandstand with lights, microphones, amplifiers, backdrops, and all other accoutrements was handled by stage managers Jerry and Jean Wessel.
Friday morning began warm and sunny, and many folks took the opportunity to check the board for the daily FMCA number drawing to see whether their number had been selected by Nancy Newton. In the afternoon, the Great Lakes Area Frustrated Maestros regaled us with band music and choral selections. Later, everyone was treated to their evening snack. In the G.L.A.S.S. Diner, hundreds of tables were set up, covered with checkered tablecloths, and decorated with live, flowering plants. This activity was directed by Marv and Marilyn Hills with help from Art and Jo Savoy. Because the task of seating and feeding so many hungry people in an extremely short time is a massive job, volunteers from the GMC Great Lakers, the Hoosier Cruisers, the Midwest Coachmen, the National Great Lakers, the Ohio Nomads, the Ontario Overlanders, the Ontario Rovers, the PALS, and the Tri-State Traveliers helped move things along smoothly.
Before the opening ceremonies and evening entertainment on Friday, the Frustrated Maestros played a brief concert, which included a special tribute to veterans. This was followed by a parade of FMCA Great Lakes Area chapter flags and the national anthems of the United States and Canada. The rally masters were introduced, and Ross Boyer, FMCA Great Lakes Area vice president, welcomed other FMCA national officers in attendance and presented chapter anniversary awards to the Great Lakes Coaches For Christ (5 years), PALS (10 years), Hoosier Cruisers (35 years), and Tri-State Traveliers (35 years) chapters.
Each evening after the entertainment, there were the 50/50 drawings administered by Dick and Donna Fast, followed by the drawing for the donated prizes, handled by Greg and Laura Baker.
On Saturday morning, everyone was invited to breakfast in the dining hall. Afterward, many golfers took the bus to the Pebblewood Country Club for a tournament organized by Fred Hamlin. Later, a number of wine aficionados set off on a tour of Lemon Creek Winery.
Sunday was a busy day. It started with the morning inspiration led by Terri McFarland, a Christian recording artist and inspirational speaker. She was joined by Ken Wadley, a world-class pianist.
Hundreds of books were traded during the book swap, organized by Gloria Mills. Sunday also was the day of the car show, arranged by Dan and Geri Taylor. Nearly 20 classic autos were arrayed for inspection, and a good number of attendees dropped by to gawk at machines from many decades ago. During the car show, Chris Ayotte entertained with his impersonations of Elvis and other celebrities.
That afternoon the Ontario Overlanders chapter hosted its annual Ice Cream Social. While the folks lined up for their ice cream, a pair of clowns (Joyce Agle and Marilou Fisk) gave away Hershey's Kisses and Tootsie Rolls. A little later, women parading around in red hats signaled the start of the Ladies & Red Hat Afternoon Tea. This cheerful aggregation was arranged and chaired by Audrey Perkins.
Monday was Memorial Day. Early in the morning, the Berrien Springs High School and Middle School marching bands assembled to parade with color guards from the American Legion, flag-waving rally-goers, and rally officials on golf carts. The collection marched through the grounds, ending at the flagpole, where everyone gathered to watch the flag-raising ceremony. Duane Hall led the raising of Old Glory as it was hoisted to the top of the pole and then lowered to half-staff in honor of the men and women who gave so much for their country. A poem in tribute to our fallen was solemnly read by Ron Koenes. A prayer for all our service people, active, retired, and deceased, was spoken by Fred Hamlin. After a 21-gun rifle salute by veterans from the American Legion, the "Last Post" was played.
All in all, it was a great rally. A total of 871 coaches were in attendance, which was only 17 fewer than the 2008 rally. Many thousands of volunteer hours were spent to assure the success of this enterprise. There are no words of thanks that can adequately reward those hard-working, unnamed hundreds who made this such a memorable undertaking.
Next year's G.L.A.S.S. Rally, May 27 through 30, 2010, again in Berrien Springs, is already in the planning stage. The theme for 2010 will be "Play It Again In G.L.A.S.S. 2010," a musical tribute.
---
Florida Ramblers' Spring Rally
Family & Friends
By Clarence Pittman, F381050
September 2009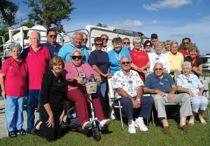 The Florida Ramblers chapter held its spring rally April 16 through 19, 2009, at the Wild Frontier RV Park in Ocala, Florida. Hosts Marvin and Elaine Gillam and Doyle and Margaret Stanfield welcomed 12 member families to the campground, including Joe Gallagher, a Florida regional vice president of the Southeast Area Motor Coach Association, and his wife, Connie, who also joined us for the weekend. We enjoyed a night out at a local seafood restaurant on Thursday, a delicious potluck dinner on Friday, and a ham dinner with all of the side dishes on Saturday. During the evenings we gathered in the clubhouse to play games.
Ocala is located near the beautiful Silver River. I brought my pontoon boat to the rally and treated members to a three-hour cruise that included sightings of birds, ducks, turtles, snakes, and alligators. Because the water was so clear, we were able to see a variety of colorful fish. The banks of the river also serve as home to a large number of wild monkeys, and we were delighted to see both adults and babies on the trips. It was quite a treat since, the primates are always in different spots, and boaters don't always get to see them.
The Wild Frontier RV Park is located behind the Turning Wheel RV Center. The manager of the dealership attended our Saturday meeting and gave us an update on the RV industry from an RV sales and service perspective. He also invited the members to the dealership for a barbecue lunch they were having as a special promotion that day.
Saturday also was the day we elected new chapter officers. Outgoing chapter president Margaret Stanfield presented the new officers with some unique gifts to help them with their new jobs. She did a superb job as president of the Florida Ramblers, and we were lucky to have her.