Day-Night Shade Repair
While we were on the road in our 2003 Fleetwood Southwind, we stopped at a campground in Ohio for the night. When getting ready for bed, I reached over and tried to close the shade in the bedroom. I heard a snap — I had broken the plastic anchor that holds the string for the shade. When we arrived home the next day, we didn't have time to get a replacement part before taking off again, so my wife took a metal sewing machine bobbin and replaced the anchor. It's the same size as the plastic part, works great, and is sturdier than the original part. Plus, we didn't have to buy the entire replacement kit to fix it.
Harold & Teresa Mitchell, F425265
Ilion, New York
---
Curtain Behind The Cab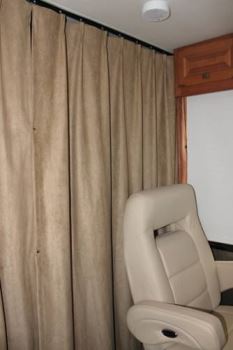 My wintertime travels often take me from frigid Kentucky to sunny Arizona. Unfortunately, I discovered that my Type A motorhome's dash-mounted heater and air conditioner struggled to maintain a comfortable temperature when traveling in extremely hot or cold climates. The manufacturer suggested running the generator to power the house air conditioner in hot weather, and turning on the propane furnace in cold conditions. But those options only added to the expense of the trip, and created future maintenance duties. I solved the problem by having a two-section, color-coordinated fabric curtain, with snap closures, installed on a sliding rail just behind the driver and passenger seats. By reducing the volume of space heated or cooled to the cab compartment only, the dash-mounted system can maintain a comfortable temperature. One warning: be sure the curtain and rail do not interfere with the movement of adjacent slideouts.
Finley Willis Jr., F412034
Lawrenceburg, Kentucky
---
Battery Fill-Up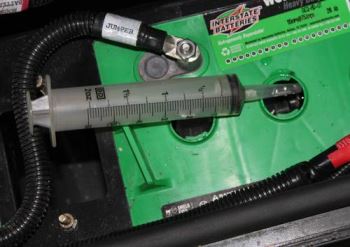 One of the keys to achieving long life for RV batteries is to keep the plates covered with electrolyte. But topping off the batteries with distilled water is sometimes difficult, because of the cramped confines of the battery compartment. A 60-cubic-centimeter (2-ounce) or larger catheter-tip syringe makes it easy to get the precise amount of water into the right cell. And it stores conveniently in the battery compartment. The syringes are usually available at stores that sell veterinary supplies. I paid $4.99 for a package of two syringes at Tractor Supply.
Finley Willis Jr., F412034
Lawrenceburg, Kentucky