As FMCA has grown and changed over the years, so has the motorized recreation vehicle. One of the RV industry's premier historians shares a fascinating look at the evolution of motorhomes up through the 1970s.
By Al Hesselbart
June 2013
From the earliest days of the RV industry and lifestyle, in the years around World War I, motorized camping vehicles were called "house cars," or "motor coaches." These terms especially described vehicles that had been converted from commercial highway coaches, as opposed to completely homemade or custom-made vehicles.
By then, many experiments to produce and design motorized vehicles for camping had been tried. One of the earliest, the Touring Landau, a chauffeur-driven luxury automobile, was introduced in 1910 by the Pierce Arrow Motor Car Company. When house cars emerged the following decade, they were mostly homemade conversions of passenger coaches or custom bodies placed on autos and early trucks. One of the earliest custom-made house cars, the Gypsy Van, measured 25 feet long and was propelled by a six-cylinder 60-horsepower engine.
In the 1920s, a few companies produced "camp bodies," which customers would mount onto an existing automobile or truck chassis to create a house car, or sometimes buy the complete package. During Prohibition, Anheuser-Busch brewing company purchased the Lampsteed Company and sold Kampkars by mail order, advertising them in outdoor-themed magazines, including Field & Stream.
From the 1920s through much of the 1940s, most motorhomes continued to be built or converted on used bus chassis.
In the post-World War II years, especially the 1950s, the popularity of the RV lifestyle boomed as a family activity. At that time, however, it was almost entirely based on smaller travel trailers that could be pulled by the family automobile. A few families used custom converted buses, both homemade and professionally built, but trailers were overwhelmingly the RV of choice at that time.
Type B Motorhomes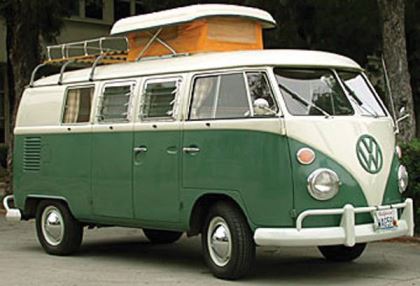 As the 1960s arrived, passenger vans, which traditionally had been used as commercial delivery vehicles, began to gain popularity for family use also. Following the lead of companies such as Volkswagen, which imported campers from Germany, a few U.S. firms began to modify Ford Falcon Econoline, Dodge Sportsman, and Chevrolet Corvair Greenbriar vans to create similar camping vehicles. Many of these units incorporated useful features such as roofs that could be raised either by a canvas-shelled pop-up lid or an expandable-top configuration. Some companies, such as Turtle Top, cut the entire roofs off these vans and replaced them with bubblelike fiberglass versions.
Through the years, these worked-over van campers morphed into today's comfortable and practical Type B motorhomes. Their early popularity suggests that the campers based on passenger vans were among the first brand-label motorized RVs.
Type C Motorhomes
The 1950s also saw slide-in pickup truck campers grow in popularity, as the pickup became acceptable personal transportation and not simply a small vehicle for commercial or farm use. The flexibility of being able to have a camper body that easily could be put into or pulled out of a truck bed promoted a great rise in the growth of what were referred to as portable camper coaches throughout this decade.
In the 1960s, some builders of slide-in truck campers began to enlarge their campers to the extent that it became necessary to remove the bed from the pickup trucks and attach these oversized campers directly to the chassis; sometimes they even extended the length of the truck frame. These vehicles eliminated the concept of portability but greatly enhanced the family comfort of truck-based campers. Throughout this decade, these chassis-mounted campers slowly evolved into what we today recognize as Type C motorhomes.
In the 1970s, the base for Type C coaches moved from modified pickup trucks to chopped-off passenger vans.
House Cars, Motorhomes, And FMCA
The 1960s brought about the creation of Family Motor Coach Association by a collection of motor coach — i.e., bus conversion or "house car" — owners. Twenty-six coach-owning families met in Hinckley, Maine, in July 1963 to view an eclipse and talk about forming an owners association, which they did on July 20 of that year. This decade also witnessed the birth of brand-name, company-built motorhomes.
Ray Frank of Frank Industries, a small travel trailer manufacturer in Brown City, Michigan, created a self-propelled recreation vehicle in 1958. But he did not want to use the word "house car" to label his creation, the designation used by nearly all makers at the time. Instead, he called his coach a "motor home." This moniker is thought to have been a contraction of the idea of a "motoring home," since highway travel was commonly referred to as motoring.
This identity quickly gained approval from both the public and the manufacturers, and within a very few years, all motorized-RV manufacturers were calling their products "motor homes." The house car term faded from use except on the license plates issued by several states, where the name continued to be visible for up to 30 more years.
Type A Motorhomes
The growth of the popular styles of the Type A motorhome occurred a little more slowly than those of the Type B and Type C vehicles. Families interested in larger motorized coaches were familiar with the converted highway bus styles and with the homemade converted school bus styles that had been known since the late 1920s. The first factory-built Type A coaches were prohibitively priced for most buyers.
As late as 1965, the official directory of RV manufacturers did not include a listing for motorhome manufacturers, but showed them only as a postscript with the trailer manufacturers. By this time, a majority of trailer companies were building slide-in truck campers, and a few were making chassis-mounted campers. A small number of companies, such as Adventure-Line, were converting step van delivery vehicles into small motor coaches.
The relatively unknown and short-lived motorhome brands of these very early days included Ander-ette, Bel-Aire, Camper City Coach, Esquier Oaks, and Freeway Traveler. Others that lasted only a very few years were Highway Sleeper, Red Dale, Sani-Cruiser, Space-Craft, Sportsman's Dream, and Vacation Wagon. Early Canadian coaches included El Dorado, L'Islet, and Vanguard. Most of these early brands had only local or regional distribution and were not sold nationally.
Nationally available brand-name motorhome models included the Beechwood, made in California; the Frank and its successor, the Travco, from Michigan; and the Clark Cortez, also from Michigan. These were all priced in the $10,000 to $12,000 range. The unique Chevrolet Corvair-based rear-engine air-cooled Ultra Van, made in Kansas, sold for around $9,000.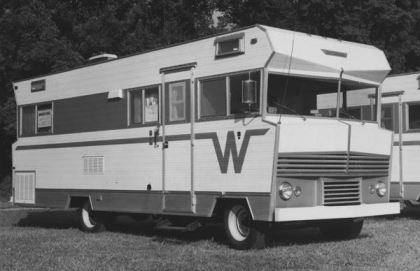 In 1966 and 1967, Winnebago Industries, an Iowa-based builder of small travel trailers, introduced assembly-line-produced motorhomes based on Ford and Dodge chassis in 17-foot and 19-foot lengths and priced them at about $5,000 each. This enabled average families to begin to look at a motorhome as a possible recreation vehicle.
By making motorhomes available for about half of the average price, Winnebago Industries changed the entire motorhome environment. By the early 1970s, the popularity of its motorhomes had grown to the point that "Winnebago" became synonymous with the term motorhome, no matter what company had built the vehicle.
The Pace Arrow was introduced by Selgran Inc. in 1968 and was acquired in 1969 by Fleetwood Enterprises, quickly becoming the company's first flagship motorhome brand.
While Winnebago lowered the baseline price, creating demand among a sizable segment of motorhome buyers, several companies began to produce very high-line luxury Type A coaches at the same time. Barth, Blue Bird, and Newell, established in the late 1960s, all commenced building very luxurious large coaches from the ground up. In 1969 each of these builders, along with Foretravel, began to experiment with rear-engine "pusher" chassis. In the early '70s, they each added the concept of diesel power to the rear-engine design. The era of diesel pushers, introduced in 1972 by Newell and in 1973 by others, was born.
Motorhomes Go Mainstream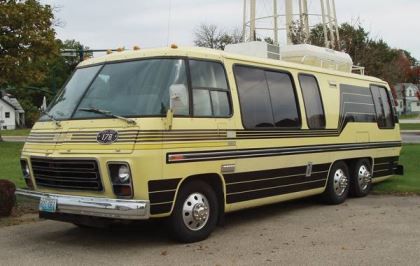 The years between 1962 and 1972 saw an astronomical rise in the production and sales of factory-built motorhomes of all sizes and shapes. The early 1960s reported combined sales of 500 to 600 motorhomes each year, and by 1972 the manufacturers were reporting sales of more than 100,000 RVs annually. Throughout this decade, dozens of small local motorhome manufacturers were born, only to be killed off by the fuel and interest rate crisis of 1972 to 1974.
In spite of the terrible economic conditions at that time, the 1970s ushered in the start of the great boom in motorhome popularity, with the number of manufacturers growing by leaps and bounds. Comparatively advanced rigs from the early 1970s included the GMC Motorhome by General Motors and the FMC by Food Machinery Corporation in California. Both continue to be very popular today as vintage RVs, with a relatively high percentage of them still in use.
Other coach brands of the 1970s growth period include Monaco, which was introduced in 1972 as a motorhome model by trailer builder Caribou Manufacturing and soon became the primary product and the company identity. In 1971, Sportscoach appeared as a fully equipped "large" 25-foot Type A with a 4,000-watt generator and roof air-conditioning as standard features. The 1979 Kelley Blue Book for motorhomes listed more than 450 different brand names that were being or had been produced.
Obviously, there's much more to the motorhome story, and the rest of the tale will have to wait for another time. But it's safe to say that by the end of FMCA's first decade, motorhomes were part of the national scene and were well-recognized as vehicles designed to provide family adventure and enjoyment.
Learn More About RV History
Al Hesselbart serves as historian for the RV/MH Hall of Fame and Museum in Elkhart, Indiana. He also is a frequent speaker about early-day recreation vehicles and has appeared at FMCA Family Reunions. Mr. Hesselbart is the author of The Dumb Things Sold . . . Just Like That! which includes stories about the evolution of each different type of recreation vehicle and short biographies of many of the early pioneers and visionaries that have led to the growth and development of the RV industry. It is now available from the Amazon Kindle store and is offered in print versions from the RV/MH Hall of Fame, RVbookstore.com, and Amazon.com.
How Big Is That Rig?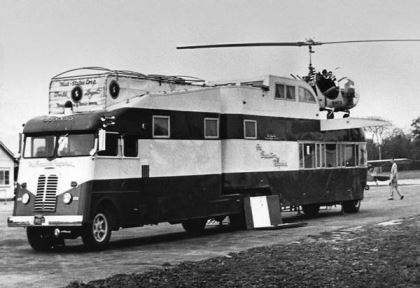 The largest motorhome known was produced in the early 1950s for William MacDonald of the Mid States Corporation, an early RV and mobile home manufacturer. His "Flagship" was 65 feet long and articulated so that it could bend in the middle to navigate corners. It included a foldout upper deck that doubled the width of the rear section. It also came equipped with a diving board to use with the 4-foot-deep portable swimming pool that was included and which could be set up behind the unit. The upper deck could be used as a helicopter-landing pad for special promotional events. In 1953, the company offered duplicates of "The Flagship" for $100,000 each: there is no record of anyone taking them up on that offer.
— From The Dumb Things Sold . . . Just Like That! by Al Hesselbart