Time-Zone Clocks
For those in my family who are time-zone-challenged, I made a multi-time-zone clock display for our motorhome. I screwed five small battery-operated clocks onto a 13-inch-long wooden base. These clocks were easy to attach after the clock mechanism was removed from the plastic case, but be sure to predrill the holes in the plastic cases and the wood base. Once the plastic cases were secured to the wood, I reinstalled the clock mechanisms in each. I labeled each clock with the name of the time zone to which it corresponds. On top of each clock I applied a small piece of adhesive hook-and-loop fastening material, while an opposite piece of the material was placed on a small disc. The disc can be moved above the clock that indicates our current location. The clocks are available at discount stores.
Keith Hobson, F344046
Almonte, Ontario
---
Tangled Cord Solution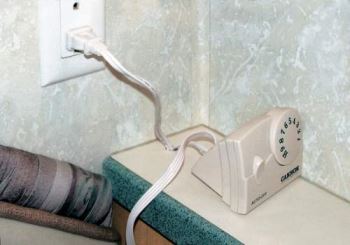 The bed in our motorhome has narrow nightstands on each side. The top of those nightstands held a tangle of electric cords, from blanket controls to clock radio, etc. We like to read in bed, so this surface is needed to hold our reading materials as well as our pill containers. The cords presented a challenge to eliminate their unnecessary lengths, but I didn't want to cut them to size.
Instead, I drilled a 3/4-inch-diameter hole through the top of each nightstand, being careful not to interfere with the contents inside. The cords can then be slid through the hole and into the lower space. The space under the top of the nightstand easily can hold many feet of excess cord. Now there's less chance of tripping over the dangling cords and there's more room on top of the nightstand.
Frank Woythal, F291956
Andover, New York
---
Navigator Organizer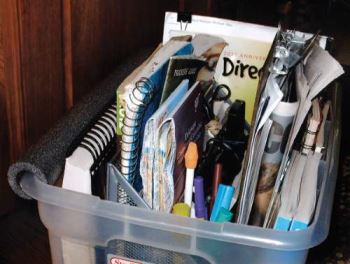 When going on motorhome trips, I used to put my maps, tour books, camping books, itinerary, pens, pencils, and highlighters in a tote bag to keep everything together. But it was hard to keep organized and to access items quickly.
As a solution, I bought a 20-quart plastic container and placed a metal standing desk organizer inside of it. It works great and I can slide it under the dashboard on the passenger side. However, from bumps in travel, the edge of the container marked the sidewall of the motorhome. So I put a piece of foam pipe insulation along the top edge where it was rubbing.
I can carry my supplies from the house to the motorhome and have everything at my fingertips.
Sharon Miller, F415845
Dillsburg, Pennsylvania
{loadpositionEndBlurbTips}