The new ownership at Born Free Motorcoach continues to uphold the company's long-held ideals while pushing forward with innovative products.
By Lazelle Jones
April 2016
For more than 45 years, Born Free Motorcoach, of Humboldt, Iowa, carved a niche in the recreation vehicle industry with its high-quality Type C Born Free motorhomes. The late John N. Dodgen and two of his brothers founded parent company Dodgen Industries in 1947 to manufacture agricultural equipment. When they identified a need to expand to another market in 1969, the company began producing Born Free motorhomes on Dodge chassis. Dodgen Industries remained a family-operated enterprise for decades.
Opportunity came calling in January 2015, when HBF Investments, of Des Moines, Iowa, purchased the assets, inventory, and intellectual property of Dodgen Industries. Since then, the company has set a steady and aggressive course forward while remaining firmly rooted in traditional Dodgen values and ideals.
The health and projected future of the RV industry were significant considerations in this business decision. Crunching the numbers, HBF officials found Dodgen/Born Free to be a prudent investment, with huge potential for sustained, long-term growth. Included in this equation were the growing number of retired baby boomers and Gen Xers who have begun fueling growth of the RV industry. Clearly, the time was right.
The new leadership has worked swiftly. Recognizing the company's rich heritage, one of the first decisions made was to retain the Born Free name. In addition, deep resources were made available to fund the design, development, and production of existing motorhome models; to launch brand-new models; and to accommodate future growth.
It's a good bet the acquisition has put smiles on the faces of hundreds of folks who have built motorhomes in Humboldt, Iowa, over the years, especially the 60 or so employees who work there today. Born Free Motorcoach is benefiting a community with a long, proud history of having a "hometown industry." The company currently produces traditional Type C motorhomes on Ford, Dodge, and Mercedes-Benz chassis, as well as made-to-order specialty vehicles in Born Free's commercial division.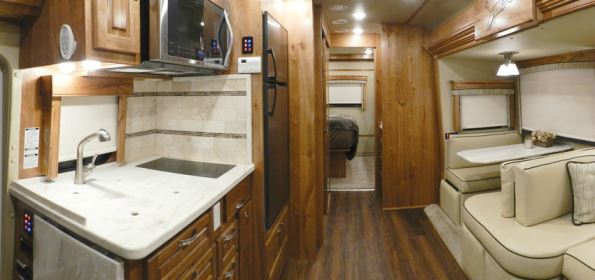 The company is now led by 30-year RV industry veteran Jeff Butler, whose background at Monaco, Country Coach, and most recently Dynamax includes experience in engineering, product development, and operations. Brandon Dodgen, grandson of founder John, has stayed on as product manager and head of quality control, offering valued insight during the company's transition and growth.
Mr. Butler emphasized that the core values motorhome icon John Dodgen embedded in the company continue to be embraced by the new Born Free Motorcoach. They include: 1) Ensuring high quality and attention to detail, and setting the bar ever higher to improve upon quality and guaranteed fit and finish. 2) Recognizing that safety is of paramount importance, including the continued incorporation of steel roll bars in all Born Free motorhomes. 3) Providing world-class customer service.
Continued customer satisfaction is the ultimate indicator that these goals are being addressed.
"These are core values that for decades underpinned the success of John N. Dodgen," Mr. Butler said. "They are timeless, solid, and indisputable, and continue to be an integral part of our mission statement."
New floor plans have been added to existing models, which include the Freedom, Spirit, Triumph, and Splendor, offered on the Ford E-450, F-450, and Dodge 5500 chassis, as well as the larger 31-foot Majestic and the new 33-foot Imperial, available on Ford F-550 and Dodge 5500 chassis. The 21-foot Jewel, based on the Ford E-350 chassis, is also available.
A consultant who teaches interior design at the university level and had worked in the RV industry with Country Coach provided input that is now incorporated in new interiors and décor schemes.  All-new exterior full-body paint and graphics are also available for all models. These actions were taken within the first two months of Born Free's acquisition.
The company is charting an aggressive course in the design and development of new models as well. The latest is the 24-foot Reign, a Type C based on the Mercedes-Benz Sprinter 3500 diesel-powered chassis. The coach is available in four floor plans, three with one slideout, including an 11-foot-long slideout in the 24FL floor plan. The Reign was unveiled in January 2016 at the Florida RV SuperShow in Tampa, where it drew considerable attention, according to Mr. Butler.
Upcoming events on the company's schedule where folks can view Born Free motorhomes include the EAA AirVenture Oshkosh in Oshkosh, Wisconsin, and America's Largest RV Show in Hershey, Pennsylvania. Born Free officials report that they also are looking closely at returning to exhibit at FMCA Family Reunions.
No longer depending on just factory showroom sales, the company is building its dealer network; at press time, four dealers in nine locations were representing the company's motorhomes. A director of sales and marketing, Jerry O'Lena, with more than 20 years of industry experience, has been brought on board to develop the dealer network.
To complement the RV products, Born Free's Dodgen Mobile Technologies division, established in 1977, continues to produce specialty vehicles tailored to the mobility, dental, medical, and show industries.  The motorhome division often borrows from the technologies being developed to accommodate those who have special requirements but insist on enjoying the motorhome lifestyle.
Jeff Butler noted that the mind-set that permeates this company, top to bottom, offers a clear image of where Born Free Motorcoach is today and where the company plans to be in the future as they continue seeking to meet the changing tastes and needs of motorhome enthusiasts.
"We are not here to simply dip our toes in the water," he said. "We are diving into the deep end of the coach pool and have every intention of going for gold."
Born Free Motorcoach, 1505 13th St. N., Humboldt, IA 50548; (800) 247-1835; www.bornfreerv.com.