Dave Puckett finds a way to balance a demanding job and motorhome living.
By John Johnston, Associate Editor
January 2017
Sometimes in the wee hours of the morning, with darkness shrouding the RV campground where his motorhome is parked, Dave Puckett is full-go into his workday. He might be on a call with clients in China. Or video conferencing with a customer in Dubai. Or preparing to catch a flight to Europe.
Dave, F450502, is living proof that it's possible to work full-time out of a motorhome and still enjoy many of the benefits of RVing.
He's vice president of customer support and service for Tait Towers, a company with global reach that designs, constructs, and delivers staging for the megashows of many of today's most popular acts, such as the Rolling Stones, Taylor Swift, U2, and Beyoncé. Tait's resume includes Super Bowl halftime shows, the Olympic Games, and the newly opened Shanghai Disney Resort in China. Tait even created the crucifix for the Mass celebrated by Pope Francis in 2015 at New York's Madison Square Garden.
All of which might lead you to believe that Puckett, 56, is a guy who frequently rubs elbows with all manner of A-list celebrities. But, no. That falls to Tait employees who are "way better looking and much cooler than I am," he said, jokingly. "I'm in the background, kind of monitoring what's going on and who's doing what."
Tait workers build the set and stage components in a Pennsylvania factory, and then Dave's team of about 50 assembles the pieces at the shop. Tweaks are made as needed. Then everything is torn down and transported to the performance venue, where the team installs the finished product and trains local personnel to operate the show.
Dave is a relative newcomer to RVing and to the entertainment industry. For much of the past 30 years, his work in the software engineering and information technology fields required extensive air travel. He wanted to cut back. He has survived two commercial plane crashes, so who could blame him?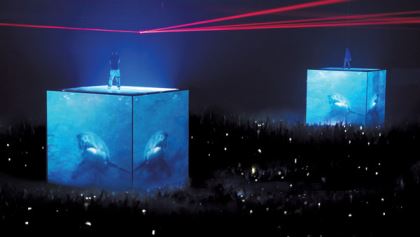 And so, in the summer of 2014, while working under contract for a health-care company, he bought a 34-foot Thor Motor Coach Palazzo with just 3,000 miles on it. From the outset, he wanted the motorhome to double as his living and working space.
Not long after the health-care contract ended, Dave was hired by Tait, which is headquartered in Lititz, Pennsylvania, just north of Lancaster. Thanks to email, instant messaging, and cell phones, he's always accessible, which is why the company allows him to work out of his motorhome half the year in Lancaster, and half the year in Las Vegas, Nevada, one of nine cities where Tait has offices.
Dave also needed the blessing of someone else: his wife, Lisa, who lives at their San Clemente, California, home. The arrangement works, he said, because his two daughters are single mothers, and his wife plays an integral role in caring for the couple's three young grandchildren.
In a typical month, Dave spends about three weeks in the motorhome and one week at home in California. "The three weeks I'm in Pennsylvania or Vegas, I'm working my tail off. My employer's getting incredible value. But they know when I'm in California with the family, I'm sort of part-time cruising.
"It actually works out really well for us, because that one week a month, I have an awesome deep quality time with my family that my colleagues don't have. It's all about the kids and the grandkids when I get home. I take my wife to the nice restaurant on the beach that she loves." In addition, she sometimes spends time with him in the motorhome.
The day he took delivery of his motorhome was his first time behind the wheel of one. He bravely headed onto the interstate for what he calls "RV mastery by immersion." He soon joined FMCA and delved into the forums on FMCA.com, as well as other RV websites, to learn as much as he could.
"Probably the key learnings for me are not around the mechanicals and the electric and that stuff. It was more about how to work solo 10 to 12 hours a day, six days a week, and still keep the coach monitored and maintained. And at the same time cook my own meals. You do reprioritize your life."
In addition to being fully outfitted with a home office, the coach is equipped with a washer/dryer and an 18-cubic-foot residential refrigerator. The latter is especially important.
Dave's first year in his motorhome, he ate out a lot — and gained 20 pounds. He noted that cooking is now his therapy. His family roots are in Louisiana and east Texas, and he has attended a cooking school in New Orleans. "Because of my schedule, on a Saturday or Sunday I'll cook all day for the week ahead, and yes, I've since lost the extra 20 pounds."
From spring into the fall, when he's camped in Pennsylvania, he buys his produce from Amish roadside stands. He travels with a smoker and procures his meat from an Amish fellow who raises and butchers hogs and beef.
The Pennsylvania campground where Dave stays isn't fancy. He parks on gravel. There's no pool or rec room. "But it's a great place," he said. The owners, who check on him regularly, are "very sweet people."
In mid-October, before the arrival of winter, he heads west to manage Tait's Las Vegas operations. While there, he stays at a five-star RV resort with two pools, a perfectly level concrete pad, and other amenities.
In 2017, Dave expects to spend more time in Asia as Tait expands its footprint there. When he's back in his coach, he'll juggle the challenges of working full-time and living in a motorhome.
He has toyed with the idea of starting a new FMCA chapter to connect with others in similar situations. They'd have plenty to discuss — everything from motorhome maintenance and food preparation to time management and technology issues. Then again, he acknowledges they'd probably all be too busy working to ever gather in person.
One thing is certain: "I love my coach. It's been good to me." And if he had to do it all over, "I wouldn't change a thing."
Dave Puckett invites members to share ideas about the possibility of creating an FMCA chapter for business people who work out of their motorhome. Contact him at
[email protected]
.
Suggestions Welcome
If you know FMCA members whose stories beg to be told — and yes, you can nominate yourself — let us know and we'll consider featuring them. Tell us a little about them and send contact information (email address and/or phone number) to Associate Editor John Johnston,
[email protected]
. Or write him at Family Motor Coach Association, 8291 Clough Pike, Cincinnati, OH 45244.