Movie magic has been made among the giant boulders in the foothills of the Sierra Nevada in California's Alabama Hills.
By Mary Taylor
January 2017
Nestled between Lone Pine, California, and the eastern side of the Sierra Nevada, the Alabama Hills can be a destination by itself, or serve as a day trip while you're staying at Death Valley National Park. As for us, we had heard intriguing descriptions of the area and wanted to see it for ourselves. We weren't disappointed.
The name Alabama Hills — coined during the Civil War in honor of a Confederate warship — probably does not bring an immediate image to mind. But you likely have seen these hills many times in movies. They have served as a backdrop in 400 or so films since the 1920s. They "became" northern India in 1939's Gunga Din, as well as the Gobi Desert and parts of Arabia. They even led you to think you were seeing Africa as you watched a couple of Tarzan movies. In more modern times, the landscape served as Spain in Gladiator, was included in Django Unchained, and was alien-looking enough for Star Trek Generations.
The Lone Pine Chamber of Commerce and the Museum of Western Film History have maps and pamphlets describing self-guided tours of the hills where you can walk in the footsteps of the actors. The brochures, complete with GPS coordinates, encourage you to step out of your car and identify the described camera locations and angles by lining up background mountains with specific rocks in the foreground. Here's a chance to dress up in Western gear and take selfies in the same locales as the movies How The West Was Won, The Gay Caballero, or Hell Bent For Leather.
It's pretty easy to drive the route around these boulders. The dirt roads are mostly two-wheel-drive friendly; just pay attention to the weather, and don't turn down really narrow, winding roads where you can't see around the first bend. Especially in the case of large motorhomes, it's probably best to leave the coach at the campground and drive your towed car when checking out the movie sites.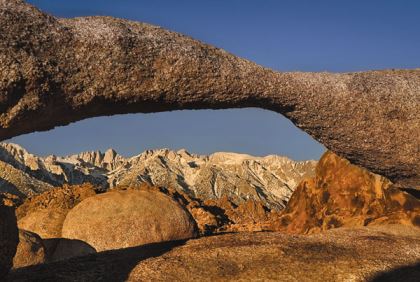 The term Alabama Hills is a bit misleading, in that their physical impression is so varied. Some sections can be called hills; others consist of clustered or isolated huge, smooth rocks that tilt in various directions. The isolated sections could be viewed as a giant's toy building blocks. It's easy to see faces form when looking at the individual heaps of massive stones. Various animal shapes pop out at you, too. All it takes is a bit of imagination.
The jumbled nature of the Alabama Hills is in dramatic contrast to the sheer grandeur and majesty of the eastern Sierra Nevada just a few miles west. In fact, access to the film sites off Movie Road is via Whitney Portal Road, which leads to the Mount Whitney trailhead. That's where you can begin a 10.4-mile trek — with a 6,056-foot gain in elevation — to the highest peak in the continental United States.
Some describe the Alabama Hills as a beefed-up version of the Jumbo Rocks area of Joshua Tree National Park, about 250 miles to the southeast. Yes, the rocks are just as huge and jumbled as those at Joshua Tree; however, you can drive among them in the Alabama Hills, and they cover a larger area. They make up a series of hills that extend about 9 miles and reach an elevation of 1,500 feet above the high-desert floor of Owens Valley. Leading to the eastern Sierra Nevada, they resemble jumbled spikes posed in front of a regal queen.
Interestingly enough, the Alabama Hills, though obviously much lower in elevation than the nearby mountains, may in fact be as tall or taller. That is because the valley adjacent to the hills has been filled with thousands of feet of erosional debris, which camouflages the height of the hills, leaving only their tips protruding. These wonderful, photogenic rocks are the result of both frost wedging (as at Joshua Tree) and chemical weathering from slightly acidic rain that crept into the granite while it was still beneath the earth's surface.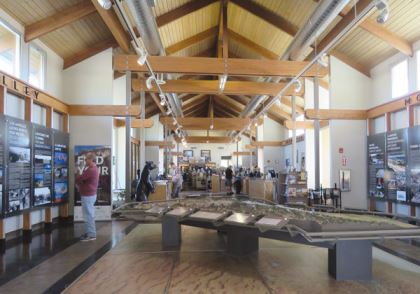 This area is so important to the Lone Pine population that the Alabama Hills Stewardship Group was formed in 2006 to promote the long-term vision, conservation, use, enhancement, and enjoyment of the Alabama Hills. This group, in conjunction with the Bureau of Land Management, has been working to restore damage (from overuse) to a couple of the most famous movie locations.
Another reason to visit is to spend some time in the Museum of Western Film History, which is housed in a building resembling a 1930s Western movie theater. Movie props, exhibits, a store, and a theater offer movie buffs a full immersion into that era. Begin with the introductory movie Lone Pine: Where The Real West Becomes The Reel West, and continue with the extensive displays related to early silent-film cowboy stars, starting with the unlikely Roscoe "Fatty" Arbuckle. From there, you move on to Tom Mix, Roy Rogers, Gene Autry, Tex Ritter, the Lone Ranger, and Randolph Scott. Beyond focusing on the cowboy stars, the exhibits include a stagecoach from the 1951 Tyrone Power movie, Rawhide.
A Wells Fargo mail coach, a 1941 Buick used in a Gene Autry film, and a 1937 Plymouth from the Humphrey Bogart movie High Sierra also are on display. If you spent hours as a child watching Westerns and singing cowboys, the museum will take you back to those times. The museum is open daily.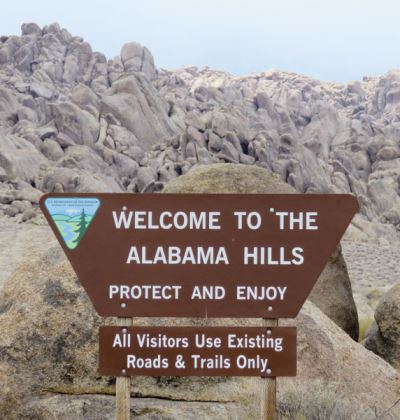 A very popular event each October is the Lone Pine Film Festival, which includes location tours, screenings, concerts, and celebrities. The festival opens in the museum, and each year it has a special theme. Events typically include Western actors, directors, or other individuals at panel discussions that dig into aspects such as stunts, guns, and the use of animals. Other activities include tours of movie sites, multiple movie screenings, a Saturday rodeo, and a Sunday parade. Cowboys, vintage cars, horses, mules, and school bands join the parade fun.
For info about the October 2017 festival, visit www.lonepinefilmfestival.org. As of this writing, dates and a theme had not been announced.
Each June, the museum sponsors a "Concert in the Rocks" weekend. The event features musicians playing outdoors under the stars (dancing is encouraged). The weekend continues with special daytime movie location tours by bus or caravan. Special focus is given to the film sites of certain movie actors, such as Audie Murphy.
Aside from the museum and film fest activities, the Alabama Hills are just plain fun for outdoor buffs. Rock climbing, hiking, dirt-road biking, hang gliding, horseback riding, photography, bird-watching, and even fishing are all easily accessible. If you are a rock hound, there is no end to poking around. Stop at the Eastern Sierra InterAgency Visitor Center along U.S. 395 to gather maps and brochures or to talk with one of their helpful volunteers. The Lone Pine Chamber of Commerce website (listed below) is also a great source of detailed directions and maps for most of these activities.
Staying in the area is easy. The Alabama Hills area is overseen by the Bureau of Land Management, and its Tuttle Creek Campground is just minutes from the movie sites. Numerous restaurants can be found in the area as well. Just south of town is a resort-style RV park that is open year-round, called Boulder Creek. If you are truly the independent type, you may want to try dispersed camping on the BLM lands; just be sure to follow agency guidelines.
So, if you find yourself driving up or down U.S. 395 between Nevada and Southern California with a little time on your hands, this makes a unique stop. No matter which one of the reasons to visit is most appealing, you'll be just like us — not at all disappointed.
Further Info
This area can be very hot in summer. Check on road conditions before your visit by contacting the local Chamber of Commerce.
Lone Pine Chamber of Commerce
120 S. Main St.
Lone Pine, CA 93545
(760) 876-4444
www.lonepinechamber.org
Museum of Western Film History
701 S. Main St.
Lone Pine, CA 93545
(760) 876-9909
www.lonepinefilmhistorymuseum.org
Lone Pine Film Festival
(Same address/phone as Museum of Western Film History)
www.lonepinefilmfestival.org
Area Campgrounds
Please check your campground directory for more listings, or the RV Marketplace, published in the January issue of FMC and online at FMCA.com.
Boulder Creek RV Resort
Full hookups
2550 S. U.S. 395
Lone Pine, CA 93545
(760) 876-4243
www.bouldercreekrvresort.com
Lone Pine Campground (USFS)
Open April-October. Water available. No hookups.
Whitney Portal Road
Lone Pine, CA 93545
(760) 937-6070
www.goo.gl/PZzTWX
Tuttle Creek Campground (BLM)
Water (March-October) and dump station available. No hookups.
Horseshoe Meadow Road
Lone Pine, CA 93545
(760) 872-5008