Arizona's most iconic views can be found in and near this popular town.
By Karen Lee Ensley
February 2017
Go To Sedona
If you delight in gazing at towering red rocks or driving through rugged canyons, then go to Sedona. Do you admire exquisite art, or are you captivated by amazing architecture? If yes, then go to Sedona. If you want to see ancient cliff dwellings, hear tales of Hollywood cowboys, or thrill to outdoor adventures, then (you guessed it) go to Sedona.
While on the way to or from Chandler, Arizona, for FMCA's 95th International Convention, March 7 through 10, Sedona is a must-stop. The town is approximately 140 miles north of Chandler. Although the drive may be too long for a day trip, Sedona can easily take more than a day to explore.
Sedona's intriguing and beautiful name can be credited to the U.S. Postal Service. The first settlers of Sedona called their town Upper Oak Creek or Camp Garden. A town businessman, T.C. Schnebly, filed an application to run a post office and proposed various names, including Schnebly Station. But all were turned down as being too long; they would not fit on a postmark. So, T.C.'s brother suggested naming the town after T.C's wife. It worked! Postal officials approved the name, and in 1902, T.C. began running the post office from the back of his home. Today Sedona is home to approximately 10,000 people and covers 19 scenic square miles.
Sedona's beauty makes it an alluring destination. As early as 1895, anthropologist/archaeologist Jesse Walter Fewkes predicted that the area would become extremely popular among tourists. Today, 4.5 million travelers come each year for the vortexes, to enjoy mild winter weather and gorgeous scenery, and also to shop amid its famous galleries.
It's best to leave your motorhome parked at a campground and take your towed vehicle when you visit Sedona, because parking is limited.
Beautiful Sights
Sedona is located at the mouth of a rugged canyon, surrounded by the 1.8-million-acre Coconino National Forest. A 2,000-foot-high escarpment known as the Mogollon Rim towers over town. Additionally, the cliffs are made of ancient deposits of soft limestone, mudstone, and sandstone, which easily erode. Formations such as "Steamboat" and "Snoopy" can be seen while wandering Sedona's main street.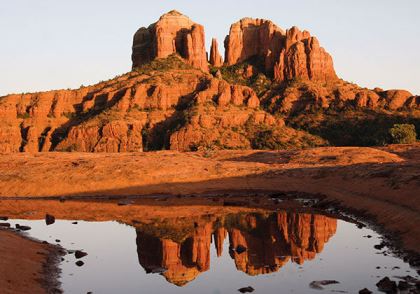 When you're ready to see more, head to 286-acre Red Rock State Park. Gorgeous views include lush greenery along meandering Oak Creek, while the rugged red rocks call adventurers to explore. Hike or bike some of the 5 miles of interconnecting trails that travel through three distinct environments: aquatic, riparian, and pinyon-juniper.
You can thank former Arizona Gov. Bruce Babbitt for being allowed to hike here. In 1980 when he was hiking along Oak Creek, he was told that he was on private property and was asked to leave. The lack of public access to hiking areas along Arizona's waterways initiated a complicated land exchange to obtain this property for a state park. Red Rock State Park was finally opened to the public in 1991. Info: www.azstateparks.com/parks/RERO; (928) 282-6907.
Long before T.C. and Sedona Schnebly arrived in Red Rock Country, American Indians considered this land to be sacred. Sedona continues to be regarded as a special place because of its vortexes. Described as intersections of natural earth energy, Sedona's vortexes are said to inspire meditation and healing and are usually found on or near a rock formation. Although all of Sedona is considered to be a vortex, rock shapes called Airport Mesa, Bell Rock, Boynton Canyon, Cathedral Rock, plus the man-made Chapel of the Holy Cross, are all sites where the energy is reportedly more intense. See www.wildsedona.com/area/vortex.htm for a map.
Roman Catholic Chapel of the Holy Cross
The Roman Catholic Chapel of the Holy Cross is an eye-catching architectural wonder built into a 250-foot-tall twin-pinnacled red rock spur. Completed in 1956, it was created thanks to Marguerite Brunswig Staude, a local rancher and sculptor. Golf cart rides assist those who may have trouble walking up the steep road to the chapel, which warmly welcomes "one and all, regardless of creed," as Marguerite said. A gift shop with local art is also on site. Info: www.chapeloftheholycross.com; (928) 282-4069.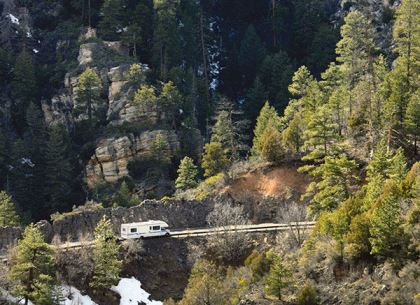 Oak Creek Vista Native Market
Another shop, this one outdoors, is the Oak Creek Vista Native Market. Located on State Route 89A northeast of Sedona, the market is along Oak Creek Canyon Scenic Drive, which offers scenic surprises around each bend. Even more, waterfalls cascading down colorful rocks give way to forests of tall pines as the road follows a breathtaking series of switchbacks to the top of the canyon. Because the road is not very wide and has tight turns, it's best not to attempt this drive in an RV, especially one that is very long.
The outdoor Indian market offers exquisite artwork, from jewelry to pottery, handcrafted by local American Indians. Info: www.nacainc.org/overlookvista.
Make your special purchase directly from the artists and then enjoy a phenomenal view of the canyon. The exposed canyon walls showcase environments that once existed here, from ocean beaches to desert sand dunes.
The strata that contains the famous Sedona red rock was created when a warm, shallow sea brought vast expanses of sand. When those sand grains became covered with thin coatings of iron oxide, they began taking on that red color you see today.
Hiking, Fishing, & More
Beyond sight-seeing, the canyon features great hiking and fishing. For a unique experience, stop at Slide Rock State Park and cool off. You can slide down the slippery creek bed, cruise down the creek in a tube, or take a dip in the natural swimming pools. Listed on the Travel Channel's "10 Top Swimming Holes in the United States," this natural waterpark is 7 miles north of Sedona along 89A in Oak Creek Canyon. Info: www.azstateparks.com/Parks/SLRO; (928) 282-3034.
More outdoor adventure fills the Sedona area. Hiking and biking trails abound. Whether you take the easy ½-mile Allens Bend Trail, the 5.6-mile Wilson Mountain Trail with a 2,300-foot elevation change, or any of the numerous other trails, you'll be treated to fabulous scenery and famous landmarks like Submarine Rock or Vultee Arch. For trails info, see www.sedonaredrocktrails.org.
A multitude of tour companies make it easy to explore with a guide. Park your towed vehicle and let someone else do the driving and/or talking. You can keep it tame and take the sedate Sedona Trolley to area sights (www.sedonatrolley.com), or live on the edge, literally, with an exhilarating Hummer or Jeep adventure on high, rocky trails, sure to delight any thrill-seeker. There's even one trail so extreme that it's called the "Jeep eater." An exciting hot-air balloon ride or a helicopter tour can provide the best view of this amazing red rock country. In addition, wine-tasting tours and vortex experiences are available. For a list of area tours, see www.visitsedona.com/tours-and-sightseeing/tours-sightseeing.
Tales Of Old
As you look into the wilderness, it may seem vaguely familiar. Sedona's renowned scenery has been featured in nearly 100 films, plus numerous videos and commercials. Stop by the Sedona Heritage Museum and you'll be treated to exhibits that highlight the region's movie power. Beginning in 1923 with the silent film The Call of the Canyon, based on a novel by Zane Grey, through the golden age of American Westerns in the 1940s and '50s, Sedona has had a distinguished role in film. During the peak years, virtually every major movie studio and big-name movie star worked there. Streets in a Sedona subdivision are even named after movies made in the area.
The Sedona Heritage Museum focuses on local history from 1876 to the present, with ranchers, pioneers, and cowboys — both the Hollywood heroes and the real cowboys they portrayed. Info: www.sedonamuseum.org; (928) 282-7038.
Delve further into history with a visit to the must-see Palatki Heritage Site. Seeing the site's ancient cliff dwelling made from red rocks, Jesse Walter Fewkes appropriately named it using the Hopi word Palatki, meaning "red house." Built by the Sinagua people about A.D. 1150, the cliff dwelling was mysteriously abandoned around 1300. Pictographs, painted pictures and symbols on nearby rocks are also visible; some of the images are estimated to be 5,000 to 6,000 years old.
Tour reservations are suggested, and the dirt road to the ruins can be impassable right after rain or snow. Call for updates before you visit: (928) 282-3854.
Tlaquepaque Arts and Crafts Village
To view more recent artwork in an old-fashioned setting, go to Tlaquepaque Arts and Crafts Village. Named after a suburb of Guadalajara, Mexico, Tlaquepaque is pronounced "Tlah-kay-PAH-kay." This internationally renowned art and shopping destination mimics Old Mexico and is covered by the refreshing shade of giant sycamore trees along the banks of Oak Creek.
Picturesque arches, fountains, and flower-bedecked courtyards frame a complex of 15 specialty shops, 16 galleries, six jewelry stores, and four clothing stores — plus several restaurants. Additionally, the galleries feature one-of-a-kind art in a range of media and styles, including contemporary and abstract works; American Indian; and classic Southwestern fine art. You can find everything from wildlife bronzes to Navajo rugs, wind sculptures, and traditional ceramics.
Yet, Tlaquepaque has so much more. Musicians and dancers celebrate special fiestas throughout the year, bringing the sights and sounds of Old Mexico to Sedona. Check the Tlaquepaque website under "events" to find out what's scheduled in March, before or after the FMCA convention: www.tlaq.com; or, call (928) 282-4838.
As you reflect upon your Sedona journey, taste-test a local brew or sip an award-winning wine and let the charm of Tlaquepaque envelop you. Relax and ponder.
Why Sedona? Perhaps the meaning of Tlaquepaque contains the most fitting answer. It means the "best of everything."
Further Info
Sedona Chamber of Commerce & Tourism Bureau
Visitor Center
331 Forest Road
Sedona, AZ 86336
(800) 288-7336
(928) 282-7722
Email: info@sedonachamber.com
www.visitsedona.com
Other helpful websites:
www.gatewaytosedona.com
www.visitarizona.com/cities/north-central/sedona
www.sedona.net/camping
Note: Sedona Area Parking Passes are required on National Forest land around Sedona. The passes are available at the visitor information center, area fuel stations, and other businesses; some are sold at vending machines at trailheads. Passes cost $5 for one day and $15 for seven days. State parks mentioned in this story require separate entry fees, as they are not part of the national forest land. Contact the Sedona Chamber of Commerce for more information.