Take a good look at Indianapolis, Indiana, the destination for FMCA's 96th International Convention.
By Peggy Jordan, Associate Editor
First, Indianapolis, the capital of Indiana, once occupied a small, barely settled piece of land. But the land was in the right place — the center of a new state. And it was found at just the right time; legislators were searching for a central spot to build a capital city. By 1825, Indianapolis was a city and officially the state capital.
FMCA members who attend the association's 96th International Convention July 12-15 in Indianapolis also will be in the right place at the right time. Then, the Indiana State Fairgrounds, site of the event, will be a great location for RVers to spread out, mingle, have fun, and celebrate the traveling life. And as for timing, as anyone who's attended an FMCA convention will tell you, it's always a great time! Learn about owning and taking care of your motorhome in various seminars. Visit booths full of RV products displayed by hundreds of exhibitors. Sashay through new motorhomes galore. Sing along to live entertainment. Best of all, meet new friends and reunite with old ones.
What follows is a glimpse of attractions around town. It's best to use a towed vehicle or public transportation to reach them. Before the convention starts, or after it's over, be sure to take advantage of being in the right place at the right time. See, taste, and hear as much as you can while you're in Indianapolis.
Zoom!
In 1909, a 2.5-mile oval auto raceway opened in Indianapolis. Today we know it as Indianapolis Motor Speedway. It is home to a popular event each Memorial Day weekend you may have heard of, the Indianapolis 500. Experience the thrill of the track any day you tour the Indianapolis Motor Speedway Museum. It's not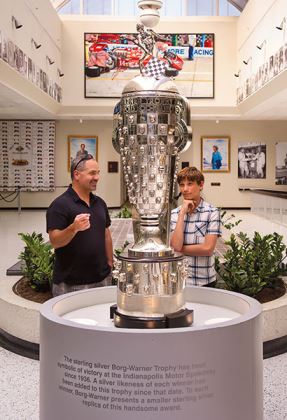 just a bunch of trophies on display but an exhibition of gorgeous cars, exciting videos, and opportunities to ride up to the renowned row of bricks that give the race course its nickname: "the Brickyard."
Speaking of driving in circles, in the very center of the city is a spot called Monument Circle, where the 1902 Soldiers and Sailors Monument was built to honor Indiana residents who served in various armed conflicts. Near the top of the monument (only 15 feet shorter than the Statue of Liberty!) is an enclosed viewing deck, accessible by stairs or elevator. In the monument's base is the Colonel Eli Lilly Civil War Museum. As the heart of downtown Indianapolis, Monument Circle is beloved by locals and considered a must for visitors.
While you're right in the center of things, you might want to try a snack at South Bend Chocolate Company; admire the architecture of the 1857 Christ Church Cathedral; or marvel at the Egyptian hieroglyphic-like images above the entrance of Circle Tower, completed in 1930. Another interesting spot is Hilbert Circle Theatre. Once hosting movies and various live performances, it now is the home of the Indianapolis Symphony Orchestra.
Be Sure To Write Home
Arts and Indianapolis have meshed well for years. The city has declared 2017 as the year of Kurt Vonnegut. The novelist who wrote Breakfast of Champions and Slaughterhouse-Five was born and raised here. Vonnegut's grandfather Bernard and his father, Kurt Sr., were renowned architects who are credited with designing several Indianapolis landmarks. Kurt (who lived from 1922 to 2007) was a soldier as well as a writer; during World War II he was a prisoner of war. You can learn more at the Kurt Vonnegut Museum and Library.
Next, another famous Indiana writer was James Whitcomb Riley, the "Hoosier Poet." He spent the last 23 years of his life in a home located in the city's Lockerbie Square Historic District. To this day it retains its original furniture and gadgets and more. Visitors rave about it being a "time capsule" of life in the Victorian era.
Another amazing Victorian house that reflects its former residents is the Benjamin Harrison Presidential Site. Harrison, a wealthy Indianapolis attorney and U.S. senator, served one presidential term, from 1889 to 1893. His domicile was completed in 1875 at a cost of $29,000, or more than $600,000 in today's dollars. The 10,000-square-foot, 16-room home was full of cutting-edge technologies for the day, such as central heat, indoor running water, and even a burglar alarm. Tour guides provide more details.
Since you are looking inside other people's houses, don't forget the Lilly family mansion. Oldfields, also known as Lilly House and Gardens, was the home of J.K. Lilly Jr., grandson of Eli Lilly, who founded the giant pharmaceutical firm. Lilly's 22-room house was completed in 1913; it has been restored to its 1930s appearance.
Cool Museums
First, the Indianapolis Museum of Art, founded in 1893, amassed such a large and impressive collection that in 1967 the museum was moved to a new home on the grounds of the Oldfields estate.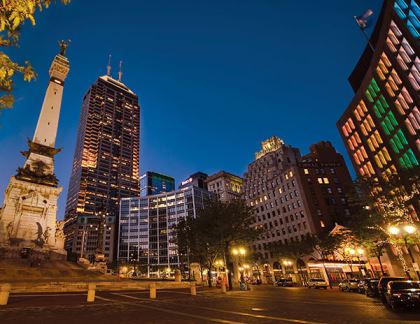 If you visit before or after FMCA's Indianapolis convention, step out of the summer warmth and into this cool place full of beautiful things. A traveling exhibition of artwork by James Audubon on display through the end of July should be especially appealing to bird-watchers.
Next door to Oldfields and the Indianapolis Museum of Art are 100 acres preserved as the Virginia B. Fairbanks Art & Nature Park. The whole family can enjoy the natural setting, which includes woodlands, wetlands, meadows, and a lake.
Indianapolis' most famous museum is worthy of its status as the biggest children's museum in the world. The Children's Museum of Indianapolis boasts five floors of activities. And, even if you didn't bring any kids with you, try a ride on the carousel and check out the train steam engine. This summer's special exhibits, among others, honor the circus; American pop culture and fashion; and those awesome Hot Wheels toys!
For an amazing view of history, it's hard to beat the displays at the Indiana Historical Society Museum. A part of the museum's "Indiana Experience" has a section called "You Are There." It lets visitors step into three-dimensional re-creations of historical photos that include live actors playing the people in and around the images. Another part of the museum reproduces a cabaret featuring a (digital) piano that plays tunes by Indiana native Cole Porter.
The historical museum is near 250-acre White River State Park. Now, this downtown park is not just one spot, but consists of a canal flanked by wide walkways. Strolling and stopping at sites is the norm.
If you're walking southwest from the Historical Society Museum, the first of the White River State Park museums you'll come to is the Eiteljorg Museum of American Indians and Western Art. Its outstanding collection includes artifacts and info about native tribes, plus works by Wyeth, Warhol, Remington, O'Keeffe, and more.
A garden setting connects this museum with the next: the Indiana State Museum, which reveals what this region was like in prehistoric times, and up to the present day.
Also, nearby is yet another notable spot, dedicated to every sport played in college: the NCAA Hall of Champions.
And, that is still not all. Not to be forgotten in White River State Park is the Indianapolis Zoo and White River Gardens. It includes an aquarium, a conservatory, and several re-created habitats in which the 2,000 animals live. Besides all this, it is home to thousands of species of plants.
Eats And Treats
Obviously, July days go great with ice cream. A popular treat at each FMCA convention is the Ice Cream Social. And while you're in Indianapolis, you might want to give other types and flavors of ice creams a whirl, too. For research purposes, of course.
Also, a local Indy favorite is Broad Ripple Ice Cream Station (BRICS), and not just because it combines delicious ice cream served at an old train station. BRICS sells nearly 40 flavors! If you're like some of us, you will need to set aside extra time for deciding what you want. BRICS is a 10-minute drive right up North College Avenue from the state fairgrounds.
If you're willing to choose from three flavors (chocolate, vanilla, or strawberry) and you don't want to leave the convention site, you are in luck. Hook's Drug Store Museum and Soda Fountain at the fairgrounds will be open throughout the FMCA convention. The "soda jerks" inside this historical place create sodas and phosphates exactly as they were made long ago. Check out the antique pharmacy bottles, equipment, and other displays there as well.
A third and final contender for best ice cream is about 8 minutes north of the fairgrounds. To be fair, this establishment on North Meridian Street is not local. It's a franchise of Graeter's, which is made a couple hundred miles away in Cincinnati, Ohio. Now, Graeter's has more than two dozen flavors, all made in 2 1/2-gallon batches using an old-fashioned "French Pot" method.
For the rest of your day (the "not dessert" part), you may want to consider some of these popular, top-rated eateries that are within a couple miles of the fairgrounds. See the Visit Indy website or call Visit Indy for more listings and details; or, check Google on your mobile device.
Café Patachou: breakfast, sandwiches, salads
King Ribs Bar-B-Q: barbecue (drive-through/takeout only)
Murphy's @ Flynn's: steakhouse
Mama Carolla's: Italian
The Jazz Kitchen: "culinary creations from around the world"; live local and national jazz music
Yats: Creole and Cajun
Papa Bear's Chicken: Fried chicken and fish; burgers
Goose the Market: Deli meats, sandwiches, beer, wine
Enjoy yourself and your RVing friends in Indianapolis. It is the right place at the right time!
Further Info
Visit Indy
200 S. Capitol Ave.
Suite 300
Indianapolis, IN 46225
(800) 323-4639
(317) 262-3000
www.visitindy.com
Indiana Office of Tourism Development
1 N. Capital
Suite 600
Indianapolis, IN 46204
(800) 677-9800
www.visitindiana.com
Area Campgrounds
Lastly, the following may not be a complete list, so check your campground directory or the RV Marketplace, found on FMCA.com and in the January issue of FMC.
Heartland RV Resort
1613 W. 300 N.
Greenfield, IN 46140
(317) 326-3181
www.heartlandresort.com
Indianapolis KOA
5896 W. 200 N.
Greenfield, IN 46140
(800) 562-0531 (reservations)
(317) 894-1397 (information)
www.koa.com/campgrounds/Indianapolis
Indy Lakes
4001 W. Southport Road
Indianapolis, IN 46217
(317) 888-6006
www.paylake.com
Lake Haven Retreat
1951 W. Edgewood Ave.
Indianapolis, IN 46217
(317) 783-5267
www.lakehavenretreat.com
Mohawk Campground RV Park
756 W. 375 N.
Greenfield, IN 46140
(317) 326-3393
Riverbend Campground
21695 State Road 37
Noblesville, IN 46060
(765) 773-3333
S&H Campground
2573 W. 100 N.
Greenfield, IN 46140
(317) 326-3208
www.sandhcampground.com