Get set to visit Perry, a central Georgia town, which will host FMCA's 97th International Convention and RV Expo in March 2018.
By Peggy Jordan, Associate Editor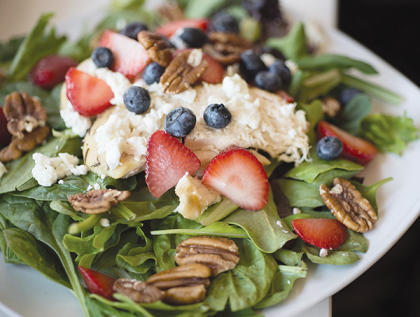 Getting together with friends is always fun, but gathering where you can learn more about your RV, take in live entertainment, and discover wonderful treasures while shopping makes it even better. So it is at an FMCA international convention. Perry, Georgia, will be the place to be March 15 through 18, 2018, for those very reasons.
The "Southern Charm" convention marks the 10th time FMCA members and friends will gather at the Georgia National Fairgrounds and Agricenter. Perry residents first welcomed FMCA to town in 1996.
In addition to many convention hallmarks — seminars, RV exhibits, daytime and evening entertainment, and myriad social gatherings — FMCA's Events Department is planning new activities, and perhaps some surprises, for the 2018 convention in March.
FMCA members will temporarily increase the population of Perry (which has 16,000 residents), but the town has a big supply of its own Southern charm. Not to mention restaurants and fun places to explore. The guide below should help you start planning your visit. For a thorough view of everything available, check the Perry visitors center website and the other websites listed in the text.
Southern Flavors
Food is often the first thing on one's mind upon arriving at a new stop, so it's tops on this list. The following suggestions are based on online reviews, staff recommendations, and more. Plenty of other good eating spots are in town; ask for recommendations at the Perry Area Convention & Visitors Bureau, or check their website.
Barbecue. Everything you expect from a Southern barbecue place, like delicious meats and sides, are at Grillmaster (478-218-7427; www.perrybbq.com). The same goes for Georgia Bob's BBQ (478-224-1227; www.georgiabobs.com). Both are open for lunch and dinner.
Comfort food and cafeteria-style dining go hand in hand, and they both are available at the Oil Lamp Restaurant (478-988-2643). More comforts await at Yoder's Sandwich Shoppe (478-987-2428), voted a top restaurant by Yelp reviewers. Please note: It is open only for lunch.
Southern traditions are kept alive at spots such as The Swanson (478-987-1938; www.theswanson.com), which gets regular kudos for its little biscuits, and at The Perfect Pear (478-224-7327), a lunch-only restaurant. Skipper Johns (478-987-3192) specializes in tasty Southern fried chicken.
Classics from America and Italy are featured at Rusty's Downtown Grill & Bar (478-224-7878; www.rustysgrillandbar.com), which has prime rib, steaks, and manicotti. Lucy's Burgers & Dogs (478-224-5829) offers grilled fare. For pizza, sandwiches, and dynamite desserts, A Couple of Jerks Soda Fountain Shop (478-841-0939) is the place to be, especially if you like that nostalgic 1950s vibe.
Homegrown Goodness
Muscadine grapes and Georgia peaches are on the table around here. You'll learn all about the grapes if you visit Tilford Winery, approximately 13 minutes northeast of Perry in the town of Kathleen. The muscadine is native to the southeastern United States and grows well in hot and humid areas. Tilford Winery creates delicious beverages from these sweet grapes, with or without the alcohol content. Tastings and tours are available (478-396-3025; www.tilfordwinery.com).
Peaches star at Lane Southern Orchards in Fort Valley, about 20 minutes northwest of Perry. The orchards are known for fresh pecans, too. The Lane Farm & Market Shop displays tempting pies, candies, breads, jellies, syrups, and much more — even cider made from peaches, grapes, apples, and strawberries. While you're there, try the Peachtree Café & Bakery, open daily year-round, famous for peach cobbler (800-277-3224; www.lanesouthernorchards.com).
Wake up bright and early to taste local farm products on Saturday morning at the Perry Farmers Market. Sellers set up their wares at 901 Carroll St. in downtown Perry, near the corner of Ball Street. Expect to find anything from locally harvested eggs to dog treats, homemade soaps, cooking essentials, and more.
Charming Sights
In town.What's in Perry's downtown? Not high-rises or franchise outlets! Picture instead little boutiques, cute shops, and a restaurant or two. Carroll Street merchants have unusual clothes, crafts, home décor, and even tasty doughnuts.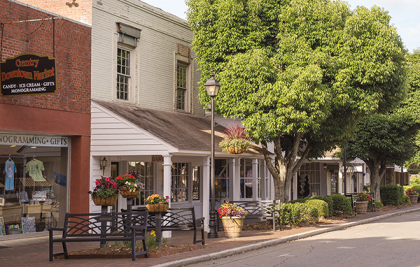 If you're shopping for something vintage, or you're just in the mood to snoop around, step into the old theater that is now a huge antiques mall. The main floor of the Antique Theatre has a whopping 4,000 square feet where dealers stock their areas with items large and small. Even the theater's balcony is packed (478-224-6873; www.perryantiquetheatre.com).
Local artifacts and memorabilia from days gone by also greet you at the Perry Area Historical Society Museum. Photos, gadgets, clothing, and more help paint a picture of this area's past. The museum is open Tuesday through Thursday and by appointment (478-224-4442; www.perryhistoricalsociety.org). While you're there, you may learn that a tour of Perry's historical buildings is available; but, if not, try www.perry-ga.gov/visitors/map-tour. Print out the map of area historical houses and buildings and decide how much you want to navigate.
A dog park is next to the Perry Area Convention & Visitors Bureau building, which is across the street from the Georgia National Fairgrounds and Agricenter. Head to this friendly center for info and maps to human parks with walking and jogging trails, plus challenging public golf courses and disc golf courses.
Outside of town. Not far from Perry (approximately a 25-minute drive) in Warner Robins, admission andparking are free at the Museum of Aviation (478-926-6870; www.museumofaviation.org). The impressive collection has many planes from World War II and Vietnam, plus an assortment of related items. The museum is also home to the Georgia Aviation Hall of Fame. Plan to spend several hours here; it's open daily from 9:00 a.m. to 5:00 p.m.
For collectibles, antiques, and general deals, head north of Warner Robins toward Macon on U.S. 129/State Route 247 to another spot with a huge, free parking lot. It's Smiley's Flea Market, where the motto is "You never know what you'll find." Merchandise is set up indoors and outdoors, and it's open every Saturday and Sunday from 6:00 a.m. to 5:00 p.m. (478-788-3700; www.smileysfleamarkets.com).
From there, it's a short drive northward to Macon, where the annual International Cherry Blossom Festival will run from March 16 through 25, 2018. The pretty pink blossoms will be celebrated with parades, fireworks, live music, and more. Vendor and craft booths will add to the mix. An amazing 350,000 Yoshino cherry trees line the streets in these parts! See https://cherryblossom.com or call (478) 330-7050 for more info.
West and north of Perry is Fort Valley, home to Massee Lane Gardens. It's the headquarters of the American Camellia Society and home to public gardens. Beautiful blooming camellias fill the hills there in late winter. Most of the plants will have finished blooming by the time FMCA convenes in Perry next March, but the many walking trails outside and a lovely porcelain figurine collection inside make the visit worthwhile. It's open Tuesday through Sunday; admission is $5 for adults and $4 for seniors 55 and over (877-422-6355; www.americancamellias.com).
Next Thing You Know . . .
As fast as time seems to go, and as busy as we all seem to be, it's best to start planning now for Perry's "Southern Charm" convention. You won't want to miss it.
Further Info
Perry Area Convention & Visitors Bureau
(478) 988-8000
Email: info@perrycvb.com
www.perryga.com
Area Campgrounds
The following may not be a complete list, so check your campground directory or the RV Marketplace, found at FMCA.com and in the January issue of FMC, for additional listings.
Boland's Perry Overnight Park
800 Perimeter Road
Perry, GA 31069
(478) 987-3371
Crossroads Travel Park
1513 Sam Nunn Blvd.
Perry, GA 31069
(478) 987-3141
www.crossroadstravelpark.com
Fair Harbor RV Park
515 Marshallville Road
Perry, GA 31069
(478) 988-8844
www.fairharborrvpark.com
Perry Ponderosa Park
13841 State Route 96 E.
Fort Valley, GA 31030
(478) 825-8030
Twin Oaks RV Park, C6864*
305 State Route 26 E.
Elko, GA 31025
(478) 987-9361
www.twinoaksrvpark.com
* FMCA Commercial Member
FMCA Academy Presents Rv Basics In Perry
Once again, the RV Basics workshop, powered by the FMCA Academy, will be in session right before the Perry convention begins. Expert instructors for the course — developed primarily for new or inexperienced RVers, or RVers looking for a refresher — will share their knowledge of RV maintenance and operation with registered attendees Monday, Tuesday, and Wednesday, March 12, 13, and 14 (half-day on March 14).
The course is open to all RV enthusiasts. Class size is limited. Cost: $400 per couple or $250 for an individual; the fee includes three nights of on-site camping at the Georgia National Fairgrounds and Agricenter. Attendees can sign up for RV Basics only (no on-site camping) or register to attend both RV Basics and the Perry convention. For more information, or to enroll in RV Basics, visit www.fmca.com/academy or contact the FMCA Events Department (convention@fmca.com; 800-543-3622, 513-474-3622).
Volunteer And Have Fun
FMCA conventions would not be possible without the assistance of hundreds of volunteers. Individuals and FMCA chapters sign up for one or more shifts. Volunteers are needed in many areas, including seminars, security, parking, trams, Information Center, and more. Plus, it's a great way to meet new friends. If you're interested in exploring volunteer possibilities in Perry, contact the FMCA Events Department (convention@fmca.com; 800-543-3622, 513-474-3622).