Furrion Offers Tours Of New Showroom
Furrion, a maker of electronics, appliances, and energy products for RVs and other industries, has opened a new showroom at its Innovation Center and Institute of Technology in Elkhart, Indiana.
The space showcases Furrion's latest products, some of which can be found in the company's concept vehicles. Limitless is a customized fifth-wheel; Hercules is a futuristic semi-truck; and Elysium is a motorhome that features a hot tub and a rooftop helicopter.
The showroom is open 9:00 a.m. to 5:00 p.m. Monday through Friday by appointment only. Contact Furrion at (574) 327-6571 to schedule an appointment. For information about Furrion products, visit www.furrion.com.
---
Thetford Buys Refrigeration Products Maker
Thetford Corp. has acquired Nova Kool Manufacturing, a Coquitlam, British Columbia, manufacturer of refrigeration products for the RV, marine, and truck markets. Its products include AC/DC refrigerators and freezers in single-door, two-door, side-by-side, and upright configurations. Sizes range from 0.8 cubic feet to 9.1 cubic feet.
---
China RV Show Outgrows Its Space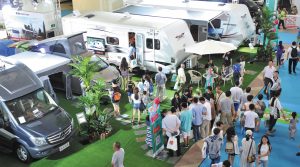 How much has RVing gained in popularity in China? Here's a clue: In 2012, the first All in Caravaning (AiC) show attracted 53 exhibitors who showcased their goods in a 54,000-square-foot space. The exhibition space was expected to be seven times as large at this year's seventh All in Caravaning show, held June 22 through 24 in Beijing. What's more, more than 700 exhibitors and 30,000 visitors were expected. As a result, the event was held for the first time at the
Etrong International Exhibition & Convention Center.
Officials say RVing has gained in popularity in China, thanks to a rapidly growing middle class with greater purchasing power, as well as more campsites and RV tourism offerings.
---
National Parks Passport Book For Kids
Millions of people have logged their visits to national parks using the travelogue "Passport to Your National Parks." Now children have their own version. "Passport To Your National Parks Junior Ranger Edition" is designed to help youngsters ages 5 to 12 learn about and connect with U.S. national parks. It also serves as a keepsake of park visits and encourages participation in Junior Ranger programs.
On certain book pages, children can collect official park cancellations, or ink stamps, indicating the name and date of a park visit. The spiral-bound book also includes vivid artwork as well as interactive and educational content. Kids can personalize their books with a free starter set of colorful park-themed stickers, as well as collect new sets of stickers that will be released for sale each year.
The book is a collaboration between the National Park Service and Eastern National, a not-for-profit partner of the park service. The cost of the book is $14.95. It's available at certain national parks and through www.eparks.com, the online store of the national parks.
---
RV/MH Hall Of Fame Displays Donated Scale Model
A scale model of a 1993 Pace Arrow motorhome by Fleetwood Enterprises is now displayed outside Younkin Theater at the RV/MH Hall of Fame and Museum in Elkhart, Indiana. The model was donated by Bruce A. Hopkins, vice president of standards and education for the RV Industry Association (RVIA).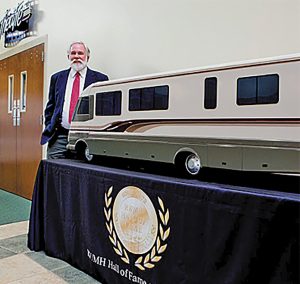 The detailed model was produced by Fleetwood for about $10,000. It is approximately 19 inches wide, 20 inches tall, and 80 inches long, and has different graphic schemes on either side. Mr. Hopkins said the model was used to produce photography for brochures and literature.
Mr. Hopkins learned several years ago that such models exist when he was given a tour of Fleetwood Enterprises by former president Elden Smith. "During that tour, we went into a warehouse that had little inside except for 10 RV motorhome models, all under their own canvas covers. We looked at one and it was amazing," Mr. Hopkins said.
Sometime later, Mr. Hopkins called a Fleetwood engineer with whom he had collaborated and asked what Fleetwood did with such models. When he learned they were given away or otherwise disposed of, Mr. Hopkins asked whether they would give him one or sell him one. He was told he could have one at no cost if he paid to have it boxed and shipped. "I agreed immediately," he said.
Darryl Searer, president of the RV/MH Heritage Foundation, said, "This beautiful model gives museum visitors a rare look at the detail that RV manufacturers go through prior to actually manufacturing a new model."
Not The First
It's not the first RV model Mr. Hopkins has donated to the museum. He also contributed a scale model of Coachmen RV's Sportscoach motorhome, which is on display in the foundation's library. He obtained that model from a retired instructor at Elkhart Institute of Technology.
---
Reyco Granning Introduces Suspension Line
Suspension manufacturer Reyco Granning plans to begin shipping in November its new line of independent front suspensions (IFS) called ComfortMaster. The first two platforms will be based on systems with a 17,000-pound gross axle weight rating (GAWR) and a 20,000-pound GAWR. Additional capacities are being developed.
After a brief period of overlap, the existing IFS17S3, IFS18S3, and IFS20S3 product lines for transit buses and motorhomes will be replaced by the ComfortMaster series.
ComfortMaster will come as a complete module with no loose parts. It includes a subframe/cradle, power steering gear, steering linkage, and all components to make it a single-unit, bolt-in system.
ComfortMaster will feature nitrogen-charged and sealed McPherson-style strut architecture. The nitrogen strut integrates the functions of spring, shock absorber, kingpin, and upper control arm into one component, resulting in lightweight and efficient construction, according to a Reyco Granning press release.
For more information, visit www.reycogranning.com.
---
Fundraiser Benefits KOA Care Camps
The annual KOA Care Camps "Big Weekend" took place May 11 and 12, 2018, at more than 400 KOA campgrounds in North America. The number of camper check-ins was up nearly 5 percent compared to last year.
The event raises money to support KOA Care Camps — more than 125 specialized summer camps for children with cancer, and their siblings.
Big Weekend campers who stayed as paying guests on May 11 received a night of camping on May 12 for $20. That $20 fee went to KOA Care Camps.
For more information, visit www.koacarecamps.org.
---
Winnebago Begins Towables Expansion
Winnebago Industries officials broke ground May 3, 2018, on a $12 million-plus expansion of its travel trailer operation in Middlebury, Indiana. The expansion will add 200,000 square feet of space. It includes construction of a new manufacturing plant and a dedicated panel lamination building. The project is expected to be completed in late 2018.
Winnebago's Minnie line of travel trailers consists of the Minnie Drop, Micro Minnie, Minnie, and Minnie Plus travel trailers, as well as the Minnie Plus fifth-wheel.
For more information about Winnebago products, visit www.winnebagoind.com.
---
Vintage RV Rally Draws Hundreds Of Trailers
More than 300 vintage RVs were on display at the annual Pismo Vintage Trailer Rally. The rally was held on May 19, 2018, at Pismo Coast Village RV Resort, an FMCA commercial member located in Pismo Beach, California.
Attendees could view restored RVs from the 1930s, '40s, '50s, '60s, and '70s representing manufacturers such as Airstream, Boles Aero, Shasta, Silver Streak, Vagabond, and Westcraft. Many of the RVs were towed by vintage vehicles including Hudsons, Willys Jeep Station Wagons, woodie wagons, and Ford and Chevy pickup trucks.
Billed as the largest vintage RV rally in the United States, the event included an open house and swap meet.
---
Regency RV Ramps Up Production Of Ultra Brougham
Regency RV announced in May 2018 that it was in full production of a new model, the 2019 Ultra Brougham. Described as a Type B-plus motorhome, its features include a single slideout with a queen-sized Murphy bed configuration; five exterior cargo compartments; a large-screen TV; and Corian solid-surface countertops with LED-lit edges. Like Regency's Xalta Type B motorhome, the Ultra Brougham is built on the Mercedes-Benz Sprinter chassis.
Regency RV is a division of the Wayne Davis Auto Group. For more information, visit www.regencyrv.com.