Kid Zone
Games and other items to make traveling with youngsters easier and more fun.
Foldable Stroller
The Biba M Single stroller weighs 12 pounds and can be folded with one hand to a size of 28 inches by 20 inches by 11.5 inches — small enough to fit into a car trunk or many RV storage spaces.
Features include an aluminum frame, foam rubber wheels, an adjustable canopy, a seat that reclines 150 degrees, and a lower basket for storing accessories and snacks. The stroller is suitable for children up to 33 pounds. The suggested retail price of the Biba M Single is $199; a double stroller is available for $299.
Biba
(800) 416-1974
www.bibausa.com
---
Pencil Case
Pens, pencils, makeup, cell phone, money — just like adults, many young people need a handy way to carry small belongings when traveling. Zipit offers pencil cases (as well as storage boxes, bags, and backpacks) in a variety of kid-pleasing styles and colors, including the Grillz Monster Pencil Case.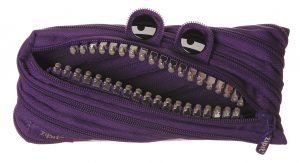 The 100-percent-polyester pencil pouch is designed to look like a smiling monster. The case, which has a 7.8-inch-wide zippered opening, can hold 25 to 30 pens and pencils. It's machine washable on the gentle cycle. The price is $7.99.
Zipit
(800) 511-6239
www.just-zipit.com
---
Gaming System
Back in the days when "blue tooth" described kids who'd eaten too much cotton candy, youngsters played the old-fashioned version of hide-and-seek. Now they can play the high-tech equivalent of that classic, as well as a variety of other games, using ROXs 2s.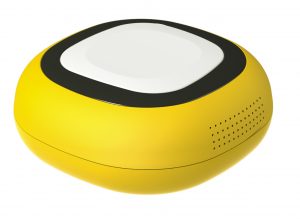 ROXs 2s, from A-Champs, incorporates Bluetooth technology; a free app (compatible with iOS and Android); a sensor; and interactive chips called Pebbs to get kids (and even grown-ups) running, jumping, and playing. ROXs 2s can be used indoors or outdoors. Some games come preloaded, but players also can create new activities, such as strapping ROXs 2s to a tree for target practice using balls and Nerf guns. The price of ROXs 2s is $79.
A-Champs
(888) 603-7086
www.playroxs.com
---
Icon-Based Watch
Without saying a word, parents can encourage a child to do simple tasks. Impossible, you say? Octopus Watch, from JOY, helps kids learn good habits while teaching the concept of time. It functions as a traditional analog and digital watch, but it also includes an icon mode and an accompanying app so that parents can set alerts to remind a child of certain responsibilities. For example, when it's time to brush teeth, the watch vibrates gently and a toothbrush icon appears.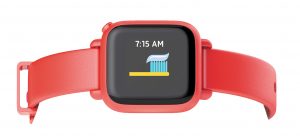 With more than 700 icons to choose from, the watch can remind kids when it's time to feed Fido, do homework, eat breakfast, and much more. Octopus Watch is suitable for children ages 3 and up. It's available in four colors. The suggested retail price is $79.99; the July sale price is $59.99.
JOY
http://octopus.watch
---
Board Game
Name three towns that begin with the letter "P." And three fast foods that contain the letter "B." Such are the challenges you'll encounter with RoadTrip, a word-challenge game from Daddy-O Productions. With each correct answer, a player's "station wagon" — which can be customized with provided stickers — advances farther across the U.S.A. "Rest Stops" along the way add to the fun.
RoadTrip is for two to four players ages 8 and up. The game is packaged in a retro-styled tin RV camper. The suggested price is $27.50.
Daddy-O Productions
(910) 859-3088
www.shopwiththepig.com
---
Camping Chair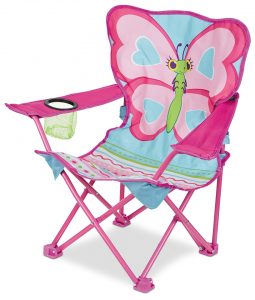 While sitting outside and enjoying fresh air, a child age 3 or older might want her own folding chair. It's true an adult might offer to share, but then there's the problem of more wear and tear. Which is why we wanted to make you aware of Melissa & Doug's Cutie Pie Butterfly Chair.
More designs are available, all with bright colors and flair. Each comes with a cup holder to prevent a spillage nightmare. Place the metal-framed chair in its bag to take it anywhere. The price is $19.99, or $39.98 for a pair.
Melissa & Doug
(800) 718-5365
www.melissaanddoug.com
---
Disk Set
A hand trampoline for balls. That's the OgoDisk Max, a 15-inch-diameter foam disk with a nylon center. Use it to bounce the included OgoSoft ball back and forth with a buddy, or go at it solo. OgoDisk Max also can be used as a flying disk.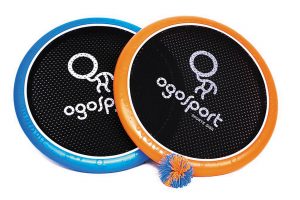 OgoDisk Max is for ages 3 and up. You can play with it in a pool (not as a flotation device). It also can be used to launch water balloons. The price is $30 for a set of two 15-inch disks and one OgoSoft ball. For a greater challenge (because of the smaller target area), there's the OgoDisk Mini; the price is $25 for a set of two 12-inch disks and one OgoSoft ball.
OgoSport
(718) 554-0777
www.ogosport.com
---
LED Ring Toss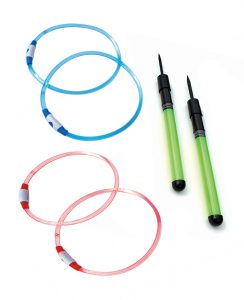 Playing a ring toss game helps improve the hand-eye coordination of kiddos, but the real reason the game has remained popular for centuries is that it's fun. Nowadays, the fun need not end at sundown, thanks to glow-in-the-dark versions such as the Light Up LED Ring Toss Game from GlowCity.
The rings, as well as the target stakes, are illuminated by LED lights. The game includes two red and two blue throwing rings (each powered by three replaceable AG13 cell batteries) and two green target stakes (each powered by three replaceable AAA batteries). The price is $39.95.
GlowCity LLC
(877) 562-4569
www.glowcity.com
---
Wet Bag
Young children, bless 'em, don't worry about what happens to their wet swimsuits or smelly diapers. But you do. When you're out and about, the Travel Happens Large Sealed Wet Bag, from Itzy Ritzy, is an eco-friendly, fashionable, and odor-free way to store wet or dry items, including bibs, bottles, wipes, and more.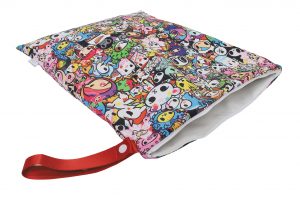 Each 14-inch-by-17-inch bag has a cotton designer fabric exterior. The waterproof interior lining is a soft polyurethane laminate that is BPA-free and PVC-free. The bag features sealed seams, a lead-free zipper, and an adjustable-snap nylon handle. The bag is machine-washable. A variety of colors are available. The price is $21.99.
Itzy Ritzy
(630) 716-6390
www.itzyritzy.com