Gear, Gadgets, And Gifts
Practical accessories and assorted goods designed to make life easier and more enjoyable for RVers.
By John Johnston, Associate Editor
Water Regulator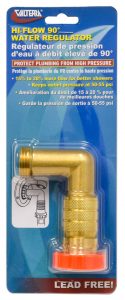 Travel without a water pressure regulator and you risk hooking up to a fresh-water spigot with water pressure that's so high it ruptures the RV's plumbing lines.
The Hi-Flow 90˚ Water Regulator from Valterra doubles as a lead-free pressure regulator and hose saver. It maintains a high flow for better showers at a pressure of 50 to 55 psi (and therefore is not recommended for older RVs). If the inlet pressure is below 50 psi, the pressure won't reduce. A screened washer keeps debris out of the water tank. It installs without tools and fits all standard water hoses. The price is $22.
Valterra Products LLC
(800) 806-6159
www.valterra.com
---
Solar Cooler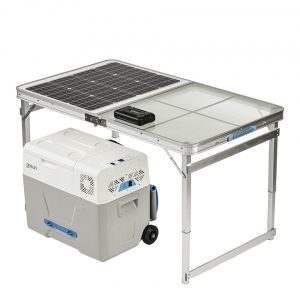 GoSun has created a number of solar products, including the GoSun Chill + SolarTable 60. Billed as the world's first solar cooler, the Chill is a portable 40-liter refrigerator designed to eliminate ice. An integrated lithium-ion battery runs the fridge all day and can be recharged with the included SolarTable 60, which is a 60-watt power plant disguised as a collapsible camp table.
According to the product description, the fridge cools food for 14 hours when the ambient air temperature is 80 degrees; with the table plugged in, that time can be extended as long as sunshine is present. The Chill's battery also can recharge cell phones. The Chill weighs 28 pounds; the table, 18.5 pounds. The manufacturer's suggested retail price is $1,099.
GoSun
www.gosun.co
---
Back Support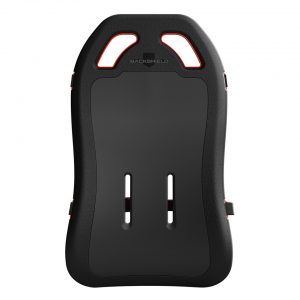 RVers may spend many hours hunched over a steering wheel, and such poor posture can lead to back pain. BackShield is said to provide proper back sup­-port and thereby reduce backaches. The key, according to the company website, is its patented design that encourages the natural lumbar curvature of the spine, keeping the spine, hips, and legs in alignment while you drive.
BackShield fits all types of vehicle seats, including those in RVs, as well as most office chairs. The PopFoam outer skin is said to be cool to the touch and to prevent cling, even in hot weather. An adjustable double strap secures BackShield in place. BackShield measures 23 inches by 13.5 inches by 1.5 inches. The price is $89.95. Use promo code Happy Back for a 10 percent discount.
Back Shield
www.backshield.com
---
Folding Bike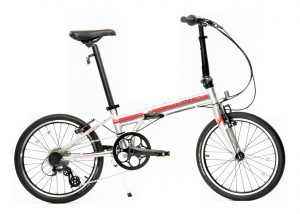 Of the half dozen models of folding bikes from Zizzo, the lightest is the Liberte, at 23 pounds. The bike sports an aluminum alloy frame, eight-speed Shimano components, and puncture-resistant tires.
Other features include a hollow-style sealed bottom bracket; quick-release wheels; and rust-resistant components. The bikes come fully assembled and folded, with inflated tires. When folded, the bike is 27 inches high, 31 inches long, and 12.5 inches wide. Maximum load is 240 pounds. The price is $429.99.
Zizzo
(866) 788-2202
www.zizzo.bike
---
Two-Way Radios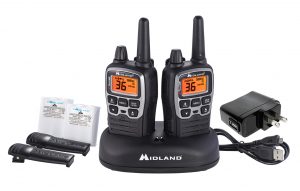 We love our cell phones, but service can be spotty in remote areas. Two-way radios offer a good alternative for communicating in and around a campsite; plus, there's no dialing involved. Midland's extensive lineup of two-way radios includes the X-Talker T71VP3.
Its features include 36 channels, 121 privacy codes, a weather-alert radio that locks on to a local weather channel, battery life up to 15 hours, and a maximum 38-mile range (far less in most real-world conditions). The X-Talker T71VP3 includes a pair of radios; belt clips; rechargeable battery packs; a desktop charger; an AC wall adapter; and a micro USB charging cable. The price is $79.99.
Midland Radio Corporation
(816) 241-8500
www.midlandusa.com
---
Traction Mats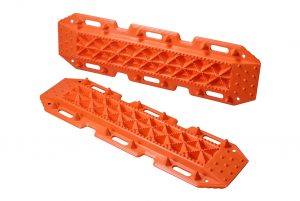 If your vehicle is bogged down by snow, ice, sand, or mud, traction mats such as the Escaper Buddy from Maxsa Innovations just might get you out of a tough spot without resorting to towing or pushing. Off-road enthusiasts especially should take note.
Escaper Buddy's raised tracks are designed to provide a vehicle with a sure grip. Just place the mats under the vehicle's drive wheels, press lightly on the accelerator, and get on your way.
The Escaper Buddy measures 48 inches by 14.4 inches by 3 inches. Available colors include orange, brown, and olive. It's sold in a set of two. The retail price is $174.95.
Maxsa Innovations LLC
(703) 495-0661
www.maxsainnovations.com
---
Propane Tank Strap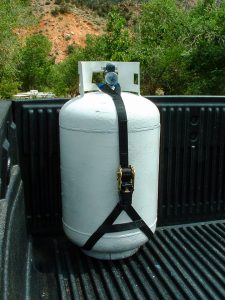 For longtime RVer Steve Woodford, refilling a propane tank used to mean driving to a fill station with the tank tied down by a bungee cord in the bed of his pickup. When the tank came loose and smashed into the hitch of his fifth-wheel, he was inspired to invent the Tailgater Strap.
The patented webbing system is designed to safely transport a 20-, 30-, or 40-pound DOT propane cylinder in the bed of a pickup. No bolts, connectors, or drilling are required. The strap is said to work with all pickup models. A video on the Tailgater website shows how it works. After use, the Tailgater Strap can be rolled up and stored. The price is $19.95.
Tailgater Enterprises LLC
(435) 817-1194
www.tailgaterstrap.com
---
Wet Wipes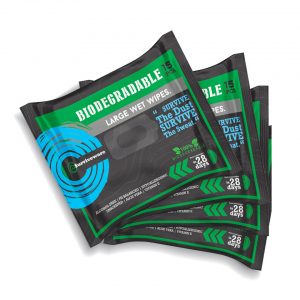 Many RVers find themselves in situations where it is necessary to conserve water, which can mean sacrificing daily showers. But that doesn't mean you have to be a sweaty-slimy, greasy-grimy mess. You can clean up with Biodegradable Wet Wipes from Surviveware.
The wipes, which contain aloe vera, are alcohol-free, hypoallergenic, and pH balanced. They also are unscent-ed, so you won't smell like a daffodil. The Wet Wipes 4-Pack contains four packs of 15 wipes each; the wipes measure 8 inches by 12 inches. According to the product description, they start to decompose after 28 days and fully degrade in about six months. The price of the Biodegradable Wet Wipes 4-Pack is $17.95.
Surviveware
(703) 910-5188
www.surviveware.com