Gear, Gadgets, And Gifts
Practical accessories and assorted goods designed to make life easier and more enjoyable for RVers.
By Linneah Deighton, Associate Editor
Dog Leash Handle With Water Reservoir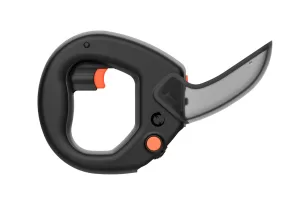 Spleash is a dog leash handle with a built-in 12-ounce water reservoir and a flip-open cup for your pup to drink from during walks. It also includes an easy-pull water trigger that can spray water over 14 feet, making it great for quickly cooling off your pet or washing muddy paws. This handy leash handle attaches to standard rope, nylon, or leather leashes in under 30 seconds. Colored dots aid in correct leash installation, and the no-slip grip locks in even the thinnest of leashes. Spleash is available in teal or orange colors. Price is $34.99.
Spleash
(855) 775-3274
www.spleash.com
---
Digital LED Alarm Clock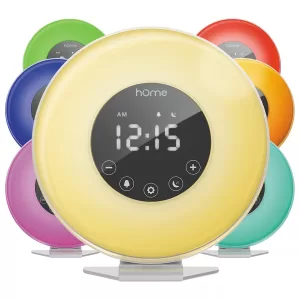 Do you have trouble waking up in the morning, or do you hate waking up to loud alarms? HOmeLabs' Sunrise Digital LED Alarm Clock employs warm LED lights that gradually brighten over the span of 30 minutes before the alarm goes off. It offers three brightness levels and eight color light options to choose from. You can opt to wake up to relaxing sounds of the ocean or birds chirping, or you can tune into FM radio. Price is $39.99.
HOmeLabs
www.homelabs.com
---
Swiveling Table System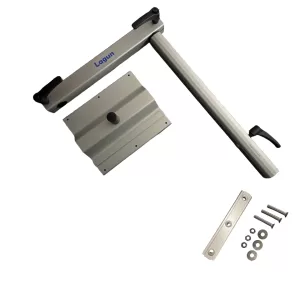 The Lagun Table Leg System attaches to an existing tabletop and makes it possible for the table to swivel and rotate into multiple positions or to be locked into place. The leg also moves up and down and can swing out of the way when the table isn't needed, opening up valuable space in the RV. Three different Lagun systems are available: standard, which works in most applications; longer, which provides more height; and double-handled, giving you a greater vertical adjustment range. Price is $199 for the standard leg system.
Lagun USA
(319) 243-9610
www.lagunusa.com
---
Countertop Ice Maker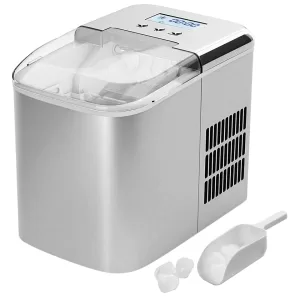 With the summer heat in full swing, nothing's better than an ice-cold glass of water. If you're tired of refilling ice cube trays, consider a countertop ice maker. Costway's 26-pound Countertop LCD Display Ice Maker features an efficient compressor and R134a refrigerant to make up to 26 pounds of bullet-shaped ice cubes in 24 hours. The ice maker is a space saver due to its compact size and light weight. In addition, the ETL-certified machine comes with an ice scoop and a removable ice basket. Color options are gray, black, red, and light green. Price is $184.
Costway
(213) 401-2666
www.costway.com
---
Roadside Safety Kit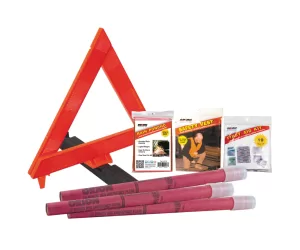 Breakdowns never happen at convenient times, but there are items you can use to increase your overall safety while you wait for assistance or try to fix the problem yourself. Orion's Compact Camper/RV Roadside Kit contains three 30-minute road flares, a reflective triangle, a bright-orange safety vest, and a rain poncho for various emergencies you could potentially encounter. Also included are a safety guide and a 19-piece first-aid kit that contains supplies to address minor injuries or illnesses. Everything is packed in a water-resistant bag made of heavy-duty polyester for easy storage and access. The Compact Camper/RV Roadside Kit is available at RV dealerships across the United States.
Orion
(800) 637-7807
www.orionsignals.com
---
Tank Sealer Kit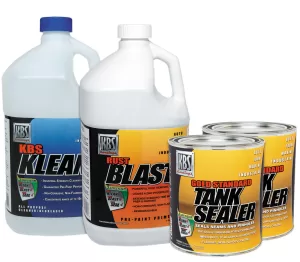 Fuel tank rust can cause leaks and potentially plug fuel delivery systems. The KBS Coatings Tank Sealer Kit contains everything you need to clean, prep, and permanently seal a fuel tank. The sealer is formulated to stop rust and corrosion by forming a fuel-
impervious coating while sealing pinholes and weld seams. The three-step kit contains KBS Klean to clean the tank, RustBlast to dissolve rust and corrosion, and Gold Standard Tank Sealer to coat and seal the inside of the fuel tank. Also included with the kit are nitrile gloves, a stir stick, and detailed instructions on how to use everything. Price is $138.95 for tanks from 25 to 50 gallons; $174.95 for 50- to 100-gallon tanks.
KBS Coatings
(888) 531-4527
www.kbs-coatings.com 
---
RV Products Submissions
To have a product considered for this column, please send information and a high-resolution photograph to [email protected].