Freezer Defrost
Our motorhome refrigerator defrosts itself with no problem, but the freezer section does not. Some folks may not know that ice sublimates, meaning it will evaporate directly from ice to vapor without passing through the liquid phase. The vapor condenses on the freezer walls and refreezes, producing frost. Leaving ice in the freezer contributes to the frost buildup.
Here's a tip to keep you from having to defrost the freezer so often. Keep your ice cubes in a resealable plastic bag or a container with a tight-sealing lid. Keeping the water vapor contained prevents it from condensing and refreezing on the freezer walls. You will notice an accumulation of frost in the container that otherwise would be on the freezer walls. By doing this, we've gone several months without needing to defrost, even while opening the freezer almost daily.
Rich & Sandy Stuntz, F297545, Conneautville, Pennsylvania
---
Wiper Blade Protectors
I live in South Florida and have replaced windshield wiper blades often, not due to usage, but because of the sun and other elements. My towed vehicle is parked outdoors as well as most RVs. I've now found a way to protect the wiper blades on our vehicles. I cut two sections from an old 5/8-inch (inside diameter) drinking water hose (any garden hose will do), making sure they were 2 inches longer than the length of the wiper blades. Using a pair of scissors, I then split the hose sections along their entire length in order to slide them over the wiper blades. I make sure the wiper blades stop in a vertical position before I turn off the vehicle and then install the covers. Be sure to remove and store the blade covers before driving the vehicle.
C. Lee & Mary Jo Brower, F148653, Lake Worth, Florida
---
Drink Shelf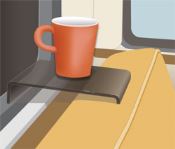 Drinking a beverage while reading the newspaper or watching TV from our motorhome's sofa was a problem, because we had no place to set a cup or glass when seated at one end. We have an assortment of old RV accessories purchased through the years that are no longer needed. One of these items was an oak cutting board that was in like-new condition. I cut the ends off the cutting board, fastened them together using counter-sunk wood screws from below, and attached the new shelf to the wall. There you have it — a perfect place to set a wine glass or coffee cup while relaxing on the sofa.
Danny Lindstrom, F310275, Salinas, California
---
Smoke Detector Battery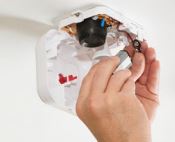 Unless you are traveling in your motorhome when it's time to adjust the clocks for Daylight Savings Time, it's easy to forget that the batteries in the smoke detectors also should be replaced. You also may not be in your motorhome to hear the low-battery warning when it goes off. So, it's very important to make yourself some kind of reminder to change the batteries in the smoke detectors annually.
We found out how important this is after a fire broke out at the top of the refrigerator flue as we sped down the interstate. We smelled burning wood, but since we couldn't see any smoke, we attributed it to someone burning brush in the fields — that is, until the smoke alarm sounded! I grabbed a 5-pound fire extinguisher (larger than the extinguisher that came with the motorhome) that I keep next to the door and was able to put out the fire before help arrived. The last time we saw a motorhome burning, all that was left was the framework. Incidentally, the fact that my motorhome has a one-piece ladder enabled me to get on the roof very quickly. If the lower part of the ladder were locked in a storage bay, as many of them are, precious moments would have been wasted digging it out.
Frank S. Winter, F114882, Manalapan, New Jersey
Editor's Note: Instructions for a Firex smoke alarm state that the alarm should be tested weekly; the battery should be replaced annually; and the alarm itself should be replaced after 10 years.
---
Entry Step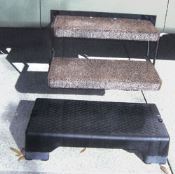 We recently traded up to a larger motorhome. Being slightly short, and not as young as we used to be, we found the bottom entry step to be a challenge to reach, as our new coach is several inches higher off the ground than our previous one. We checked out the prices for folding platform steps from a camping store, but they cost from $50 to $85 and higher. We thought that Walmart might carry something similar but at a more reasonable price. We found the perfect solution! In the sporting goods department we discovered an aerobics step. It adjusts from 4 inches to 6 inches in height, and the nonskid step surface measures 26 inches wide and 12 1/2 inches deep, which is slightly larger than our motorhome steps. It's lightweight and portable, the legs store inside for easy storage, and it has a capacity of 250 pounds. Best of all, it cost less than $30.
Denny & Ona Meyers, F167609, Titusville, Florida

{loadpositionEndBlurbTips}