Family & Friends
August 2010
Former Midwest Area vice president (1991-1995) R. Bruce Holcomb, F54442, died on May 17, 2010, in Bloomington, Illinois. He was 79.
Bruce was born on May 1, 1931, in St. Louis, Missouri, but grew up in Chicago. He attended Colorado A&M University out of high school before transferring to Illinois State University where he earned a bachelor's degree in special education. Before finishing, though, he spent two years in the military during the Korean War and always had an American flag flying from his home and, later, his motorhome. He also earned his master's degree in education administration from Illinois State.
During his undergraduate studies, Bruce became acquainted with his future wife, Jean. "We met in a functional biology class cutting up fetal pigs," she said. "Pretty romantic, huh?" The couple married on December 27, 1952, and put their roots down in Bloomington where they raised their sons — Larry, now a colonel in the U.S. Marine Corps serving in Afghanistan, and John, who recently retired from the U.S. Public Health Service in Anchorage, Alaska.
Bruce spent his 33-year career as an educator in the Bloomington area as both an elementary and junior high school teacher and as an administrator. He was elected to three terms as regional superintendant of schools for McLean and DeWitt counties.
The couple began camping in a station wagon during the 1950s. From there they moved up to travel trailers before graduating to motorhomes; their first was a 22-foot Minnie Winnie. They joined FMCA in 1983 and became charter members of the Midwest Pace Arrows chapter (now the Midwest Pacers) in 1989. Bruce served two terms as national director for the chapter before being elected as FMCA Midwest Area vice president in 1991. He served on numerous FMCA national committees, including Membership/Member Services (1991-1995); Finance (1992-1994 and 1996-1997); Management (1994-1996); Nominating Elect (2002-2003); and Nominating (2003-2004). He also served as newsletter editor for the Midwest Area Cooperative from 2003 to 2007.
"Bruce loved to travel," Jean said. "After years in travel trailers, I finally talked him into buying a motorhome, and we found that it was a great way to travel. We were on the road six months out of the year and we saw the whole country. We became friends with people from all across the country and he never lost his love for traveling."
---
TCW Members Help Prepare Elks Camp For Children
Family & Friends
August 2010
By Judi McGinley, F312134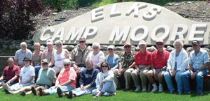 From May 13 through 16, 2010, members of the 20th Century Wagontrainers (TCW) chapter held their first ever "working" rally at the Elks Camp Moore, located in Haskell, New Jersey. Camp Moore is the New Jersey State Elks Association's Major Charity Project.
Tucked away in New Jersey's Ramapo Mountains, Elks Camp Moore offers a fun-filled vacation away from home for children with special needs. A week at Camp Moore provides a remarkable experience for these children that they will not soon forget. The primary goal of the camp is to help develop the recreational and social skills of each child. In a relaxed, accepting atmosphere, the young campers experience new adventures, make lasting friendships, and are given opportunities that promote independence and greater self-confidence.
Due to the hard work and dedication of many members of the New Jersey Elks, Camp Moore has grown to great proportions. The camp consists of more than 18 air-conditioned, handicapped-accessible buildings. Among these are three camper dormitories, a dining hall with a large kitchen, an arts and crafts center, game rooms, and a fully equipped infirmary. The camp also has a large heated pool that is completely wheelchair-accessible.
TCW members who participated in the Camp Moore cleanup are also members of the following Elks lodges: Jerry Dowgin (past TCW rally vice president) and Rich Russo (past TCW president), Lacey Elks Lodge #2518; Tom Horner (current TCW rally vice president), Marlton Elks Lodge #2514; Jack Hornor (current TCW president) and Ed Patterson (TCW member for more than 40 years), New Egypt Elks Lodge #2457.
These Elks members, along with other TCW chapter members, decided that hosting a working rally to benefit the special needs children who attend Elks Camp Moore would be a fantastic opportunity to help prepare the camp for the 2010 season, which began in June. The TCW members spent three days under the direction of Hank Wanamaker, Camp Moore's maintenance manager, cleaning the pool and dormitories, power-washing the buildings, assembling 25 new beds, making repairs where needed, and replacing electrical fixtures. At the end of the weekend, the group unanimously voted to return in 2011 for another working rally at Camp Moore.
---
We really need to stop at the next fire hydrant!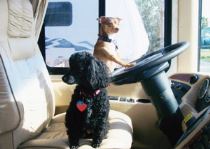 Bitsi, a 5-year-old Chihuahua-dachshund mix, and her canine cohort, Coco, a 6-year-old toy poodle, are ready to hit the road in Jack and Carol Hight's 2004 Newmar Dutch Star. The Hights have been full-timers for the past six years, so the dogs have lived their entire lives traveling. When the motorhome is parked, it's a dog's life for the pooches — lots of sniffing around the campground, chasing each other through open fields, and playing with balls and other playthings in their toy basket. When on the road, Carol said the dogs spend most of their time on a pillow across her lap — "they don't like the sound of the motor running" — although occasionally Coco will stand on Jack's lap to look out the driver's-side window and watch the passing traffic and scenery.