Follow the clues and discover the fun of this delightfully simple pastime.
By Lisa Cordeiro
July 2013
Are you interested in a low-cost, low-key activity your family can enjoy while motorhoming, away from crowds and expensive tourist attractions? If so, you might consider letterboxing. Letterboxing combines the thrill of anticipation when following a treasure map with the love of exploring new places. And, like travelers who mark stamps in their passports to record their journeys, letterboxers stamp their letterboxing journals to mark their adventures. Letterboxing and RVing make ideal travel companions.
What Is Letterboxing?
Letterboxing involves finding and following a set of clues to hunt for a letterbox — a small container that typically is hidden in a public location. Some are easier to find than others. The clues are presented in various ways. Some are written like a treasure hunt or series of steps that one must follow: "When you see the sign, turn left and take eight steps." Others are more challenging, written as riddles or even crossword puzzles that one must solve before figuring out the clues to follow.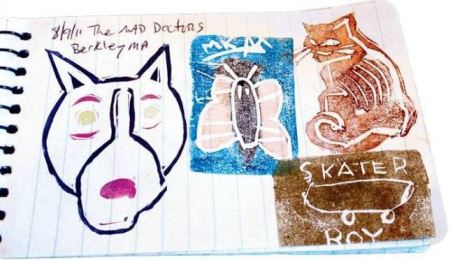 A letterbox typically contains a small book or notebook, a stamp, a stamp pad, and a pen, all enclosed in a waterproof container. Once you discover this hidden box, you stamp the book with a personal stamp that you have brought along on the hunt. You also record your letterboxing name, the date, and where you're from. Then you use the stamp in the letterbox to mark your own book and record the date and location of your discovery.
The origins of this activity date back to a guide named James Perrott, who hid his calling card in a bottle in Dartmoor, England, in 1854. Eventually the bottle was replaced by a tin box and people began leaving their own calling cards. A logbook and a rubber stamp were added in the early 1900s. The letterboxing habit grew very slowly in England over several decades, and it wasn't until the 1970s that the hobby began to expand. By the 1980s, letterboxes numbered in the thousands. However, the hobby generally remained confined to the United Kingdom. It wasn't until Smithsonian magazine published an article in 1998 about letterboxing in England that the hobby spread to North America and letterboxers began connecting through the Internet.
Now thousands of letterboxes are hidden around the world and groups have emerged to focus on the hobby, such as the 100 Club and Letterboxers of North America (LbNA). Letterboxers have expanded the traditional activity to include variations, such as the "hitchhiker." For this type, the letterboxer is directed to take the letterbox to another location. (If you'd like to read more about the fascinating origins and development of letterboxing, check out the book The Letterboxer's Companion by Randy Hall.)
Getting Started
So, what do you need to begin? Materials are minimal: a small blank notebook or journal, a pen, a stamp pad, and a stamp to represent your letterboxing persona. Some letterboxes require a compass for clues, so you might consider purchasing an inexpensive one. We store our letterboxing supplies in a small metal lunchbox that's easy to transport wherever we go.
You can make a stamp yourself by carving a shape into a large rubber eraser or a variety of other materials. Or, you can buy a rubber stamp that represents you. Various types of stamps can be ordered online or purchased at craft stores.
The stamp is where you can express yourself and have fun. For example, if you like animals, find a stamp of your favorite breed of dog. If you enjoy nature, find your favorite flower. If you want your stamp design to represent your hometown, look for one that symbolizes the area. For instance, a couple from Maine might find a lobster stamp and call themselves the Rockland Lobstahs. How you express yourself is half the fun and entirely up to you.
Once you have acquired these basic low-cost tools, letterboxing is free! Of course, if you travel to a particular location, you'll incur transportation costs. But you don't have to buy any high-tech gadgets such as a handheld GPS device necessary for geocaching.
Finding Letterboxes
Letterboxes can be hidden anywhere. When we travel, we find many within walking distance of where we are staying. We often set aside a day or two to go letterboxing. It's a quiet alternative to the pricey, crowded tourist attractions and it gives all of us a chance to recharge in nature. Plus, we often discover more about the locations we visit than we would have had we not gone letterboxing.
We've been directed to nature trails, waterfalls, old cemeteries, beautiful bodies of water, hiking paths, and many other gems we may not have found otherwise. We've discovered letterboxes hidden in plain sight — in a planter box on a main road, for instance, or even inside local restaurants. Once we were instructed to ask our server for the letterbox that was hidden near the pizza oven. This particular clue even recommended good items to order off the menu. We tried them and were not disappointed!
To begin your letterbox quest, visit www.letterboxing.org or www.atlasquest.com and enter your location. On letterboxing.org, click Letterboxes and then Search Clues; on atlasquest.com, you can enter a location on the home page. There you can narrow down results by region, state, or city. Scroll through different options near you to find a good match for your first letterbox hunt. Consider how you're going to get to the location so you can figure out transportation, parking, and so on, if applicable.
You might want to start with a letterbox that has an easy clue. Many clues indicate whether the letterbox is easier or harder to find, the distance or amount of time it may take to find it, and so on. Be sure to check the date that indicates the last time a letterbox was found. If several years have gone by since it was last confirmed as being found, the possibility exists that it might not be there any longer. We don't always find the letterbox, but, as they say, it's the journey, not the destination.
If you find that you enjoy the thrill of the letterboxing hunt, you can continue the adventure back home. Enter your hometown or region to find letterboxes hidden near where you live.
Hiding Letterboxes
When you've found a few letterboxes, you might be up for the next challenge — hiding your own. You'll enjoy leading visitors on a quest through your favorite locations, and you'll see the area through the eyes of a visitor rather than a local.
Just like those you discover, all you'll need for each letterbox is a waterproof container, a book, a pen, a stamp pad, and a stamp. Then you craft the steps to hide your letterbox and post its general location on a Web site where others can learn about it.
Where should you hide your letterbox? Think about what travelers would find interesting in your area. Some ideas: hiking trails, lakes or ponds, public playgrounds, public gardens, historical sites. Don't hide letterboxes on private property or in places that are difficult for others to reach.
Every now and then, check on your letterbox to make sure it's still where it ought to be, and see who has marked your book. It's fun to flip through and read the different names, hometowns, and stamps of folks who found it.
Give letterboxing a try. Once you do, it's hard not to get hooked. You'll never know where you'll find them. Letterboxers can be very creative. I'm writing this article from a café in North Conway, New Hampshire, where I was directed by letterboxing clues. As I drank a cup of tea in the café, surrounded by paintings, I reviewed my last clue:
"It gets busy so keep your profile real low
And find the spot with fire aglow."
Lucky for me, I found a table near the empty fireplace — empty except for a small plastic box that only the "clued in" would notice.
Letterboxing Basics
Materials needed:
Blank journal or notebook
Pen
Stamp
Stamp pad
Compass (optional)
Letterboxing locations and info:
www.letterboxing.org
www.atlasquest.com