Glen and Suzi Smith travel a colorful rural trail.
By John Johnston, Associate Editor
February 2017
There's a line in the 1989 movie Field of Dreams: "We just don't recognize the most significant moments of our lives while they're happening." That's often true, as Glen and Suzi Smith, F437637, can attest.
In 2008, Suzi saw a barn quilt for the first time. Three years later, she met Glen during a kayaking adventure. Two years after that, the couple became motorhome owners. Each was a significant moment that would drastically alter their lives.
How The Story Starts
The story starts with the barn quilt sighting. Suzi saw the large piece of wood, colorfully painted to look like a quilt block, hanging from a barn in southwestern Kentucky. At the time, she was Suzi Parron, a 48-year-old unmarried high school teacher traveling by car with her dog from her home in Georgia to Yellowstone National Park. She stopped to talk with the barn owner and learned that the area boasted a number of similarly decorated barns — a quilt trail.
Before long, Suzi found herself in Adams County, Ohio, making friends with Donna Sue Groves, who is credited with launching the barn quilt movement, one of North America's largest grassroots public arts endeavors. They agreed to collaborate on a book.
Donna Sue provided information and contacts, and then Suzi, who was still teaching school, spent two years — summers, spring breaks, and weekends — traveling the country and gathering barn quilt stories. Barn Quilts And The American Quilt Trail Movement, which the women coauthored, was published by Ohio University Press in 2012.
Enter Glen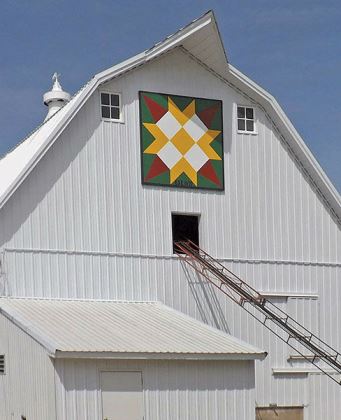 Before the book's release, Suzi took up kayaking. In June 2011 she met another newbie kayaker, Glen Smith. At first they were just friends. But by the time Suzi's plans for a second book on barn quilts began taking shape in early 2013, the relationship had blossomed into a romance, and they were sharing a house in Georgia.
Then one day, Glen found for sale on Craigslist a 1980 MCI bus that had been converted to an RV. Aside from the pop-up camper his family owned when he was a kid, Glen had no RVing experience. Nor did Suzi; she'd never ridden in a motorhome and certainly had never driven anything so big.
"We just went for it," Suzi said.
Buying a motorhome was a big deal. But so, too, was Suzi's plan to quit teaching so that she could focus on a new vocation centered on barn quilts.
"It was a little scary at first, because teaching was very secure," she said. "And we had a house. But we went to Florida and met some people at a bus rally. That's when we said . . . "
"… We can do this," Glen added.
Perfect Sense
It all seemed to make sense. The popularity of barn quilts was booming in the United States and Canada. Suzi was being asked to speak about barn quilts and quilt trails in far-flung places, and she was making plans to travel extensively to gather material for the second book. Glen, a data analyst, could work from the road.
After some renovations to the bus, which Glen and Suzi named "Ruby," the couple set out in August 2013. Ruby attracted attention wherever she went. "When you drove into a park, you could literally see heads turn," said Glen, who is 54.
But less than a week into their adventure, while motoring through Indiana, Ruby caught fire. Tense moments ensued as Glen brought the bus to a stop, found the source of the fire, and saved the bus from destruction.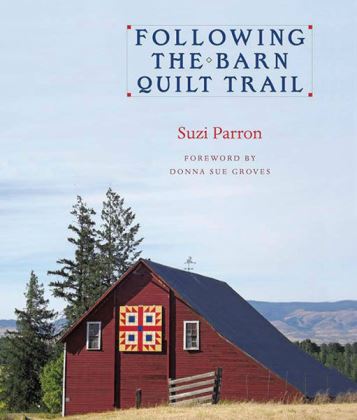 Aside from that episode, Glen and Suzi spent the rest of 2013 loving the RV life. When they returned to their modest sticks-and-bricks home in Georgia, "We opened the door," Glen said, "and it was just so big! After three months in Ruby, it seemed like a stadium."
They decided they could live with less — a lot less. So they rented out their home and became full-time RVers. What they couldn't live without was each other. Glen and Suzi married in December 2014.
The couple traveled some 13,000 miles as Suzi gathered material for her second book, Following The Barn Quilt Trail, which was published by Ohio University Press in 2016. Donna Sue Groves wrote the foreword.
Ruby's Persistent Problems
Unfortunately, Ruby's problems persisted. In Montana, the engine blew. In Los Angeles, the transmission died. Eventually, the couple was forced to trade in their beloved bus. But they are more than pleased with Ruby's replacement: a 2006 Alfa See Ya, which provides more elbowroom and interior height.
Suzi, who turns 57 this month, is now in great demand as a public speaker. She is scheduling talks with quilt guilds, civic groups, libraries, and the like as far out as 2019. Additionally, she leads barn quilt painting workshops. She will lecture and lead a workshop at FMCA's 96th International Convention in Indianapolis, Indiana, in July.
Perhaps the popularity of barn quilts isn't all that surprising. At a time when so many eyes are fixed on smartphones and computers, barn quilts offer a bit of nostalgia, and a reason to appreciate rural landscapes.
In her books and talks, Suzi weaves together tales of community and family histories. She tells of the people who built the barns; those who created the barn quilts; and the ancestors who have been honored by having their quilt designs hung outdoors for everyone to see.
Suzi's own story is every bit as surprising as rounding a corner on a rural road to find an artistic splash of color on a barn. "It was really unexpected that (barn quilts) would turn into a life and a lifestyle," she said.
And the best part is having someone to share the journey.
---
Suggestions Welcome
If you know FMCA members whose stories beg to be told — and yes, you can nominate yourself — let us know and we'll consider featuring them. Tell us a little about them and send contact information (email address and/or phone number) to Associate Editor John Johnston, jjohnston@fmca.com. Or write him at Family Motor Coach Association, 8291 Clough Pike, Cincinnati, OH 45244.