Rocking Chair
You probably loved being rocked as a baby, so why not rock your way to better relaxation as an adult? The RoadTrip Rocker, from GCI Outdoor, is full size, and it folds up to fit inside a carry bag, which is included.
When open, the rocking chair measures 26 inches by 24.8 inches by 39.8 inches. Folded, it's 8.1 inches by 8.7 inches by 43.5 inches. It weighs 13.2 pounds. Features include ergonomic plastic armrests; a mesh backrest; the all-important beverage holder; and a powder-coated steel frame. The suggested retail price is $75.
GCI Outdoor
(860) 345-9595
www.gcioutdoor.com
---
Jack Removal Device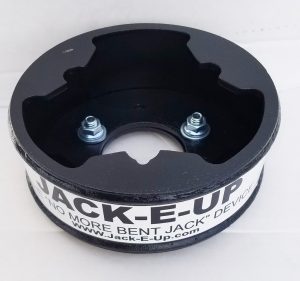 If you've ever bent the jack on your travel trailer because you didn't crank it high enough, or if you've ever dented your pickup's tailgate because it struck the jack, then you may want to consider Jack-E-Up. The removable A-frame trailer jack device allows a jack to be removed from a trailer after connecting to the tow vehicle.
Other benefits of Jack-E-Up: You can cross railroad tracks and pull out of gas stations without snagging the jack; you can step over the trailer tongue without obstruction; and you can gain some peace of mind knowing that a trailer without a jack discourages theft. The device fits a 2 3/8-inch-diameter or smaller top-wind, side-wind, or electric triangle-mount-based jack. The price is $59.
Jack-E-Up LLC
(541) 376-8107
www.jack-e-up.com
---
Drink Holders
It's one of the hazards of playing cornhole and other outdoor games: You set your drink in the grass (or sand, if you're on a beach), and inevitably, the can or glass tips over. Either that, or dirt or sand or something ends up in your beverage. Life should not be so hard.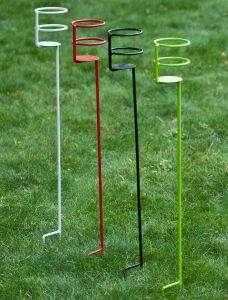 One way to reduce the likelihood of spillage is to employ Decko's 4-Pack Outdoor Drink Holders. Just use the step bar to push the spiked prongs into the ground, and then place your bottle/can/wine glass/insulated tumbler into the holder. The steel holders are 32.5 inches tall. They are sold in a set of four (lime green, white, red, and black) for $26.99 on Amazon.com.
Decko Products
(800) 495-9278
https://amzn.to/2GzGfgo
---
Lighted Speaker
Okay, maybe you can't escape to a tropical island. So, instead, grab an aloha shirt from the closet, make cocktails garnished with little umbrellas, and place a couple of TikiTunes Wireless Speaker and Ambient Light units around your campsite.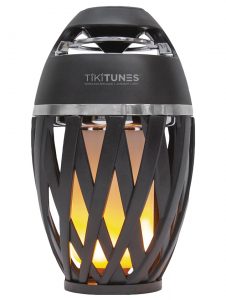 TikiTunes is a 5-watt speaker with a built-in rechargeable battery that allows up to six hours of music to be played from any compatible device. An LED provides a flickering flame effect. Two TikiTunes speakers (within 30 feet) can be paired and synced. Each speaker measures 4 inches by 6.5 inches. A micro USB charging cable is included. The cost of one TikiTunes is $39.99.
Limitless Innovations
(855) 843-4828
www.limitlessinnovations.com
---
Multibit Ratcheting Driver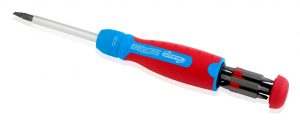 Too many screwdrivers in your RV toolbox? You can downsize without sacrificing versatility. Channellock's 13-in-1 Multi Bit Ratcheting Driver stores bits in the handle. The types and sizes of bits: slotted 4 and 6; Phillips 0, 1, 2, and 3; square 1 and 2; Torx T10, T15, T20, and T25; and ¼-inch hex shaft.
According to the product description, the ratcheting driver has 28 gear teeth and delivers 225 pounds of torque. It features a dual molded grip. The price varies by retailer; expect to pay approximately $30.
Channellock Inc.
(800) 724-3018
www.channellock.com
---
Grease Disposal Bags
If you are making biodiesel fuel out of your leftover kitchen vegetable oil, fat, and grease, we tip our cap to you. Most of us, though, just want to dispose of that stuff without ruining the plumbing. One convenient way — Trap the Grease: Fat Trapper System Replacement Bags from Range Kleen.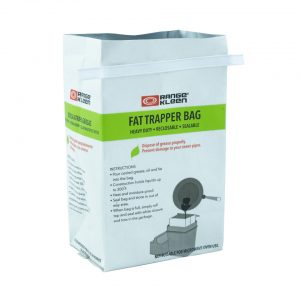 You pour cooled grease, oil, and fat into a Fat Trapper Bag and temporarily seal it using its closure tab. Continue using the resealable bag until it's full, and then toss it in the garbage. The Fat Trapper System can be purchased with a plastic container that holds a bag, but RVers who are short on storage space may just want the bags. The bags are made of polyethylene, aluminum, white craft paper, and polypropylene. Each bag is 6.75 inches high, 4 inches long, and 3 inches wide, and has a 22-ounce capacity. The price for five Fat Trapper Bags is $9.99. At checkout, use the coupon code RVLIFE for a 20 percent discount.
Range Kleen Mfg. Inc.
(888) 391-2020
www.rangekleen.com
---
Decorative Lights
On clear nights, Mother Nature puts on a fine light show in the sky. But sometimes it's fun to illuminate your campsite with thousands of colorful flecks of light, which is possible with the Indoor Outdoor Spring Bundle from BlissLights.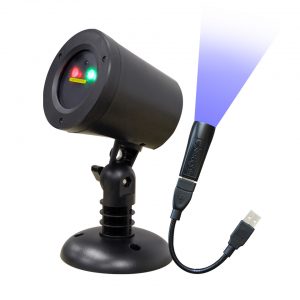 The bundle includes a dual-laser Firefly Motion light, which can be used indoors or outdoors to produce red and green points of light that can move at multiple speeds via remote control; it has a built-in timer. Also included is a StarPort Laser USB, which can be used indoors to produce stationary blue stars. The price of the Indoor Outdoor Spring Bundle with StarPort is $49.99.
BlissLights
(888) 868-4603
https://blisslights.com
---
Hand Wipes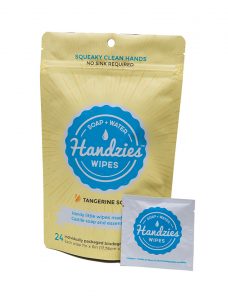 You know that feeling when your hands are dirty, but you can't wash them because you're in a place with no soap or water, so you start to obsess about the billons of germs on your fingers and palms? You can avoid that feeling by carrying Handzies, which are natural hand wipes made from a blend of pure Castile soap, water, and essential oils such as tea tree and tangerine that won't dry out the skin.
According to the product description, Handzies do not contain alcohol or harsh chemicals, and they do not leave a sticky residue or chemical smell. The cost of 24 wipes in individual packets is $12.49. Note: This product does not ship to Canada.
Handzies
(512) 766-7627
www.handzies.com
---
Lost-And-Found Service

ReturnMe reunites lost items with their owners. Here's how it works: You attach ReturnMe tags to things you wish to protect, and you go online to activate each ReturnMe tag ID number. If a lost item is found, the finder can contact ReturnMe 24/7 (and receive a reward from ReturnMe). Then, ReturnMe ships the lost item to the owner from anywhere, or the owner and finder arrange to meet. The company claims that 80 percent of protected items are returned within 24 hours. Tags are available for luggage, keys, pets, mobile devices, and more. A pack of two mobile tags (suitable for smartphones) is $11.99.
ReturnMe Bronze membership is free; you must meet the finder or pay a $35 recovery fee plus shipping charges. Silver ($16.99 a year) and Gold ($29.99 a year) memberships cover shipping costs up to a specified amount, and provide other benefits.
ReturnMe
(800) 831-0717
www.return.me