Lawrence Welk's birthplace home in Strasburg, North Dakota, affords a glimpse into his childhood and his family roots.
By Marion Amberg
March 2011
There's music in the air at the historic homestead near tiny Strasburg, North Dakota, and no wonder. This is where one of America's most famous bandleaders, Lawrence Welk, was born "" and learned to play his accordion. "The family got so tired of listening to Lawrence practice that they sent him out to the barn to play for the cows and the chickens," our tour guide said. "Sometimes Lawrence even danced around the hayloft with a pitchfork!"
While Lawrence Welk's legendary fame draws many visitors to the homestead, the historic site also honors his parents, Ludwig and Christina Welk, Germans from Russia who settled here in 1893. The Welks were part of an exodus of German-Russians who fled what is now known as Odessa, Ukraine, to escape growing persecution. Many of these German-speaking immigrants staked out claims in north-central South Dakota and in south-central North Dakota near Strasburg, population approximately 500.
Surrounded by corn and wheat fields and overlooking a lake, the six-acre homestead, restored to look as it did in Lawrence's boyhood days, beckons tourists with its quaint summer kitchen, carriage house, old-time granary, vintage privy, and blacksmith shop, all of them loaded with Welk family possessions and other antiques from the 1920s.
The heart of the tour is the Welk family home, a sod house that Ludwig built around 1895 and where Lawrence was born on March 11, 1903. The 18- to 24-inch walls were constructed of thousands of mud and clay bricks, a technique that Ludwig had learned on the steppes of Russia. Ludwig added the white clapboard siding years later.
"This is the original oak door to the Welk home," a guide noted. "When the homestead restoration began in 1989, the door was stripped of 16 coats of paint."
Neat as a pin, the kitchen tells of pioneer ingenuity and hard work. Clothes dirty? Stomp them clean in a pail with a plunger. The Welks' first refrigerator was actually the root cellar below the house, accessible via a trap door in the kitchen floor. Nothing was wasted on the treeless prairie, not even horse and cow manure. It was made into chips and burned as fuel.
A life-size cutout of Lawrence, baton in hand and wearing a white tuxedo, greets fans in the dining room, which is furnished as though the Welk family might be returning soon. The table is set for dinner, and a pump organ rests in a corner. It was here that Ludwig and Christina and their four girls and four boys spent many happy hours making music.
"Lawrence was just two years old when he climbed up on that very organ stool and said, 'I want to learn to play,'" the tour guide explained, adding that music ran in the family. "When Ludwig and Christina immigrated, all they had was a change of clothing, a prayer book, Christina's shawl, and a button accordion."
Tourists almost start shivering when they see how Lawrence and his brothers scurried to their attic bedroom on cold North Dakota nights. The only access to the room is via an outdoor staircase. A hole in the floor allowed heat from the house below to reach the children above.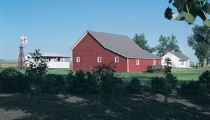 While most farm boys back then followed in their fathers' footsteps, Lawrence wanted a different song and dance. At age 17, Lawrence struck a deal with his father: He traded four years of farm work for $400 to buy a piano accordion, and he promised to give his parents all the money he made at barn dances and other gigs.
"If you can't make a farmer out of him, maybe you can make a musician," it's said that Christina told Ludwig.
On his 21st birthday in 1924, Lawrence shook the farm dust off his shoes and began his journey to musical stardom. "He had his accordion, a little suitcase, three dollars in his pocket, and he spoke very little English," said the guide, adding that Lawrence had only a fourth-grade education.
For 31 years, Lawrence and his orchestras crisscrossed the country, performing in big and little towns, on radio stations and in big-name ballrooms. Ah, one-uh, an-uh two-uh! Finally, in 1955, "The Lawrence Welk Show" debuted on national television. It was an instant success and lasted 26 years, with reruns still being aired around the world today.
Farm implements, a windmill, and a bandstand line the fringes of the homestead. In the converted granary, interpretive displays and a video tell the story of the hardy German-Russian people and their migration to the Great Plains. Photos of Lawrence's early band depict the evolution of his musical career.
While Lawrence's recorded music wafts over the barnyard like champagne bubbles (it's okay to kick up your heels and dance!), tourists are amused to find a boy mannequin with accordion standing in the hayloft door of the red barn, a near-replica of the original barn. Not only was the hayloft Lawrence's first "musical studio," it's where the shy boy dreamed great dreams.
"I would remember the days on the farm when . . . I danced around a hayloft with an imaginary partner and pretended to lead a big orchestra while all the people in the audience laughed and applauded," Lawrence reflected in his autobiography Wunnerful, Wunnerful! "I realized with a kind of wonder that dreams do come true."
Although Lawrence "" known as "Mister Wunnerful" because of the way he said wonderful "" died in 1992 at age 89, his fans visit the homestead each summer to learn about his humble roots. As the music maker would have liked, they leave with a song in their heart and a dance in their step.
Further Info
Lawrence Welk Birthplace
845 88th St. S.E.
Strasburg, ND 58573
(701) 336-7103
(701) 336-7777 (summer phone)
The home is open from Memorial Day weekend through Labor Day, from 10:00 a.m. to 5:00 p.m. Admission is $5 for adults, $3 for ages 6 to 12, and free for children under 6.
Strasburg lies along U.S. 83 (also called the Lawrence Welk Highway) in south-central North Dakota. The town is approximately 12 miles north of the border with South Dakota and 72 miles southeast of Bismarck.
Another German-Russian heritage site in Strasburg is Sts. Peter and Paul Church, listed on the National Register of Historic Places. Completed in 1911 at a cost of $45,000, the Romanesque church is known for its exquisite ceiling murals. Beautiful wrought-iron crosses, a tradition of the German-Russian people, are found in the cemetery behind the church.
Area Campgrounds
The following is not a complete list, so please consult your favorite campground directory or FMCA's "RV Marketplace," published in the January and June issues of FMC magazine and online at FMCA.com.
Beaver Lake State Park
3850 70th St. S.E.
Wishek, ND 58495
(701) 452-2752 (information)
(800) 807-4723 (reservations)
E-mail: blsp@nd.gov
www.parkrec.nd.gov/parks/blsp.htm
Beaver Creek Recreation Area (Army Corps of Engineers site)
Lake Oahe
Linton, ND 58552
(877) 444-6777 (reservations)
(701) 255-0015