Family & Friends
May 2011
William H. Davern, A49346, who served as Rocky Mountain Area national vice president from 1996 through 1999, passed away on March 1, 2011, in Tucson, Arizona. He was 90 years old, having celebrated his birthday just two days earlier. According to his wife, Bette, he was able to keep his good humor until the end.
"He got to celebrate his birthday in the hospital, and all the kids were there in the ICU," said Bette. "We had a huge birthday dinner with lobster tails, chicken, corn-on-the-cob, angel food cake, all his favorites. Afterward, he wanted me to introduce him, even though everyone knew him. So the male nurse helped him to his feet, and he looked over at me. He said, "˜Are you forgetting your job?' So I introduced him to everyone. He stood there for a second, then said, "˜Don't you know this is the time you're supposed to clap?'"
Bill was born February 27, 1921, in Decatur, Illinois, where he spent his formative years. Bill's dream was to fly in the Air Force, so following high school he attended several colleges for prep work before joining the U.S. Air Force as a second lieutenant. His first assignment was as an instructor pilot at Goodfellow Air Force Base in San Angelo, Texas.
While stationed there, he was set up on a blind date with 18-year-old Bette Clatterbuck, but unlike cliché fairy-tale romances, it was not love at first sight. "I really didn't like him, and he didn't like me," recalled Bette, "But we went on a couple of dates anyway. Since neither of us really liked the other, we stopped seeing each other." That was until Bette took a job at the Air Force base and ran into Bill again at the post office. He asked her if he could take her home; she said she was in a carpool. He asked her for dinner and a movie; she said no. "Well, he kept at it, and I eventually said okay but he had to take me home right after the movie," Bette said. "From then on we both liked each other."
The couple married on October 29, 1946, and Bette believes she made the right decision when she agreed to see the persistent pilot again. "I don't know if there's such as thing as a soul mate in life, but if there is, Bill was mine," she said. "He took such good care of me for 64 years."
From Texas the couple moved to Savannah, Georgia, where Bill flew KC-97 aerial tankers under the Strategic Air Command. He served a three-year tour at Yakota Air Base in Japan flying reconnaissance duty, and brought the family along, which had grown with the addition of sons Don and Keith. While in Japan, they added another son, David, to the fold. From there the family spent time in Lincoln and Omaha, Nebraska; Mount Clemens, Michigan; and a two-year tour "" also with family "" in La Paz, Bolivia, where Bill served as an adviser to the Bolivian Air Force. He finished his 28-year career in the Air Force in Korea, retiring at the rank of lieutenant colonel.
In 1970, the Daverns settled in Tucson, Arizona. A year later they began working as Realtors, initially selling for other companies before forming their own enterprise, Davern Realty, which kept them busy for the next 13 years. Bill served on the Tucson Board of Realtors Professional Standards Committee and was a member of the Home Town Brokers.
Near the end of their house-selling days, the Daverns became intrigued with the notion of owning a motorhome after listening to a friend talk about his intention to buy one, and then sitting through a timeshare presentation. "I was thinking about the timeshare and thought that instead of being stuck in one place, maybe we should buy a motorhome," Bette said. "We knew nothing about [motorhomes], but at least it would give us the chance to go anywhere at anytime."
When they returned to Tucson, Bill began investigating and found an auction that included a repossessed motorhome. He did some research and went to the auction prepared to spend no more than $20.000. He was disappointed to learn that a sealed bid of $20,000 had already been submitted, but he hung around at the auction until the last item, the motorhome, was brought up. Bids were allowed in $25 increments, so Bill decided to make a bid and see whether he could steal it. Unfortunately, he got into a bidding war with another gentleman. After the two bid the price up an additional $150, the man approached Bill with an offer "" flip a coin, and the winner gets the motorhome. Bill agreed; the coin went into the air; it landed; and just like that, the Daverns were proud owners of a 27-foot Allegro motorhome.
A month or so later, while Bill was attending a Realtors luncheon, one of the Daverns' former bosses approached him about joining FMCA and a chapter. "We didn't know anything about motorhoming or FMCA," said Bette, "but he went ahead and signed us up."
The Daverns became motorhome owners and FMCA members in 1983, embracing their newfound freedom. "We became active in the chapter, and starting traveling," Bette said. "We knew nothing about motorhoming but loved every minute of it." Bill was a charter member of the Desert Roadrunners chapter (formerly the Pace Arrow Roadrunners) and also helped form several other chapters, including the Frustrated Maestros Rocky Mountain Rockers and Swinging Golfers International. He was elected Rocky Mountain Area national vice president in 1996 and served three years in that capacity. He also served on numerous national committees, including Governmental and Legislative Affairs (1998-1999), Convention (1998-1998), Membership/Member Services (1996-1999), Finance (1996-1997), Nominating (1994-1995), and Nominating Elect (1993-1994). Following his stint as national vice president, Rocky Mountain Area, Bill continued to be active in FMCA as a national director of several chapters.
The Daverns continued to travel after Bill's service on the Executive Board was completed, and the couple visited all but three U.S. states, as well as parts of Canada.
Bill also was an active member of the Rolling Hills Golf Club in Tucson, where he served as president of the men's club and was a member of the board.
He is survived by his wife, Bette; sons, Don (Terri), Keith (Tori), and David (Pat); six grandchildren; two great-grandchildren; sisters Alice Coble and Frances Seamens; and several nieces and nephews.
Memorials can be made in Bill's name to the American Heart Association, 5325 E. Pima St., Tucson, AZ 85712.
---
Reclaiming Memorial Day
Family & Friends
May 2011
By J. Glenn Dupree, F362282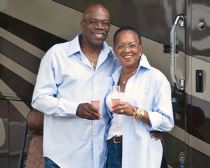 Mitch Epps, F112358, is concerned. As a proud veteran of World War II, he witnessed the sacrifices made by men and women of the United States military in defense of our country. He knows others who lost their lives in subsequent wars and conflicts that the U.S. has been engaged in, as well as many others who served alongside those who had fallen. So it bothers him to see Memorial Day, a day set aside to remember and honor those who have died in defense of our country, become just another day off work for so many people.
"Something just has to be done," Mitch said. He is afraid that his generation is fast disappearing and that many young people today don't have any idea what Memorial Day really embodies. For years, Memorial Day was observed on May 30 no matter what day of the week it fell upon. But when U.S. Congress passed the Uniform Holidays Bill in 1968, the holiday was moved from its traditional date to the last Monday of May. While this makes for a great three-day weekend to get summer started, Mitch believes it has caused many people to forget what the holiday was intended to recognize "" the ultimate sacrifices made by military men and women. And he wants to make sure these people are not forgotten.
Mitch served in the United States Navy as a crew member on a Navy patrol bomber from 1944 to 1946 and saw too many of his comrades never make it home. Many of his classmates from Mineola High School in Texas lost their lives aboard the cruiser USS Indianapolis when it was torpedoed and sunk in 1945. He had previously lost an uncle in World War I. Mitch's wife of 64 years, Fran (Gaskins) Epps, had two brothers who served under General George Patton. One, Arthur Gaskins, is now 92 years old and still participates in an annual reunion, although only five members of his group are left. Mitch and Fran have two sons, one who recently retired at the rank of lieutenant colonel from the United States Air Force after serving for 29 years. Needless to say, Mitch and Fran have a rich tradition of service to our country, and they know about sacrifice.
Following the war, Mitch received his mechanical engineering degree from Southern Methodist University and a degree from the Mid-South Executive Development Program at Louisiana State University, with special training at Harvard University. He also did some undergraduate studies at the University of Washington in Seattle, Washington. He became a plant manager for one of the large chemical companies in Louisiana, and even after retirement did consulting work that continued well into his 70s.
The Eppses decided that their goal after Mitch retired was to travel the country. So they jumped into the motorhome lifestyle in the late 1980s when they purchased their first motorhome, a Tiffin Allegro. Four motorhomes later, they are still Tiffin owners, traveling in a 2000 Allegro Bay gas model. The couple joined FMCA in 1988 and a local chapter, the Cruisin' Cajuns, in 1989 and have been active members of both since. Mitch served three terms on the chapter's board, started an emergency coordinator program, and helped to train members to use an automated external defibrillator (AED). The chapter is one of the few that has this equipment and the training to use it.
During the 22 years since embarking on their rolling adventure, the couple has fulfilled their goal of motorhoming throughout the United States and Canada. Mitch said one of his favorite trips was to Nova Scotia and Newfoundland, Canada. He said that traveling by motorhome allowed them to take their time and enjoy all the natural beauty. Their annual January trips to the Rio Grande Valley with the Cruisin' Cajuns still brings back special memories.
Mitch said he likes to wear his World War II cap when traveling, because it prompts conversations with people who may not have spoken to him otherwise. He loves to talk about his military service, and you can just see his face beam with pride when he speaks of being a veteran and what it meant for him to serve his country.
Although Mitch, now 86 years old, and Fran, 87, don't travel as much as they used to, they remain active with the Cruisin' Cajuns and attend most of the monthly rallies, which are usually two hours' or less driving time from their home in Prairieville, Louisiana. Fran said she still eagerly anticipates the monthly rallies so she can sit down and visit with her friends. That is one of the reasons she wants to remain active in the chapter for as long as they can. They both agreed that one of the best benefits they've received from the motorhome lifestyle has been the friendships made with people from all walks of life.
Sensing that many folks had taken a cavalier attitude toward Memorial Day, Mitch felt that the chapter's annual May rally would be a great place to begin getting his message about Memorial Day across to others. He has now been involved in three Memorial Day rallies for the Cruisin' Cajuns, and each one has grown due to his efforts. The last rally, held at the Patterson Civic Center May 27 through 30, 2010, was perhaps the best yet, because of the number of members who participated in the service and provided material for the special display he assembled. Mitch asked members to bring their military mementos, such as pictures, parts of old uniforms, and any objects they had to contribute to the special exhibit. He received more than 140 items to display.
On Saturday of the rally, Mitch led the Cruisin' Cajuns in a solemn and respectful Memorial Day service honoring deceased veterans and recognizing those who are still with us. He enlisted the help of Hymel J. Henry and Fernand Vial, who both served in the Marine Corps. These gentlemen were instrumental in getting the Regional Military Museum established in Houma, Louisiana, to keep alive the memories of all veterans. They supplied the colors for each branch of the military and the music to be used for the Cruisin' Cajuns rally.
The service started with the recitation of the Pledge of Allegiance, and then all of the attendees in the rally who had served in the military were asked to stand and be recognized. The veterans in attendance were then asked to take a position behind the flag representing the branch of service in which they served. Under the direction of Mr. Henry and Mr. Vial, the American Flag was posted and the "Star Spangled Banner" was played. As each of the flags for the various branches of the military were presented, the official song for that branch was played. The veterans who served in that branch marched behind their flag until it was posted. After all branch flags had been posted, the MIA and POW flags were posted to the music of "Amazing Grace," and "Taps" was played to honor our fallen veterans. At the conclusion of the service, Mitch was presented with an American flag that had flown over Baghdad, Iraq, in appreciation of his efforts to organize the Memorial Day service at the rally.
Mitch also told us that a dear friend and Marine veteran who was to be at the rally, Nolan Daigle, had passed away just days before the event. Mitch made sure there was a special place set for Mr. Daigle at his table, and a vase with flowers was placed as part of the exhibits to remember him by.
It was a beautiful and emotional service. I know that it changed how I view and celebrate this national holiday. I now make sure to tell all of my family and friends not to forget the true meaning of Memorial Day and to celebrate by taking time to remember our fallen veterans. I know some families now who lost loved ones in World War II, Vietnam, and the Middle East. I don't ever want my friends and family to forget the sacrifices made for us to have freedoms we enjoy and too often take for granted.
Mitch and Fran Epps deserve a big FMCA salute for their efforts in making sure we remember what Memorial Day is all about. I can tell you that Mitch was right "" motorhomers will spread this message. I know they are a very patriotic group, are very grateful for our military, and they won't forget the real significance of Memorial Day.