Learn about Abraham Lincoln and Santa Claus, and then try adventures in caves and on a train.
By Peggy Jordan, F401999, Associate Editor
July 2012
Traveling with children or grandchildren is an experience that cannot be replaced by phone calls or Skype, or even visits at your home. In the Midwest, southern Indiana offers an abundance of fun, family-friendly attractions to help make time spent together fun and interesting. You can tour all of the following sites by driving a total distance of approximately 80 miles, and they can be visited either before or after FMCA's 87th Family Reunion & Motorhome Showcase in Indianapolis, August 27 through 30.
As is usual with "kid-friendly" stops, you'll likely agree that most of these sites don't necessarily require a child in tow for you to enjoy them.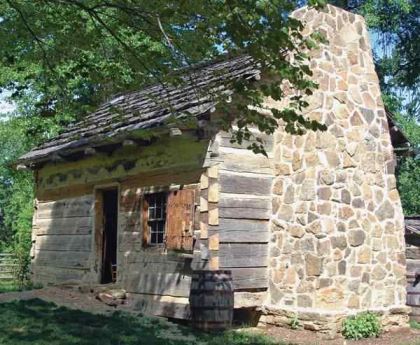 Lincoln's Boyhood. Start in Spencer County, where Abraham Lincoln's family arrived in 1816 when he was 7 years old, and where he lived until he moved to Illinois in 1830 at age 21. At the Lincoln Boyhood National Memorial, you can watch a 15-minute film about the park at the visitors center and walk to the burial place of Lincoln's mother, Nancy Hanks Lincoln. See the spring from which the Lincoln family obtained their drinking water, and, in summer, watch living history re-enactors as they work on the farm and in the replica cabin.
Other Lincoln-related things to see and do in this area include Lincoln State Park, where Lincoln-themed plays are offered in an amphitheater in summer, and Lincoln Pioneer Village and Museum in Rockport, which features 14 Lincoln-era replica cabins. Visit www.IndianasAbeLincoln.org or call (888) 444-9252 for a brochure about Spencer County's Lincoln sites.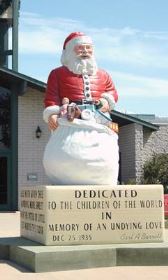 Santa Claus. There really is a Santa Claus, and you can prove it by going there yourself. The little town called Santa Claus is only a few miles east of the Lincoln Boyhood National Memorial, and it is more than just a setup geared to delight small fry. Grown-ups also love it.
Some of the attractions in Santa Claus include:
Holiday World Theme Park & Splashin' Safari Water Park. The amusement park offers all kinds of fun rides, such as the number-one-rated wooden roller coaster in the world. A variety of live musical shows are presented daily, along with a diving show. The water park is said to include the largest enclosed waterslide in the world, along with many more exciting ways to get wet and wild.
Santa's Candy Castle, where tasty treats take you back to your own childhood and where gourmet hot cocoa is renowned — even a frozen version.
The Santa Claus Museum focuses on the town of Santa Claus, not the jolly fellow who brings gifts each year. However, it's rather hard to separate the two. Memorabilia fills displays inside the museum, and outside you can see the town's first church (1880) and its original post office (1856). You also cannot miss the huge 1935 Santa Claus statue, which has been fully restored.
Lake Rudolph Campground & RV Resort boasts a happy collection of amenities, such as swimming pools, playgrounds, mini golf, and fishing. And it offers a big bonus for kids and adults: a free shuttle runs from the campground to Holiday World and Splashin' Safari.
Santa Claus Christmas Store is, as you'd expect, packed with a huge collection of holiday lights, décor, collector's items, ornaments, and tasty treats.
Christmas Lake Golf Course is a challenging par 72 championship full-service course open to the public. A practice putting green, a driving range, and a restaurant are on site as well.
For more information about these Santa Claus stops and more, contact the Spencer County Visitors Bureau at (888) 444-9252 or (812) 937-4199, or visit www.santaclausind.org.
O'Bannon Woods State Park. From Santa Claus head east toward the town of Corydon, Indiana's first state capital. O'Bannon Woods State Park, formerly called Wyandotte Woods State Recreation Area, is a 3,000-acre region of wooded hills bordering the Ohio River and the Blue River.
This is your chance to help youngsters learn about and enjoy nature and to have a water park experience. An aquatic center at O'Bannon Woods opened in 2007, and it features a large swimming pool and giant slides.
The park's nature center helps kids learn about the fish, birds, and snakes that live in this area. A one-way window inside the center lets you look outside at critters who can't see in. From this secret spot you can view wild turkeys, squirrels, or whatever happens to be scampering or flying by.
A pioneer farmstead, a working hay-press barn, and a 1930s fire tower (which offers a fabulous view from the top) also are at the park. More history can be explored during a tour of the nearby old state capitol and the Corydon town square.
The park campground has 281 electric sites and a dump station; inquire before you arrive to be sure your motorhome's size can be accommodated. For more information, call (812) 738-8232 or visit www.in.gov/dnr/parklake/2976.htm.
Marengo Cave is remarkable because of its many formations — draperies, soda straws, flowstone, cave popcorn, stalagmites, and a gorgeous lake. A brother and sister, ages 11 and 15, respectively, discovered this place back in 1883 by crawling down through a sinkhole. In the generations since, children and adults have continued to be delighted by its amazing beauty. A cavern of approximately 5 miles in length has been mapped out and made accessible via lighting and passages. To reach the cave from O'Bannon Woods State Park, travel west and then north; the drive totals approximately 19 miles.
Two main walking tours are available, as are other experiences, such as The Crawl, a cave simulator that gives you the sensation of crawling through tunnels. Be sure to wear sturdy walking shoes because of the uneven cave floor — and bring a jacket, for the average temperature inside is 52 degrees. The cave is privately owned and operated but has been declared a National Natural Landmark because of its outstanding formations.
If your family enjoys canoeing, you'll want to check out nearby Cave Country Canoes, which offers watery trips from 7 miles to 26 miles in length on the Blue River.
For more information about Marengo Cave, call (888) 702-2837 or (812) 365-2705, or visit www.marengocave.com.
French Lick Scenic Railway is our final stop on this tour for kids and adventurers of all ages. From Marengo Caves, travel approximately 30 miles northwest.
Older "kids" may recall that the French Lick-West Baden area was made famous by its native son, 1980s basketball star Larry Bird. The area's other claims to fame are resorts — the French Lick Springs Hotel was established in 1845; the West Baden Springs Hotel opened in 1902. The latter boasted the largest freestanding dome ceiling in the world from its opening in 1902 until 1913; spanning 200 feet, it was the biggest in the United States until 1963. The hotel has been beautifully restored and is a true wonder, worth a visit by people of all ages.
And now, to get on track. The French Lick Scenic Railway follows a peaceful path through Hoosier forests, but it is sometimes accompanied by a Western-style train robbery. Passengers, beware! The train ride is 20 miles long and takes approximately 2 hours.
For more information about the railway, historical tours of the West Baden Springs Hotel and the French Lick Springs Hotel, and other area attractions, contact French Lick/West Baden tourism at (866) 309-9139 or (812) 936-3418, or go to www.visitfrenchlickwestbaden.com.
Traveling with kids and grandkids multiplies the fun for adults, for they get to see everything through the youngsters' eyes. Whether you're interested in a cavern, water slides, Honest Abe, or Santa Claus, consider visiting southern Indiana before or after the FMCA Family Reunion in Indiana