Kid Zone
Add to family fun during your travels with these games and other items designed for youngsters.
By Linneah Deighton, Associate Editor
Marshmallow Holder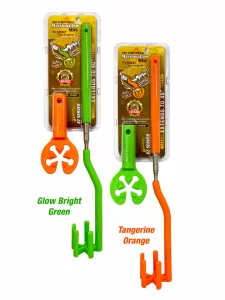 Roasting marshmallows over a campfire and making s'mores on a summer night is a classic experience. But cooking food over an open flame also could lead to kids getting burned or poked with metal skewers. In search of a safer option, one dad invented the Marshmallow Mitt. Made of high-temperature food-grade silicon with no sharp points, it features a five-finger design that grasps marshmallows and eliminates the chance of dropping your treats. The telescoping rod extends to 40 inches long, so you can roast and toast s'mores from a safe distance. The available color options are glow-bright green and tangerine orange. An EZ Server is included with purchase to provide a no-contact option for removing marshmallows from the Mitt. Price is $14.95. The company also offers the Hotdog Mitt at the same price.
Outdoor Fun For All LLC
www.outdoorfunforall.com
---
Lawn Bowling Marbles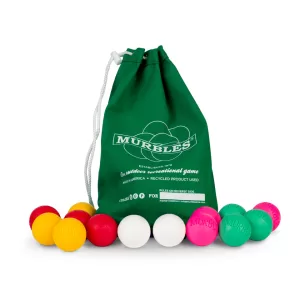 The concept of lawn bowling has been around for thousands of years, and it's a great outdoor activity. Murbles is the compact, American-made version of lawn bowling that is becoming very popular with campers and is a great way to keep the entire family entertained. Murbles doesn't require a court and can be played on rough terrain. The game comes in a heavy-duty canvas bag with the game rules conveniently printed on the back. The Murbles themselves are solid, high-density injection-molded plastic balls that measure 3 inches in diameter and weigh half a pound each. They are available in different colors, so players can customize their sets to include their favorites. The standard game can be played by two people, but larger sets are also available. The price starts at $59.
Murbles
(850) 390-0858
www.murblegame.com
---
Camper Tent Play Set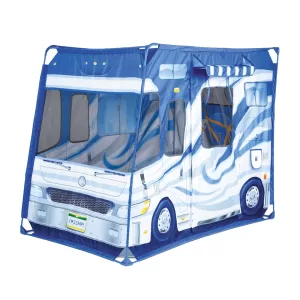 Some kids want the experience of driving a motorhome (who can blame them?), even if they have to wait a few years to do so. For now, they can play pretend with the easy-to-assemble Let's Explore Camper Tent Play Set. By engaging in make-believe games and activities, kids can take their imaginations for a spin. The RV-shaped tent measures 47 inches by 31 inches by 39 inches when assembled. It has a door, roof flaps, screen windows, an inside storage pocket, and many realistic details. Map out road trips on the reusable activity booklet and personalize the removable license plate. The tent folds up and fits into a handy storage bag when playtime ends. Price is $57.99.
Melissa & Doug
(800) 718-5365
melissaanddoug.com
---
Bean Bag Game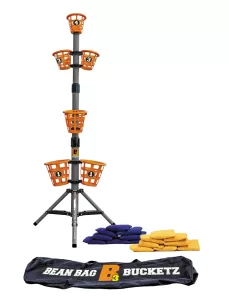 Not all games are versatile enough to be played inside, outside, on grass, or even on a beach. Enter Bean Bag Bucketz from B3 Games, which can be played anywhere — inside, outside, or on the go. The main objective of the game is for each team to get their bean bags into the buckets, with each bucket worth various points, and the first team to reach 21 points wins. Because the game is portable, collapsible, lightweight, and durable, it's easy to transport and set up. Included with purchase are 16 bean bags, a game tower, seven buckets, and a carrying bag. Price is $64.99.
B3 Games
www.beanbagbucketz.com
---
Beginner Fishing Kit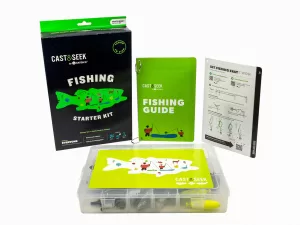 Taking your kids or grandchildren on a fishing trip is a great way to introduce them to a new sport or a way to relax, and spending time outside as a family is always a plus. The Cast & Seek Fishing Starter Kit comes with everything a beginning angler needs to get started (minus the fishing pole). The kit includes a curated assortment of hooks, lures, bobbers, and more in a reusable tackle box. Simply open the kit and you'll find everything necessary without having to gather or research tools and materials. Also included is a waterproof guidebook with easy-to-follow instructions, as well as access to an online educational video library. Price is $34.99.
Cast & Seek
(833) 305-0633
castandseek.com
---
Beach Cart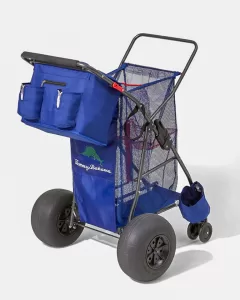 Planning on heading to the beach this summer? A day by the ocean is great for the whole family. Kids can play and swim in the water, and parents and grandparents can relax and soak up the sun's rays. One of the downsides to a beach trip is carrying everyone's things, whether it's toys, a cooler, or chairs. Tommy Bahama's Wonder Wheeler beach cart has a capacity of 100 pounds and can hold a 48-quart cooler and four beach chairs. Its large mesh storage pouch has separate compartments, so you can bring everything you want with ease. The removable tote has a shoulder strap and zippered insulated drink holders. An umbrella holder also is provided. When you're all done taking the kids to the ocean, lake, pond, or river, you can simply fold the cart for storage. Price is $198.
Tommy Bahama
(866) 986-8282
www.tommybahama.com
---
Plush Campfire Set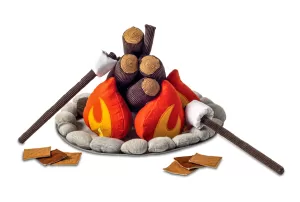 This adorable plush campfire set is perfect for little adventurers to enjoy a camping experience indoors. Enjoy sitting around the campfire, "roasting" pillowy marshmallows and stuffing them into plush s'mores bites. This addition to pretend play is sure to be a favorite. The 19.5-inch-tall campfire includes one stuffed rock pit, three stuffed flames, five soft logs, two roasting sticks, two plush marshmallows, four pretend graham cookies, and two pretend chocolate bars. Price is $55.95.
MindWare
(800) 274-6123
www.mindware.com
---
Kid's Backpack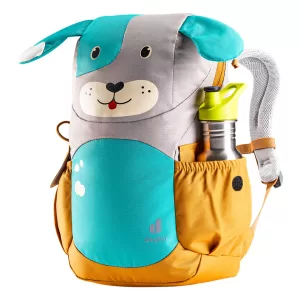 Backpacks don't have to be boring and plain; they can be fun and full of character. Deuter's Kikki backpacks are great for any animal-loving kid (or adult), and they are available in four models: a dog, dragon, tiger, or rabbit. The backpack has soft back padding and S-shaped shoulder straps for even load distribution, and it includes a soft-edge finish for added comfort. The two-gallon main compartment and stretchy side pockets provide ample stowing space. Price is $55.
Deuter
(877) 384-9252
www.deuter.com
---
Travel Sound Machine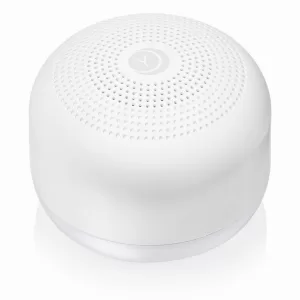 Sleep is essential to daily health, but many people have trouble falling or staying asleep, including youngsters. A white noise machine may alleviate this issue. Yogasleep's Travel Mini Sound Machine combines various white noise options and a night light in one sleek, lightweight, and pocket-sized device that's ready for travel anywhere. No larger than the palm of your hand, the Travel Mini features a USB-rechargeable battery and a lanyard, making it perfect to use in a bedroom or while traveling. Noise options to cycle through include white noise, brown noise, signature Dohm, stream, and gentle surf. The amber-colored LED night light has three brightness levels to choose from, and it can be used independently from the sound machine. It takes about 4 hours to fully charge the Travel Mini, and the unit will operate for up to 8 hours, depending on the volume chosen. Price is $27.99.
Yogasleep
(800) 999-6962
yogasleep.com 
---
RV Products Submissions
To have a product considered for this column, please send information and a high-resolution photograph to [email protected].