Cleaning Solution
Green Hornet Concentrated Cleaner/Degreaser from Walex Products Company Inc. is said to eliminate the need for multiple single-purpose cleaners.
According to product literature, Green Hornet's special formula can handle a wide range of jobs, including removing black streaks from the motorhome, cleaning rubber roofs, and washing dirt and grime from awnings. The biodegradable, environmentally friendly concentrate can be diluted in various ratios to tackle any cleaning job around the motorhome.
A 64-ounce bottle of Green Hornet has a suggested retail price of $10.99. The company plans to introduce a ready-to-use 32-ounce bottle with a trigger sprayer soon.
Walex Products Company Inc.
P.O. Box 3785
Wilmington, NC 28406
(800) 338-3155
www.walex.com

---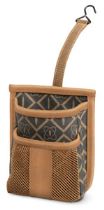 Driver's Organizer
The High Road DriverPockets organizer from Talus Corporation makes it possible for drivers to keep their cell phone, sunglasses, and other necessities handy while on the road.
DriverPockets include a soft-lined pocket to protect a cell phone or eyeglasses, and a front mesh pocket to keep items in view. The pockets are large enough to accommodate 3-inch-wide smartphones. The organizer includes a bendable strap with a hook that attaches to a vent for easy access.
Four DriverPockets designs are available, each with a suggested retail price of $5.
Talus Corporation
470 Riverside St.
Portland, ME 04103
(800) 634-8180
(207) 871-9230
www.highroadorganizers.com
---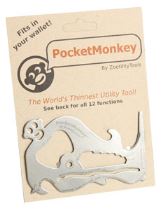 Mini Multi-Tool
The Pocket Monkey from Zootility Tools is a 12-in-1 utility tool that weighs just 1 ounce and is small enough to fit into a credit card slot in a wallet, purse, or pocket.
The device is made of hardened stainless steel and serves a variety of everyday and specialty functions. It includes flathead, micr0-flathead, and two-dimensional Phillips screwdrivers; a bottle opener; nested English hex wrenches with five bolt sizes; a ruler; a letter opener; an edge to open door latches; a straight edge for drawing lines or scraping; an orange peeler; and a banana nicker.
The Pocket Monkey has a suggested retail price of $14.
Zootility Tools
10 Conwell St., Floor 1
Somerville, MA 02143
(818) 925-5384
www.zootilitytools.com
---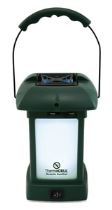 Lantern
The Clarus LED Lantern from UCO is a compact, collapsible, water-resistant light source that also can be used in flashlight mode and is easy to transport.
The lantern features a bright XP-E R3 CREE LED that produces up to 150 lumens. The frosted globe slides up when in lantern mode and down when in flashlight mode. The on-off button controls the three light levels and the strobe setting. The lantern is powered by three AAA batteries said to last up to 70 hours. It stands 6.5 inches tall in lantern mode and 4.5 inches in flashlight mode.
The UCO Clarus LED Lantern has a suggested retail price of $19.99.
UCO
5835 Segale Park Drive C
Tukwila, WA 98188
(888) 297-6062
(425) 883-6600
www.ucogear.com
---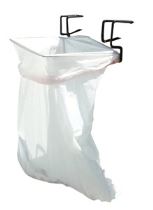 Trash Bag Holder
The Trash-Ease portable trash bag holder from JPC Products creates a handy trash receptacle that can be hung from tables, counter ledges, and work benches.
The Trash-Ease is simple to set up. Attach the device to an overhang on a table or ledge, wrap a standard-size 13-gallon drawstring trash bag around the frame, and you have a ready-to-use trash receptacle. The attachment points of the powder-coated Trash-Ease frame come dipped in rubber to protect against damage to areas where the device is hung.
The Trash-Ease has a suggested retail price of $14.95. A 33-gallon version is available for $17.95.
JPC Products
49409 Shenandoah Drive
Macomb, MI 48044
(855) 877-3273
www.trash-ease.com
---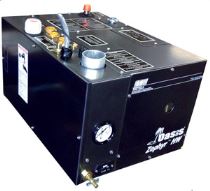 Hydronic Heating System
The Oasis Zephyr HW Hydronic Heating System from International Thermal Research is a diesel/biodiesel-fueled unit designed specifically for smaller motorhomes.
The Zephyr features a highly efficient, no-smoke, no-smell, low-pressure burner. It quietly provides a continuous, on-demand supply of domestic hot water and also delivers warmth to up to four zones in a single-loop configuration. The furnace has an output of 33,000 Btu, with an additional 5,200 Btu available from a 1,500-watt AC electric element. The Zephyr uses just 0.28 gallons of fuel per hour of continuous running. The system incorporates engine preheat and engine waste-heat management and includes a zone board and cables, a remote LED or LCD operating panel, an hour meter for scheduled maintenance, and a built-in system temperature gauge. The Zephyr features marine-grade construction with a stainless-steel burner and water jacket that holds 2.5 gallons of coolant. It measures 10 inches high, 14 inches wide, and 19 inches deep, and weighs 75 pounds when full.
International Thermal Research
11915 N.E. 56th Circle, Suite B
Vancouver, WA 98682
(800) 993-4402
(360) 993-4877
www.itrheat.com

---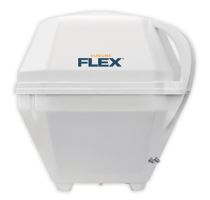 Portable Satellite Antenna
The VuQube FLEX (VQ2100) portable automatic satellite antenna from King Controls makes it possible for RV owners to watch their favorite television programs from DISH, DirecTV, and Bell TV anywhere they travel.
The FLEX antenna connects directly to the RV's portable satellite input via a coaxial cable, so there's no need for an external power source or cable. The FLEX works with a variety of receivers for standard-definition programming from DirecTV and standard- and high-definition programming from DISH and Bell TV. Dual coaxial outputs provide compatibility with up to two receivers, so viewers inside the motorhome can watch different programs on separate TVs. The antenna measures 17.5 inches high and 16 inches wide, and weighs 10 pounds.
The VuQube FLEX has a suggested retail price of $649.
King Controls
11200 Hampshire Ave. S.
Bloomington, MN 55438
(952) 922-6889
www.kingcontrols.com

---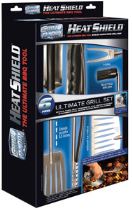 Grill Tool Set
The Grill Daddy Heat Shield 6 Piece BBQ Tool Set, with an array of features designed to provide safety, handling, and grilling comfort, is said to be a must-have for any grilling arsenal.
Each tool is equipped with Grill Daddy's rotating heat shield hand guard, which provides continuous protection from flare-ups, searing grill heat, and hot food splatters. The set comes with a multipurpose fork, an oversized spatula, sure-grip grilling tongs, a meat thermometer that stores in the spatula handles, and five snap-on specialty attachments (fish flipper, slider flipper, silicone basting brush, fork, and spatula). You can even replace one jaw of the tongs with a spatula attachment when flipping meats and burgers.
The Heat Shield 6 Piece BBQ Tool Set has a suggested retail price of $49.99.
Grill Daddy Brush Company
P.O. Box 188
Riverside, CT 06878-2623
(203) 637-0001
www.buygrilldaddy.com

---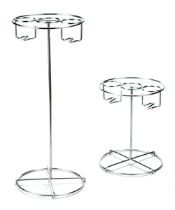 Beverage Holder
The Backyard Butler Deluxe Outdoor Drink Holder from Outdoors Unlimited Inc. will help keep your beverage close, clean, and safe while you participate in outside activities.
Each Backyard Butler Deluxe includes dual cup holders and a 13-inch-diameter base for stability on flat surfaces. The stands can be assembled at heights of 16 inches or 31.5 inches, enabling users to reach them when sitting or standing. They are made of steel and are available with powder coating in a variety of colors or in a chrome-plated version.
The Backyard Butler Deluxe Outdoor Drink Holder has a suggested retail price of $29.95.
Outdoors Unlimited Inc.
40W484 Route 64
Wasco, IL 60183
(630) 444-0515
www.ouioutdoors.com
{loadpositionEndBlurbProducts}